The Top Private Schools in Hawai'i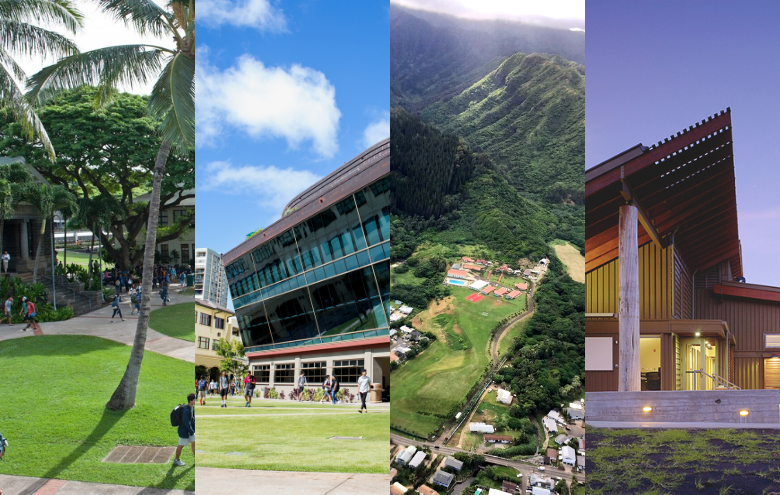 Photos: Punahou School / International Education and Student Service (IESS) / Private School Review / Flansburgh Architects
There are a variety of schooling options for students in Hawai'i, from public to charter and even homeschooling options. However, one of the most prevalent and sought-after opportunities is admission to private schools, where especially in Hawai'i, they are a popular and desirable option for families who want their children to have the best possible chance at attending an elite mainland college.
Throughout Hawai'i, there are several options prioritizing different forms of education, values, and outcomes for families to choose from. If you are interested in learning more about private school education in Hawai'i and want to better understand some of the options available to you, we have compiled a list of some of the top private schools in Hawai'i (with most on O'ahu and a couple on the Big Island and Maui). To learn more about these schools, feel free to click the linked text to visit their websites!
Punahou School
For almost 180 years, Punahou School has been providing highly-desired private co-ed school education to students ages kindergarten to grade 12. Originally founded as O'ahu College in 1841 and remaining so until 1934, the now Punahou School is located at the entrance to Manoa Valley and near the University of Hawai'i at Manoa.
Punahou's mission is to place emphasis on "social, emotional, and ethical learning," as well as "global sustainability, diversity and belonging, and lifelong learning" (Punahou School, "Mission and Vision"). This mission, on top of being a school that also emphasizes college preparation, makes Punahou a standout private school option for residents of O'ahu. Likewise, Punahou and its students hold a number of accolades, such as the class of 2023 having 21 National Merit Scholars and Punahou having 36 Presidential Scholars (including 2 National Scholars in the Arts) since 1964 (Punahou School, "Academic Profile"). Perhaps the most famous of Punahou's alumni is former President of the United States Barack Obama, who graduated from the school in 1979.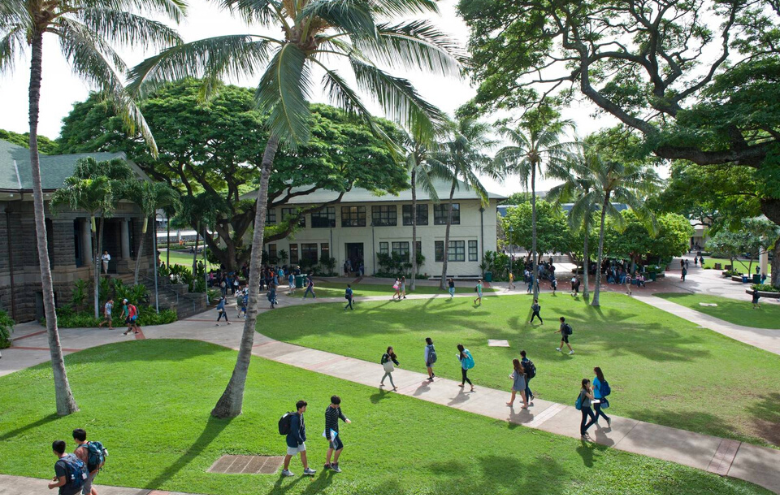 Photo: Punahou School
'Iolani School
Founded in 1863, 'Iolani School is a Christian private school offering co-ed education from kindergarten through grade 12. The school is named after founder King Kamehameha IV (who was born Alexander Liholiho 'Iolani) and is today known as one of the largest independent schools in the United States with a diverse racial and religious heritage body of more than 2,000 students ('Iolani School, "History of Iolani School").
'Iolani places focus on college preparation while also providing students with plentiful religious, athletic, and extracurricular programs to allow for student growth in non-academic areas. Though the school is historically tied to the Episcopal Church, 'Iolani welcomes students of all religious backgrounds, as the "requirements for admission are scholastic ability, good character, and the promise of leadership" ('Iolani School, "History of Iolani School").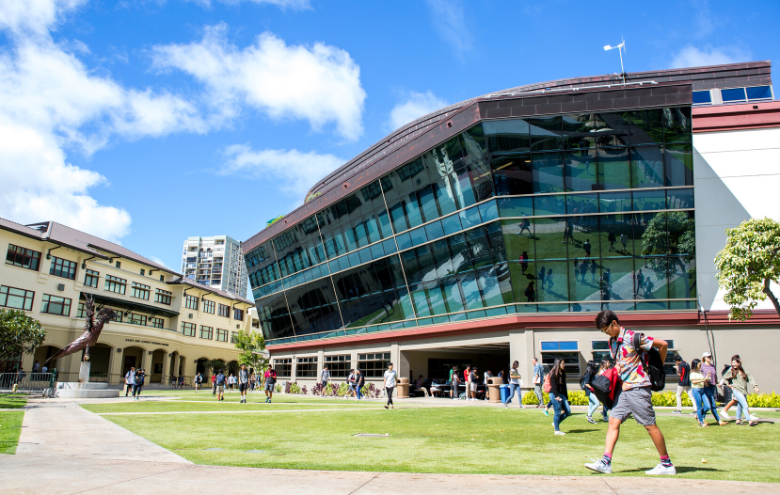 Photo: International Education and Student Service (IESS)
Mid-Pacific Institute
Founded in 1908 through the combination of the Kawaiaha'o Seminary for Hawaiian Girls, the Mills Institute for Chinese Boys, the Okumura Japanese Boarding School, and the Korean Methodist School for Boys and Girls, the Mid-Pacific Institute places emphasis on having a global understanding and appreciation for cultural diversity in their community. Thus, some of the core values of this school include emphasizing 'Ohana ("characterized by trust, respect, and commitment"), caring for others, creativity and self-expression, innovation, and diversity through "ethnic, cultural, intellectual, religious, social, political, and economic differences" (Mid-Pacific Institute, "Core Values").
The Mid-Pacific Institute starts by introducing preschoolers to the Reggio Emilia philosophy of learning (where children learn more about the world while also learning how to better express themselves) and finishes off in grade 12 where students are not only able to participate in International Baccalaureate Diploma programs, Advanced Placement courses, the Mid-Pacific eXploratory (MPX) program, and more, but also are ready for college (Mid-Pacific Institute, "Academics at Mid-Pacific").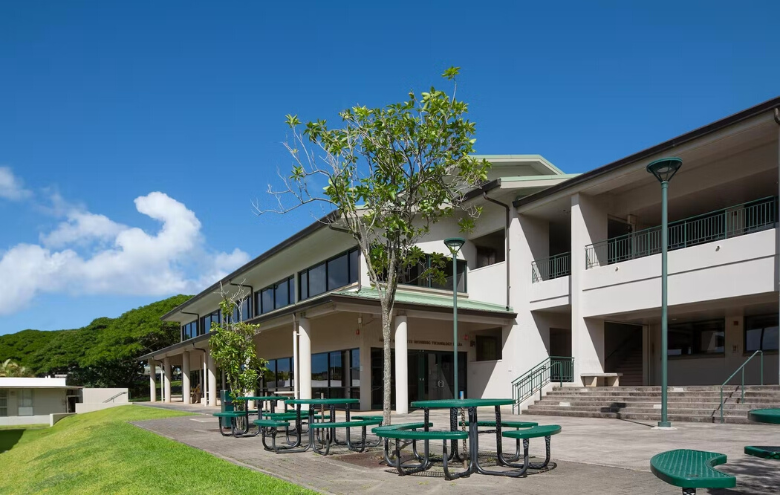 Photo: Belt Collins Hawai'i
Hawai'i Baptist Academy
Another private Christian college-preparatory school on O'ahu is Hawai'i Baptist Academy, which was opened in 1949 by Christian missionaries and initially enrolled only 36 students in grades 7 and 8 (Hawai'i Baptist Academy, "History"). Today, the school has grown to include more than 1,000 students from kindergarten to grade 12, and all of the graduating students qualify for college.
The mission of Hawai'i Baptist Academy includes equipping "students spiritually, intellectually, physically, socially, and emotionally so that they bring honor to God," and their core values emphasize humility, curiosity, love, and commitment (Hawai'i Baptist Academy, "Our Vision").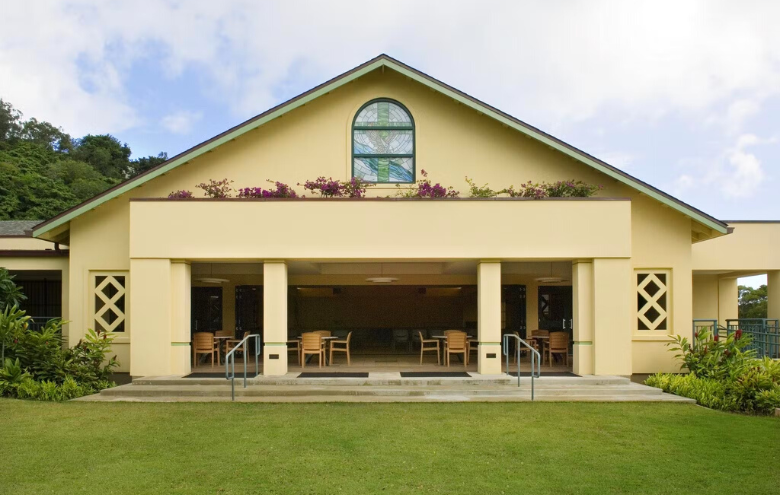 Photo: NanaWall
Asia Pacific International School
The Asia Pacific International School was born of the "growing and urgent need for a new kind of international education," specifically one that allows students to "authentically engage in global learning experiences" regarding technology, global economics, and the rise of Asia, as well as diving head first into the relationship between the Eastern and the Western global regions. This school has two campuses- the main campus set in Seoul, South Korea, and a Hawaiian branch set in the rural North Shore of O'ahu. As a result, students in the Hawaiian branch have the chance to learn more about Hawai'i's natural resources, cultural heritage, environment, and sustainability initiatives (Asia Pacific International School, "APIS Story").
As for core values, the Asia Pacific International School emphasizes commitment to personal and community goals, embracing a growth mindset, and actively fostering positive relationships in learning communities (Asia Pacific International School, "Core Values").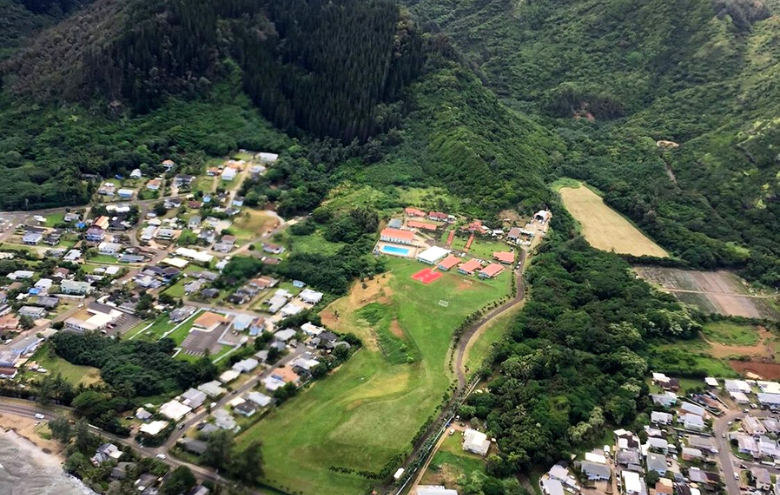 Photo: Private School Review
Le Jardin Academy
Beginning as a single-room preschool in 1961, Le Jardin Academy has grown to be a leader in education on the Windward side of O'ahu. Now sitting on 24 acres of land and with the additions of their high school and gym buildings in 2008, Le Jardin offers different diploma options, summer school programs, robotics programs, extracurricular activities, a soccer academy, and more.
This academy values individual pathways to success and happiness, striving for excellence, innovating for positive change, serving peace, and nurturing relationships and resources within our communities (Le Jardin Academy, "About").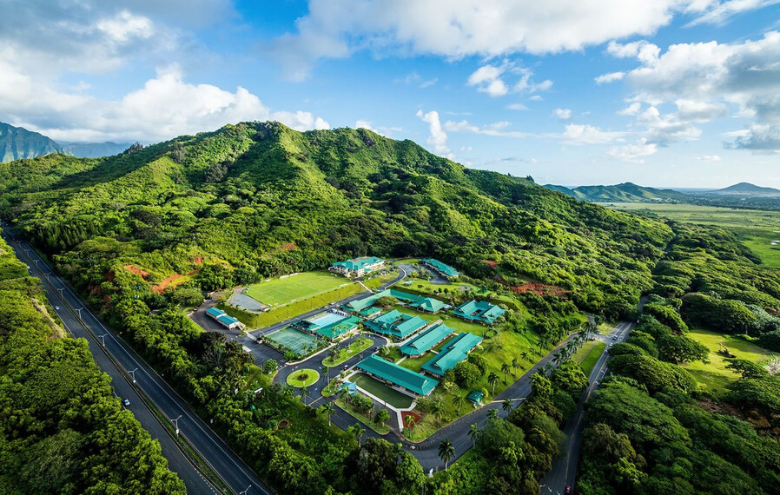 Photo: Private School Review
St. Andrew's Schools
Another well-known private school in downtown Honolulu is St. Andrew's Schools, which is separated into the Queen Emma Preschool (Co-Ed), the Priory All-Girls Lower School (K-6), the Prep All-Boys Lower School (K-6), and the all-girls Priory Upper School (grades 7-12).
At the Priory School, young girls are given the opportunity to explore, innovate, and discover their strengths and talents through a robust academic program emphasizing world languages, STEM, visual arts, social-emotional learning (SEL), and music. Likewise, athletic-, spiritual-, and service-learning programs are available to help young girls build both physical and moral strength (St. Andrew's Schools, "Lower School"). Once graduated from the lower school to the upper school, students will develop strong leadership and community problem-solving skills that will both position them for success and help to close the gender gap in the workforce (St. Andrew's Schools, "Upper School").
As for the Prep School, young boys will be immersed in a healthy learning environment that embraces the energy, talents, and interests of its students. This will be achieved through project-based and hands-on learning, "brain breaks" with opportunities for physical movement, inspiration to pursue their interests and gifts, and engaging in moral and ethical decision-making (St. Andrew's Schools, "Lower School").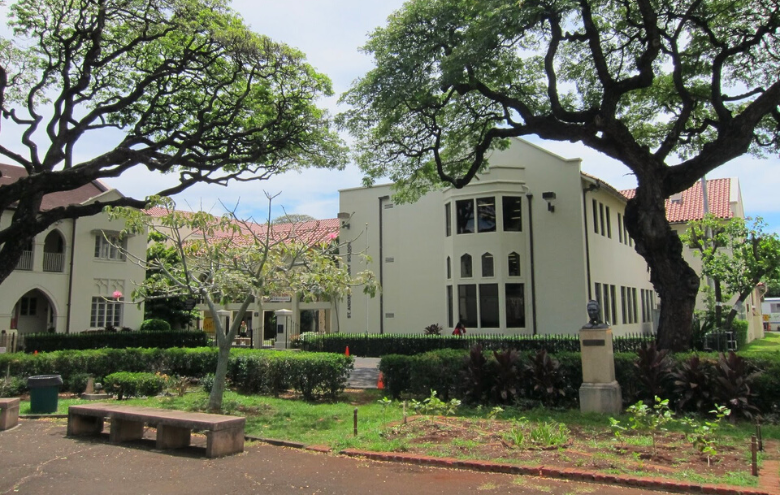 Photo: totakeresponsibility.blogspot.com
Hawai'i Preparatory Academy
Founded in 1949 and located on Hawai'i (also known as the Big Island), Hawai'i Preparatory Academy is a co-ed college-preparatory day and boarding school for kindergarten through grade 12. Approximately 600 students enroll at Hawai'i Preparatory Academy annually, with 200 in the lower and middle schools (which are all-day students) and 400 in the upper school (which are half day and half boarding students) (Hawai'i Preparatory Academy, "At A Glance").
The core values of Hawai'i Preparatory Academy revolve around living "aloha," where its mission is "to provide exceptional learning opportunities in a diverse community honoring the traditions of Hawai'i." Likewise, this school emphasizes treating others with kindness, aiming high in schoolwork and activities, supporting each other, seeking more sustainable ways of living, appreciating our surroundings, and giving thanks (Hawai'i Preparatory Academy, "Core Values"). As for academics, Hawai'i Preparatory Academy also offers scientific, environmental, cultural, and community opportunities, as well as focuses on project-based learning, independent research, capstone projects, and global perspectives (Hawai'i Preparatory Academy, "The HPA Difference").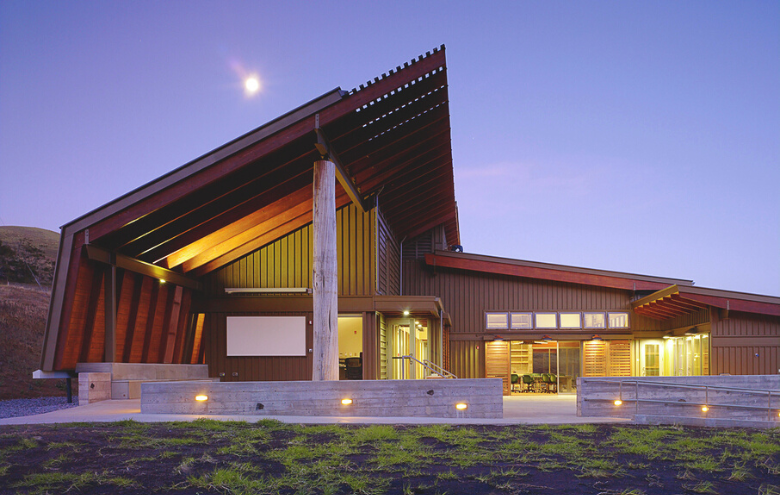 Photo: Flansburgh Architects
Maui Preparatory Academy
Located in West Maui, Maui Preparatory Academy is a preschool through grade 12 co-ed college-preparatory school. Their mission is to emphasize relationships, empowerment, and relevance in order to allow all students to make decisions and implement changes in real-world situations. To execute this vision, Maui Preparatory School combines highly-qualified teachers with a forward-thinking curriculum and a smaller student body for a 9:1 student-to-faculty ratio. Likewise, the classroom experience places focus on Maui's unique island ecosystem as well as Hawaiian culture (Maui Preparatory Academy, "Home").
As for academics, Maui Preparatory Academy's students are exposed to a well-rounded education with a core curriculum consisting of English, History, Math, Science, Language Arts, and Health/Physical Education, as well as through exposure to Art, Music, Drama, Technology, and more (Hawai'i Preparatory Academy, "Academics").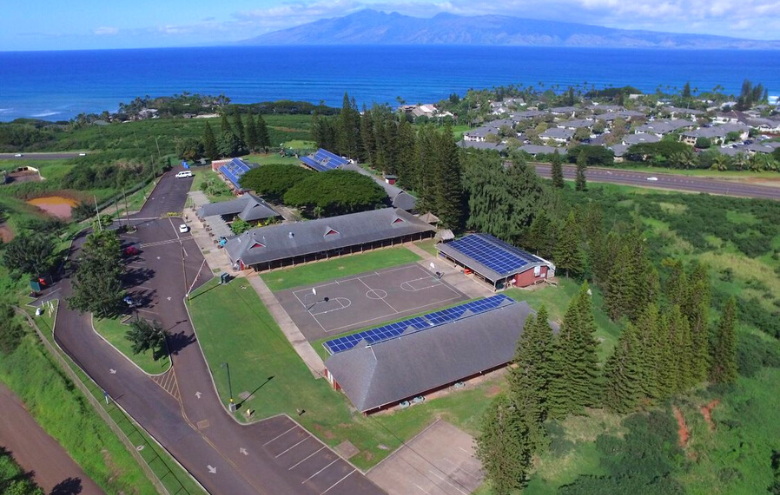 Photo: Private School Review