Waikiki Grand Hotel, Honolulu HI Homes & Real Estate
Page Directory: Neighborhood | Amenities | Features of the Residences
Waikiki Grand Hotel is unlike many other condotels in the area, as this condotel is located on the edge of the main portion of Waikiki. However, this also means that Waikiki Grand Hotel guests have the option of being immersed fully in downtown Waikiki culture or being partially removed and having more of a quiet atmosphere compared to other residences. As a result, the Waikiki Grand Hotel features the best of all experiences when visiting Waikiki, on top of incredible views of the ocean, the parks ahead, and Diamond Head.
Waikiki Grand Hotel is also one of the few buildings on O'ahu that allows legal short-term vacation rentals.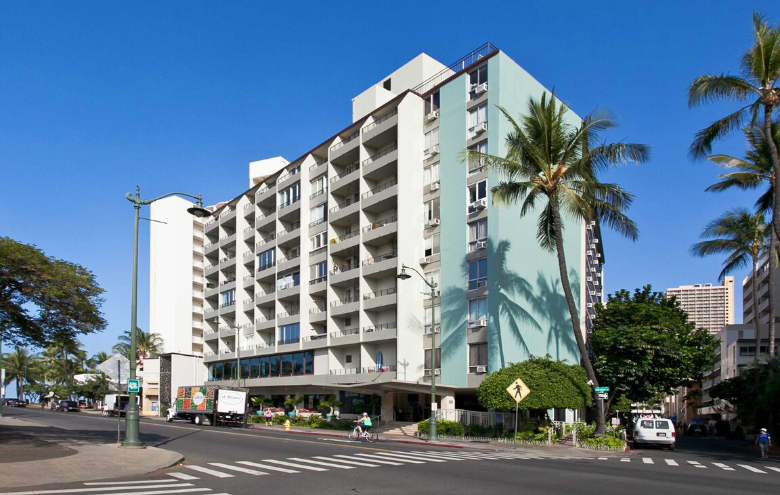 Photo: Hawai'i Vacation Suites
The Neighborhood
Unlike many other condotels in Waikiki, the Waikiki Grand Hotel is located on the border of the main portion of Waikiki. This condotel sits along Kapahulu Avenue across the street from the popular Honolulu Zoo, just down the street from Waikiki/Kuhio Beach, and likewise located near a plethora of amazing restaurants. Just within one block of the condotel, guests will have access to Yoshitsune, Lulu's Waikiki, Aloha Whip, Café Glacé Hawai'i, Tiki's Grill & Bar, Tucker & Bevvy Breakfast, and Teddy's Bigger Burgers on the ground level of the building. Not to mention, directly adjacent to the condotel is an ABC Store, which provides fun tourist gifts and trinkets as well as vacation staples like sunscreen, water and snacks, and other daily necessities.
As previously mentioned, one of the most notable aspects of the Waikiki Grand Hotel's location is its proximity to Waikiki Beach, which begins just one block away from the condotel (though technically considered Kuhio Beach, the entire strip is connected to Waikiki Beach). Arguably the most popular and well-known beach in Hawai'i, Waikiki Beach is an immensely popular spot for surfing, swimming, sunbathing, spending time with friends and family, eating, and more. There are shaded cabanas for those who need a break from the intense Hawaiian sun, and there are vendors stationed around the street selling various snacks and drinks. Not to mention, the entirety of Kalakaua Avenue along the beach is stationed with restaurants, cafés, and stores, which means visitors can easily take a break and grab something to eat or drink.
Kalakaua Avenue is also known for its wide array of shopping spots, as it is the main shopping strip in Waikiki. Kalakaua Avenue hosts a variety of designer stores, fast-fashion stores, and more, making it consistently crowded.
For those who are not interested in the extremely crowded daily nature of this street and general area, other outdoor activities are found directly across the street from the Waikiki Grand Hotel. These include the Honolulu Zoo, Kapi'olani Regional Park, and the Diamond Head Crater Hike, which are a 1-minute walk, 5-minute walk, and 11-minute drive away from Waikiki Grand Hotel respectively.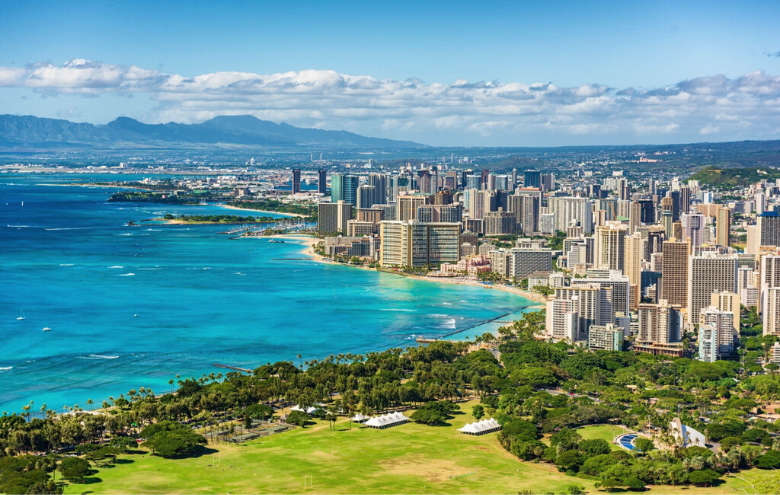 Photo: Pentrental.com
The Amenities
In addition to great neighborhood amenities, the Waikiki Grand Hotel offers some on-site amenities to guests. These amenities include:
Pool
Bar/lounge
ATM/Banking
Internet
Parking
Restaurants
Security guard
WiFi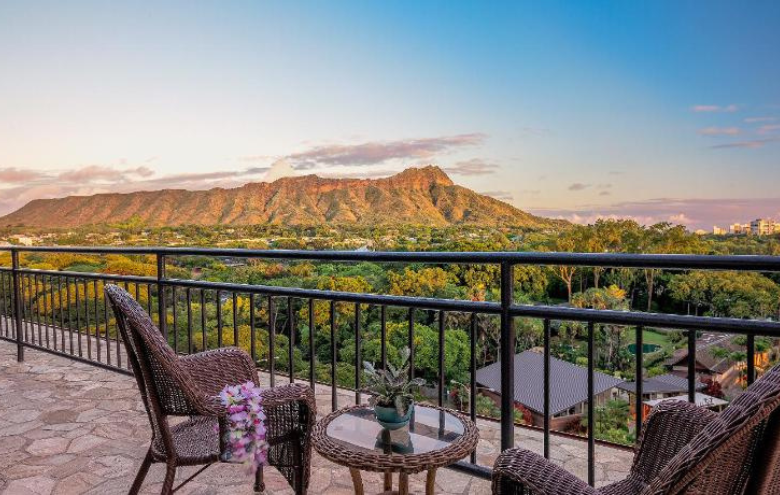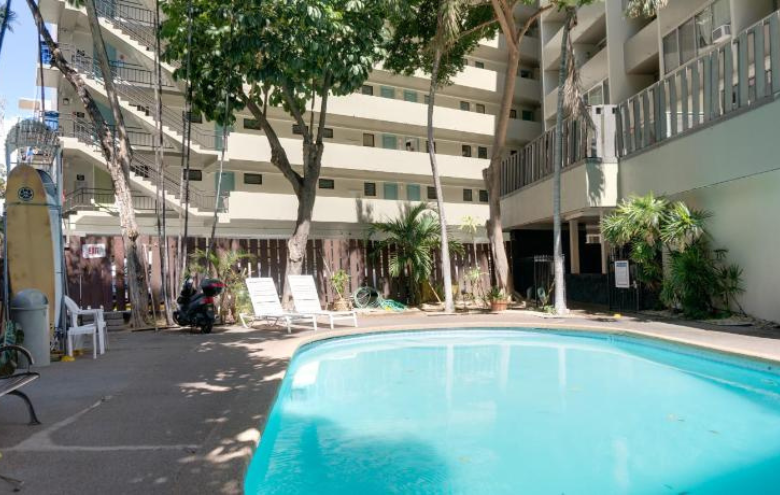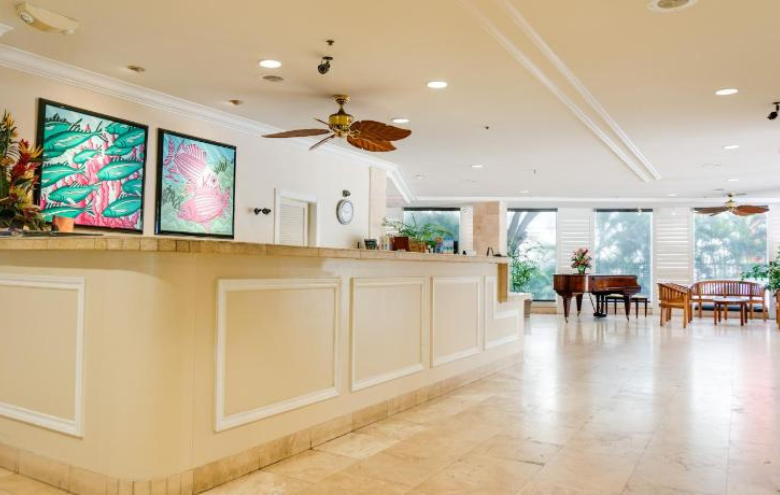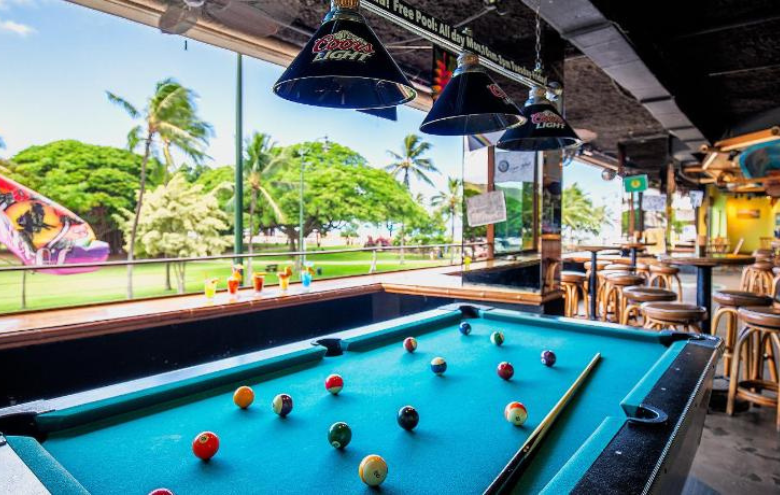 Photos: Hotel.com.au
Features of the Residences
The Waikiki Grand Hotel offers 5 unit configurations, which are as follows:
City View Hotel Room
City View Studio With Kitchenette
Ocean View Studio With Kitchenette
Sundeck Studio With Kitchenette
One Bedroom Suite
All of the units measure between 200 and 400 square feet, with all but the "One Bedroom Suite" featuring a kitchenette. The "One Bedroom Suite" features a full kitchen, complete with extra counter space, a stovetop, microwave, and dishwasher.
Other features within the residences include:
Air conditioning
Flat-screen TV
Private lanai
Hawaiian coffee and coffee maker
Iron and ironing board
Hairdryer
Waikiki Grand Hotel also offers some of the most unique and gorgeous views of any condotel in the area, with views overlooking the Honolulu Zoo and Kapiolani Regional Park, partial views of the ocean, and Diamond Head. Units closer to the top will have better views than the lower units.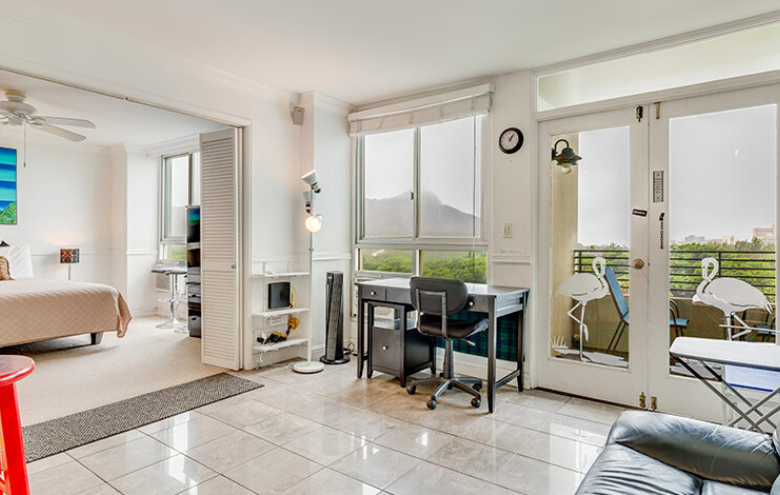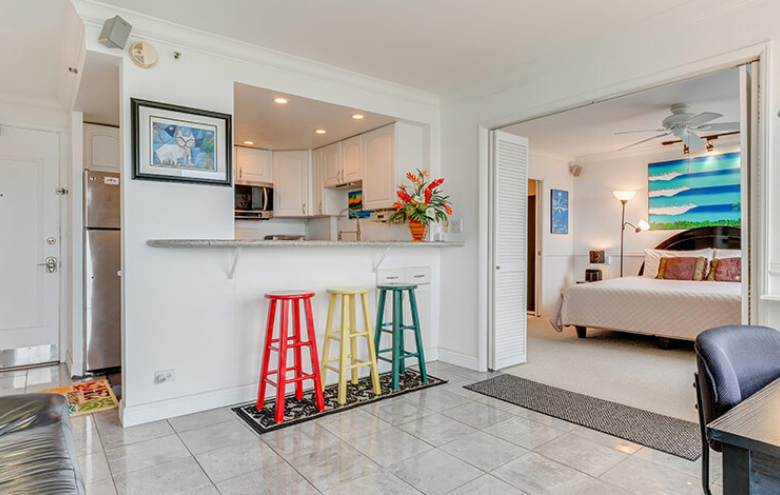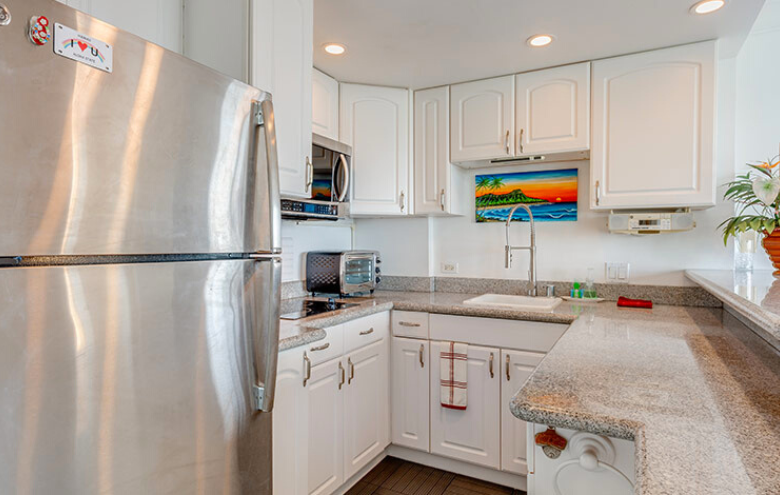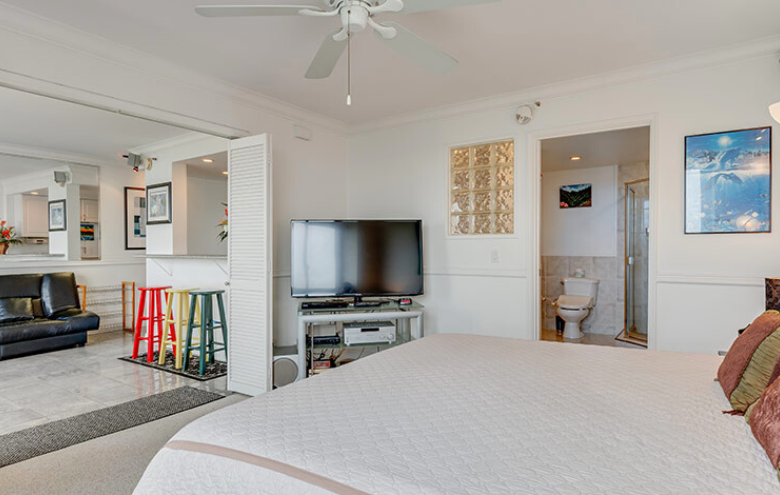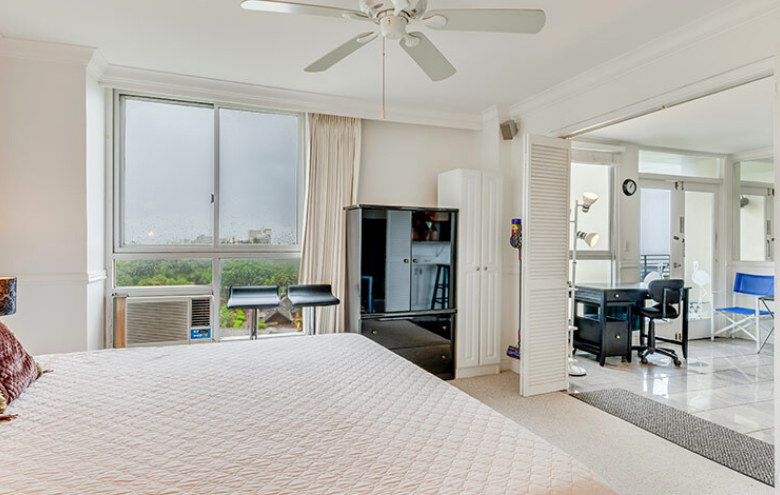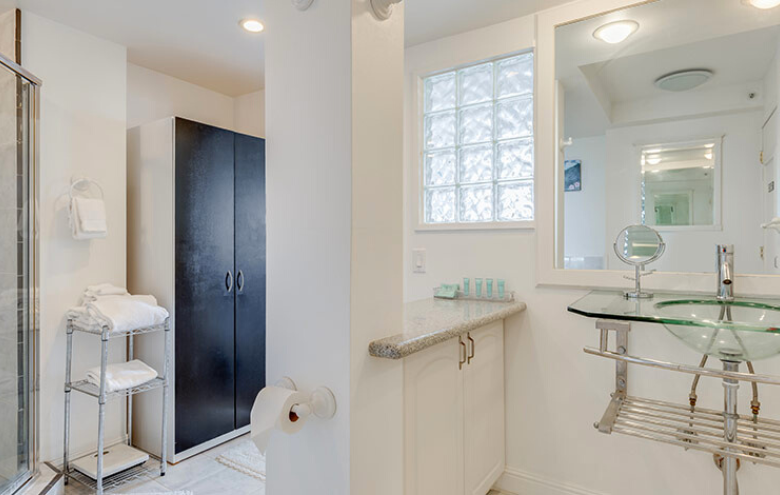 Photos: Castle Resorts & Hotels
Waikiki Grand Hotel Interest Form
Waikiki Grand Hotel Condos
December 1, 2023
$1,485.72
Avg. $ / Sq.Ft.