The Seashore, Waikiki HI Homes & Real Estate
Page Directory: Neighborhood | Amenities | Features of the Residences

Located in the Southeastern portion of Waikiki and one block away from Waikiki Beach, The Seashore is a condotel hosting 55 studio to 2-bedroom units. Though this condotel does not offer many amenities like other condotels in the area, its mere location just one block away from Waikiki Beach as well as Kalakaua Avenue makes this building a great option for those who want the convenience of access to these popular locations whenever they please. Plus, being located on a more quiet side street means that guests will have the privilege of more privacy and tranquility compared to other larger and more popular establishments.
The Seashore is also one of the few buildings on O'ahu that allows legal short-term vacation rentals.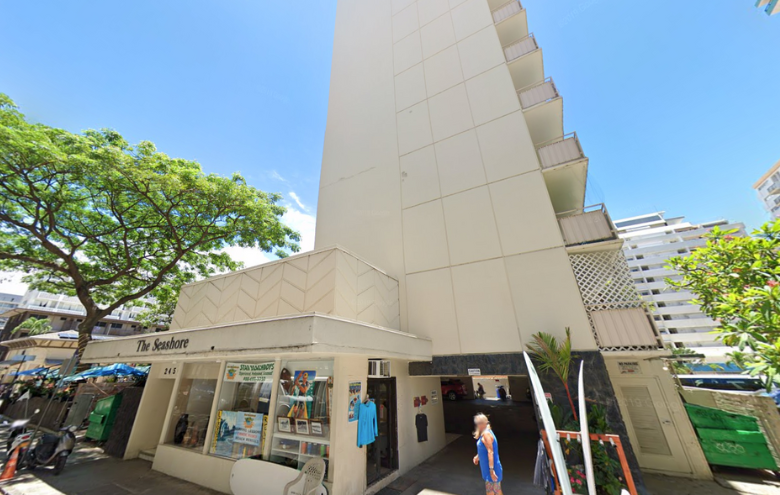 Photo: Google Maps
The Neighborhood
The Seashore provides an excellent opportunity for visitors to engage in downtown Waikiki nightlife and culture, with surrounding restaurants like Sushi Spot Waikiki, Five Star Poke, Ilima, Blue Ocean Seafood & Steak, and Ice Cream Rolls Hawai'i all within a couple of blocks of the building. Likewise, sitting across the street on the corner of Uluniu Avenue and Koa Avenue is an ABC Store, which provides fun tourist gifts and trinkets as well as vacation staples like sunscreen, water and snacks, and other daily necessities.
One of the most notable aspects of The Seashore's location is its proximity to Waikiki Beach, which is less than a 2-minute walk away from the residence. Arguably the most popular and well-known beach in Hawai'i, Waikiki Beach is a trendy spot for surfing, swimming, sunbathing, spending time with friends and family, eating, and more. There are shaded cabanas for those who need a break from the intense Hawaiian sun, and there are vendors stationed around the street selling various snacks and drinks. Not to mention, the entirety of Kalakaua Avenue along Waikiki Beach is stationed with restaurants, cafés, and stores, which means visitors can easily take a break from the beach and grab something to eat or drink.
Kalakaua Avenue is also known for its wide array of shopping spots, as it is the main shopping strip in Waikiki. Kalakaua Avenue hosts a variety of designer stores, fast-fashion stores, and more, making it one of the most consistently crowded areas in Waikiki.
For those who are not interested in the extremely crowded daily nature of this street and general area, other outdoor activities are found Southeast of the main Waikiki area. These include the Honolulu Zoo, Kapi'olani Regional Park, and the Diamond Head Crater Hike, which are a 5-, 6-, and 14-minute drive away from The Seashore respectively.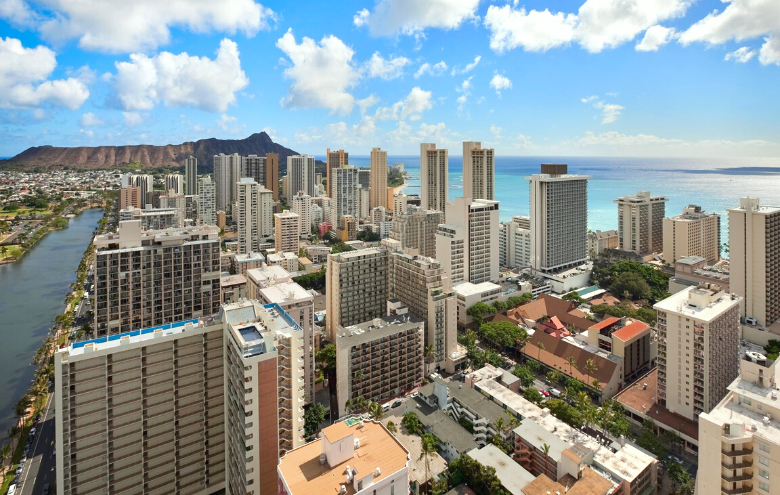 Photo: Aqua-Aston Hotels
The Amenities
Unfortunately, besides an on-site laundry facility and secured entry to the lobby, there are no amenities available to guests. However, The Seashore's location in Waikiki provides excellent access and close proximity to many of Waikiki's most popular amenities, including beaches, restaurants, shopping centers, and more, which more than makes up for the condotels' lack of on-site amenities.
Features of the Residences
The residences at The Seashore are comprised of 45 studio units measuring either 267 or 269 square feet, 9 1-bedroom 2-bath units measuring 467 square feet, and 1 2-bedroom 2-bath unit measuring 867 square feet. The studio residences also feature private lanais measuring 67 square feet, while the 1-bedroom units receive private lanais that measure twice as large.
As for views, the majority of units will receive views of the surrounding cityscape, with some of the units being able to get partial views of the Pacific Ocean and the nearby Waikiki Beach.
The Seashore Interest Form
The Seashore Condos
December 1, 2023
$1,310.86
Avg. $ / Sq.Ft.