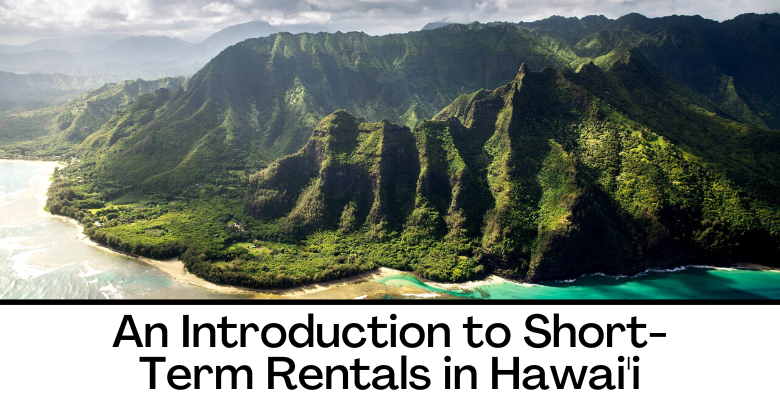 Photo: Mr. Hudson
Jump To: O'ahu | Maui | Kaua'i | Hawai'i (Big Island)
As one of the most popular vacation and travel destinations in the world, Hawai'i is in constant need of housing accommodations for visitors. Short-term rentals, also known as vacation rentals, are a popular option for people who don't want to go the route of staying in a hotel, and can even allow visitors to save money on nightly rates compared to their hotel counterparts. There are a variety of different options available for those who wish to stay on the islands short term, so to learn more about operating a short-term rental home in Hawai'i, check out our guide below!
---
Photo: emperorcosar on Shutterstock
According to the City and County of Honolulu, short-term (or vacation) rentals are lodgings providing guest accommodation for less than 30 consecutive days. To maintain housing for long-term residents, short-term rentals are only legal in resort-zoned areas and a couple of apartment-zoned areas. Likewise, the HOA or property rules must allow short-term vacation renting.
For a list of short-term rentals in Waikiki that can legally advertise and rent for less than 90 days per tenant, please visit our O'ahu-specific short-term rental guide.
For properties not included in the aforementioned list, they must fall into one of the following categories:
Individual properties with a NUC (Non-Conforming Use Certificate). There are 793 NUC properties, which can be found here.
"Grandfathered" STRs that have operated since prior to October 22, 1986, were issued a NUC, and have renewed their NUC every year in order to continue legal operation (Note that today NUCs are no longer issued and have not been issued by the city of Honolulu since September of 1990). These "grandfathered" properties include the Aloha Surf, Hawaiian Monarch, Island Colony, Palms at Waikiki, Royal Garden at Waikiki, and the non-Waikiki properties the Ala Moana Hotel and the Executive Centre.
Certain properties under Bill 41 that are within the "apartment precinct", zone "A-1", and zone "A-2", which include the Waikiki Banyan and Waikiki Sunset.
For a building to be "grandfathered", it must have a 24-hour hotel desk and meet the current Land Use Ordinance's (LUO) definition of a hotel, which is "a building containing lodging and/or dwelling units offering transient accommodations, and a lobby, clerk's desk or counter with 24-hour clerk service, and facilities for registration and keeping of records relating to hotel guests." They must also meet the LUO's old definition, which also required that 50% of the property's units be without full kitchens.
To learn more about the short-term rental zones and properties around O'ahu, check out our guide here.
---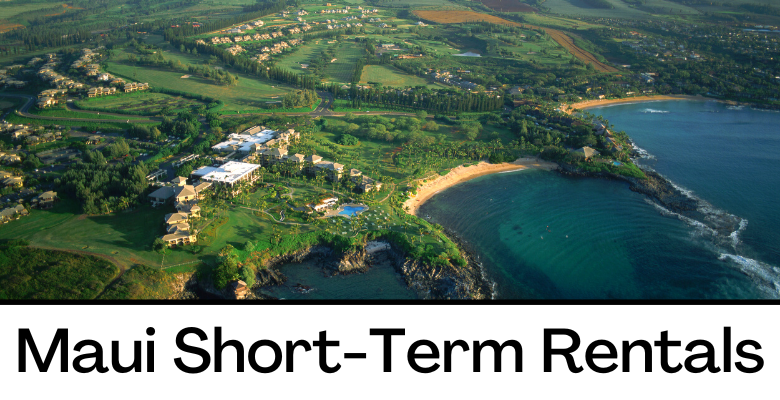 Photo: Newsweek
According to the County of Maui, a short-term rental home is a home intended "to provide varied accommodations and experiences for visitors" while still allowing local businesses to benefit from tourism and adhering to local laws regarding the integrity and character of residential neighborhoods. Short-term rental homes on Maui also impose a maximum stay of 6 months (or 180 days), and while most are located within hotel district zones, some of these short-term rentals are also located in apartment complexes or are legal by other means.
Something important to note, though, is that on January 7, 2022, the County Council of Maui adopted Ordinance Number 5316, which put in place a 2-year moratorium on new short-term rental home permit applications. This does not apply to bed and breakfast home permit applications nor does it affect existing short-term rental home permits (which can still be renewed).
If not located in a district zoned for hotel use, short-term rental units are going to be found in the form of the aforementioned short-term rental homes or as bed and breakfast (B&B) homes. Bed and breakfast homes, as dictated by the County of Maui, are much like short-term homes in that they are intended to allow local businesses to thrive from the increased tourism to the area while also remaining faithful to the rules and limitations dictated by the community in which the bed and breakfast home is situated. However, unlike short-term rental homes, the owner of a bed and breakfast home must reside on the same lot being used for the rental. To learn more about the restrictions and standards set forth for these residences, please refer to the Maui County Code regarding bed and breakfast homes.
All existing short-term rental homes can be found here, and all existing bed and breakfast homes can be found here.
---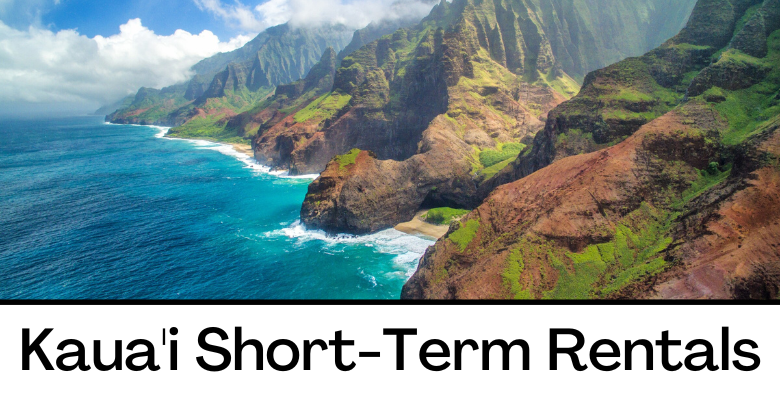 Photo: The San Diego Union-Tribune
Kaua'i is often regarded as one of the most naturally beautiful Hawaiian islands in terms of lush plant life, mountains, and even canyons. As a result, this is a popular vacation destination for people around the world as well as those from other Hawaiian islands, which has led to a demand for short-term rental properties in some of the island's most popular areas. Like the island of O'ahu and Maui, though, the County of Kaua'i requires that short-term rentals reside within specific resort-zoned areas. These areas are known on Kaua'i as Visitor Designation Areas (VDAs), and the only short-term rental homes legally allowed to operate outside of these zones are those that hold a NUC that was issued prior to early 2008.
Of the short-term rental homes on Kaua'i, there are two main types of homes available for permit applications- homestays and transient vacation rentals (TVRs). According to the County of Kaua'i, a homestay is a transient accommodation provided for visitors for 29 days or less, has no more than 3 guests, and the owner resides on the homestay site during operation. For more regulations and standards for homestays on Kaua'i, please refer to the County of Kaua'i's Ordinance Number 1002. TVRs, on the other hand, do not require owners to be occupying the property that is being rented out.
To learn more about permit applications, recertification and renewals, as well as rules and regulations for short-term rentals on Kaua'i, check out the County of Kaua'i's "Short-Term Vacation Rentals Outside of Visitor Destination Area Related Documents" page.
---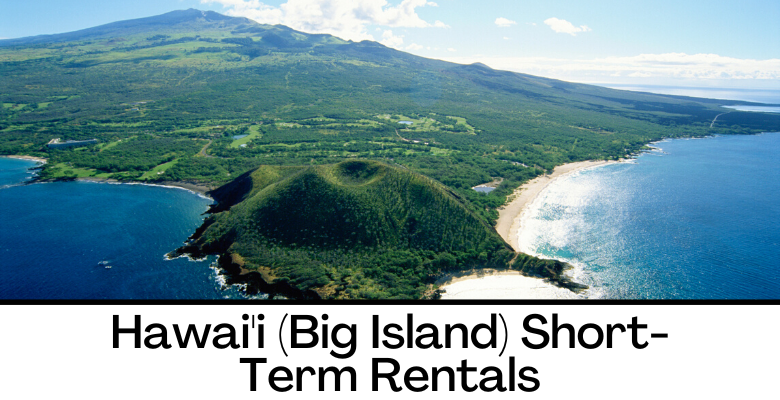 Photo: Thinkstock Images/Comstock/Getty Images

The County of Hawai'i (the Big Island) follows similar protocols to its sibling islands in it only allowing short-term rentals to exist within certain hotel and resort zones. A short-term vacation rental (STVR), as dictated by the County of Hawai'i, refers to a home or dwelling unit that is rented out for less than 30 days. Likewise, if the owner lives on the site of the short-term rental home, the unit must not contain more than 4 bedrooms, but if the owner does not live on the site of the short-term rental home, the unit must not contain more than 5 bedrooms. The owner of the STVR must, though, live in Hawai'i County.
The County of Hawai'i also requires that all advertising for the short-term rental contain their STVR Registration Number and/or NUC number. Likewise, all new STVRs (including existing STVRs outside of dedicated zoning districts) must submit an NUC application and be approved in order to operate.
To learn more about regulations and standards applied to STVRs on the Big Island, please refer to the County of Hawai'i's "Short-Term Vacation Rentals" page.
---
O'ahu Short-Term Rentals Interest Form