Royal Garden at Waikiki, Honolulu HI Homes & Real Estate
Page Directory: Neighborhood | Amenities | Features of the Residences
Royal Garden at Waikiki is a condotel located along the Ala Wai Canal and Ala Wai Boulevard, in the Northwestern portion of Waikiki. The condotel was built in 1977 and hosts 212 studio to 3-bedroom units over 24 floors. Due to it sitting along Ala Wai Boulevard, guests have views of the Ala Wai Canal, Fort DeRussy Beach Park, and the surrounding cityscape, plus partial views of the Ko'olau Mountains and the Pacific Ocean in the distance. These views, plus the European-inspired interiors of the building itself, make Royal Garden at Waikiki a unique experience compared to other condotels in the neighborhood.
Royal Garden at Waikiki is also one of the few buildings on O'ahu that allows legal short-term vacation rentals.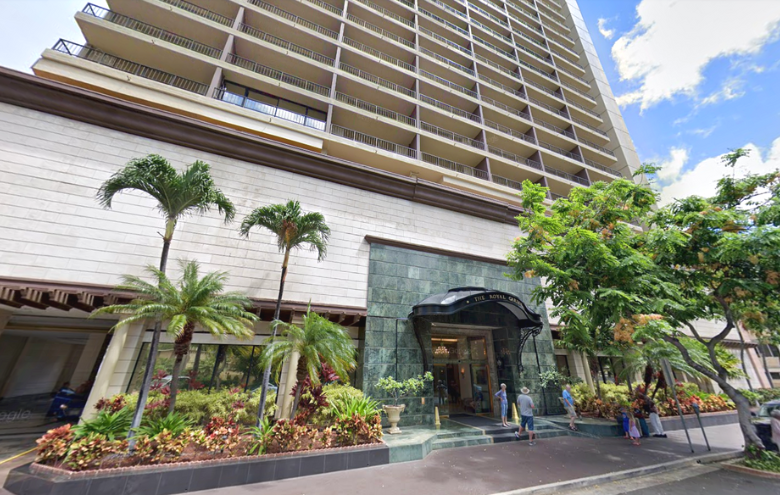 Photo: Google Maps
The Neighborhood
Royal Garden at Waikiki sits just down 'Olohana Street to the largest parks in the main Waikiki area- Ainahau Triangle and Fort DeRussy Beach Park. These parks feature sprawling, flat green lawns that are popular for picnicking, exercising outdoors, playing with pets, and spending time with friends and family. Plus, these parks are lined with trees that provide cool shade if the Hawaiian sun becomes too intense for you or your pets. There are also paved walking paths that lead throughout the parks, making this a peaceful spot partially separated from the "concrete jungle" of Waikiki.
Just a bit further South and you will hit the beach portion of Fort DeRussy Beach Park, which features a long and wide (compared to other beaches in the area) beach with gorgeous white sands, crystal clear blue water, and views of Diamond Head in the distance.
Royal Garden at Waikiki, conveniently, is also located just down the street from Kalakaua Avenue, which is the largest and most popular shopping street in Waikiki. This street stretches across the entirety of the main portion of the city, with various designer-brand, fast-fashion, and local shops lining the streets (as well as many restaurants and cafés). As a result, Royal Garden at Waikiki residents have quick access to this amazing shopping strip on foot, leading to endless opportunities for nightlife and activities. In fact, taking Kalakaua Avenue all the way down to the Southeast portion of Waikiki will bring guests to one of the most well-known and popular beaches in Hawai'i- Waikiki Beach. This incredibly popular landmark is constantly packed with people who love to spend time sunbathing, surfing, swimming, bodyboarding, and more, with food stands and nearby restaurants ready for any nearby people who need a food or drink pick-me-up.
Being located in the Western portion of Waikiki also means that Royal Garden at Waikiki guests have easier access to the Ala Moana Center, which is just a 6-minute drive from the condotel. This shopping mall, which is the largest open-air shopping center in the world, hosts hundreds of more designer-brand, fast-fashion, and local stores as well as many incredible restaurants within its cafeteria. For those who want more outdoor activities, Ala Moana Beach Park is located directly across Ala Moana Boulevard from the Ala Moana Center, and it hosts a large grassy park area, a beach, plenty of public parking, an L&L Hawaiian Barbecue, tennis courts, and a beach volleyball court.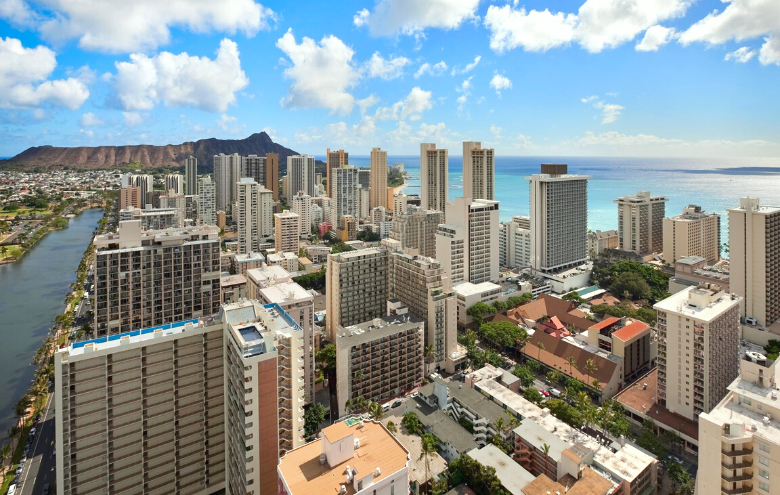 Photo: Aqua-Aston Hotels
The Amenities
In addition to being located near a variety of great neighborhood amenities, there are some great on-site amenities, which include:
Pool
Jacuzzi
BBQ area
Tennis court
Fitness room
Recreation deck
Porter/bellhop service
Concierge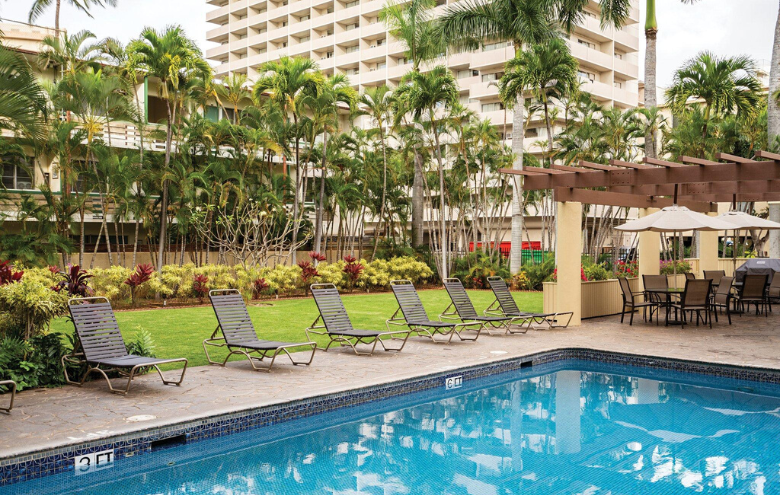 Photos: RedWeek.com
Features of the Residences
Royal Garden at Waikiki features 212 studio to 3-bedroom residences, with the majority of the units being studios measuring 313 to 381 square feet, followed by 1-bedroom units measuring 711 to 881 square feet and 2-bedrooms measuring 1,129 to 1,312 square feet. This condotel features one 3-bedroom suite, which is by far the largest at 1,781 square feet. All of the units also feature private lanais.
Some of the other features within the residences include a kitchenette, flat-screen TV, a mini-refrigerator in the studios, and a full-sized refrigerator in the rest of the units. Likewise, all of the units except the studios feature an in-unit washer and dryer, and all of the units have marble bathrooms.
Royal Garden at Waikiki Interest Form
Royal Garden at Waikiki Condos
October 4, 2023