Royal Aloha, Waikiki HI Homes & Real Estate
Page Directory: Neighborhood | Amenities | Features of the Residences
Royal Aloha is a 1971 condotel located in Northwest Waikiki. This condotel hosts 143 1- to 3-bedroom units with varying views of the surrounding cityscape, the Ala Wai Canal, and the gorgeous Ko'olau Mountains in the distance. Not to mention, Royal Aloha's famous whale mural climbing its entire South wall is unmissable, and it is one of the first landmarks noticed when people cross both the McCully Street Bridge and Kalakaua Avenue Bridge (as well as those traveling Northwest on Kalakaua Avenue). With this building's close proximity to the Ala Moana Center and the numerous activities along Kalakaua Avenue, Royal Aloha is a popular choice of stay for those who want the best of both the Midtown Ala Moana and Waikiki vacation lifestyle.
Royal Aloha is also one of the few buildings on O'ahu that allows legal short-term vacation rentals.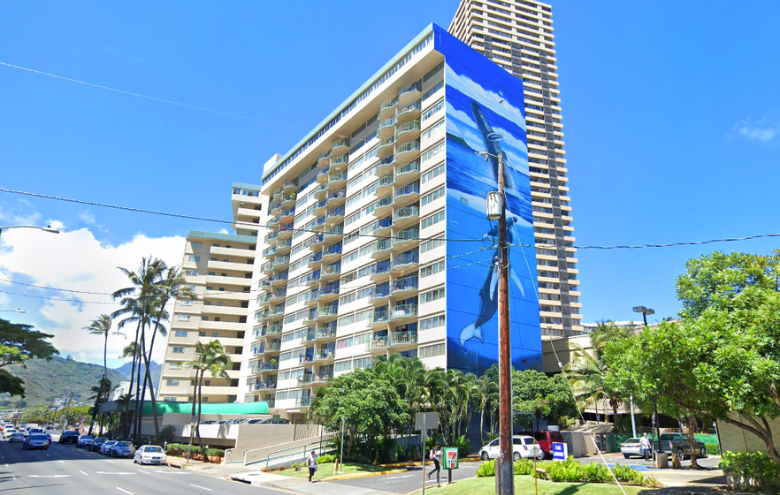 Photo: Google Maps
The Neighborhood
Royal Aloha is situated near two of the largest parks in the main Waikiki area- Ainahau Triangle and Fort DeRussy Beach Park. These parks feature sprawling, flat green lawns that are popular for picnicking, exercising outdoors, playing with pets, and spending time with friends and family. Plus, these parks are lined with trees that provide cool shade if the Hawaiian sun becomes too intense for you or your pets. There are also paved walking paths that lead throughout the parks, making this a peaceful spot partially separated from the "concrete jungle" of Waikiki.
Just a bit further South and you will hit the beach portion of Fort DeRussy Beach Park, which features a long and wide (compared to other beaches in the area) beach with gorgeous white sands, crystal clear blue water, and views of Diamond Head in the distance.
Royal Aloha, conveniently, is also located less than one block from Kalakaua Avenue, which is the largest and most popular shopping street in Waikiki. This street stretches across the entirety of the main portion of the city, with various designer-brand, fast-fashion, and local shops lining the streets (as well as many restaurants and cafés). As a result, Royal Aloha guests have access to this amazing shopping strip on foot or by car, leading to endless opportunities for nightlife and activities. In fact, taking Kalakaua Avenue all the way down to the Southeast portion of Waikiki will bring guests to one of the most well-known and popular beaches in Hawai'i- Waikiki Beach. This incredibly popular landmark is constantly packed with people who love to spend time sunbathing, surfing, swimming, bodyboarding, and more, with food stands and nearby restaurants ready for any nearby people who need a food or drink pick-me-up.
Being located in the Northwestern portion of Waikiki also means that Royal Aloha guests have easier access to the Ala Moana Center, which is just a 6-minute drive from the condotel. This shopping mall, which is the largest open-air shopping center in the world, hosts hundreds of more designer-brand, fast-fashion, and local stores as well as many incredible restaurants within its cafeteria. For those who want more outdoor activities, Ala Moana Beach Park is located directly across Ala Moana Boulevard from the Ala Moana Center, and it hosts a large grassy park area, a beach, plenty of public parking, an L&L Hawaiian Barbecue, tennis courts, and a beach volleyball court.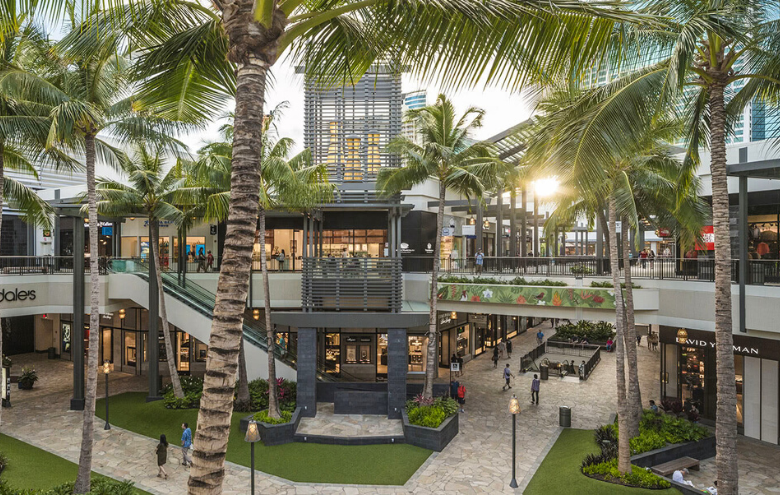 Photo: Hawai'i Magazine
The Amenities
In addition to amazing neighborhood amenities, Royal Aloha offers guests some on-site amenities, including:
Pool
BBQ area
Recreation area
Meeting room
Security guard
Resident manager
Royal Aloha also features a tattoo parlor and a Brew & Foam café on its ground level, making grabbing lunch, a pastry, or a coffee incredibly fast and simple for those staying at the condotel.
Features of the Residences
Royal Aloha features 143 1- to 3-bedroom units over 16 floors. The 1-bedroom units in this condotel measure 513 to 520 square feet, most of the 2-bedroom units measure 674 square feet (while some are a much larger 1,115 square feet), and the 3-bedroom units measure around 1,375 square feet. The units at Royal Aloha receive varying views of the surrounding cityscape, the Ala Wai Canal, and the Ko'olau Mountains, with those situated on the North side of the building receiving the best views of the canal and mountains.
Royal Aloha Interest Form
Royal Aloha Condos
December 1, 2023