Marine Surf Waikiki, Honolulu HI Homes & Real Estate
Page Directory: Neighborhood | Amenities | Features of the Residences
Built in 1968, Marine Surf Waikiki is a 224-Unit, 24-Floor condotel hosting studio and 1-bedroom units. This condotel is located in an excellent spot in the heart of Waikiki, within extremely close proximity to a great number of stores, eateries, and activities. Being located just a couple of blocks from Kalakaua Avenue and adjacent to the popular International Market Place, Marine Surf Waikiki is a popular choice of stay for visitors to the Waikiki area.
Marine Surf Waikiki is also one of the few buildings on O'ahu that allows legal short-term vacation rentals.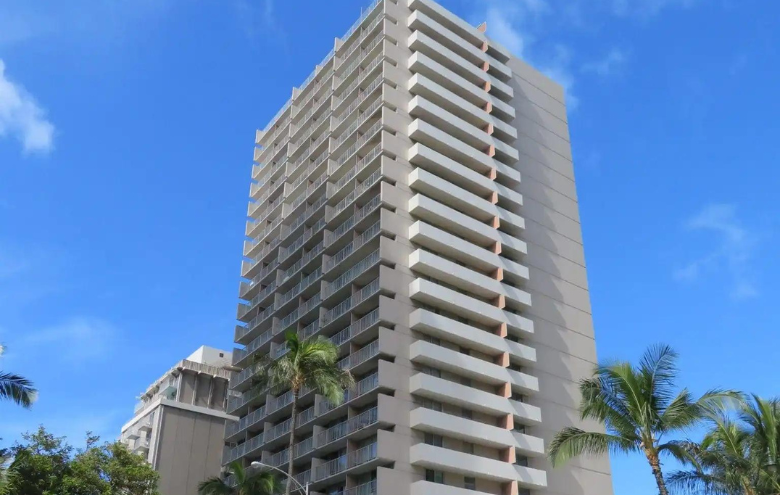 Photo: Hawai'i Lifestyle
The Neighborhood
Located in the center of downtown Waikiki, Marine Surf Waikiki has access to a plethora of amazing neighborhood offerings such as restaurants, bars, cafés, stores, and activities. Within a few hundred feet of the condotel, residents will have access to Sam's Kitchen, The Seaside, IL Gelato Café Waikiki, ZIGU, Aloha Melt Waikiki, and Poke Fix Hawai'i. As a result, guests of Marine Surf Waikiki can easily enjoy Waikiki's best food culture only be walking a couple of minutes outside their doorsteps.
Not to mention, Marine Surf Waikiki is located adjacent to the International Market Place, which is a large open-air shopping center with over 90 stores. The International Market Place also offers audio tours and a Hula show to allow for engagement and cultural education for visitors, and the center also features lush, tropical landscapes, an iconic over one-century-old banyan tree, and several dining and entertainment opportunities. Guests of Marine Surf Waikiki need only cross the street to have incredible shopping and dining experiences.
If this was not enough, Marine Surf Waikiki is just down the street from Kalakaua Avenue, a large street lined with hundreds of stores, restaurants, and more. This is an immensely popular shopping strip that runs through the entirety of Waikiki, with designer boutiques, fast-fashion chain stores, and both casual and fine-dining restaurants.
Perhaps most notably, however, is Marine Surf Waikiki's proximity to one of the most popular and well-known beaches in Hawai'i- Waikiki Beach. This constantly-packed beach is only an 8-minute walk from Marine Surf Waikiki, and provides great opportunities for swimming, surfing, sunbathing, and just relaxing in the Hawaiian climate.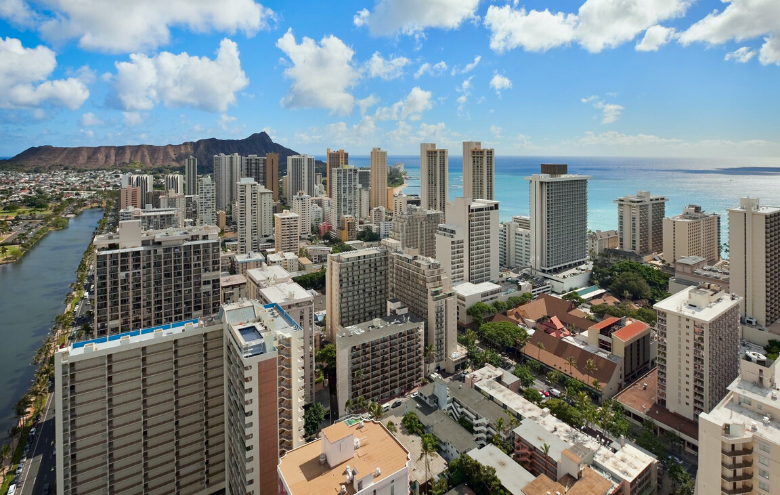 Photo: Aqua-Aston Hotels
The Amenities
Marine Surf Waikiki, unfortunately, does not provide guests with many on-site amenities. The main amenities featured at this condotel are a pool, security guard, and resident manager, though Marine Surf Waikiki's location and proximity to so many Waikiki staples make up for its lack of on-site amenities. However, Marine Surf Waikiki features two restaurants on its ground level- Aloha Steak House and The Seaside, both of which are extremely highly-rated restaurants.
Features of the Residences
As for the residences, Marine Surf Waikiki offers studio and 1-bedroom configurations. The studio units measure 392 square feet, while the 1-bedroom units measure between 772 and 858 square feet. The residences offer views of the Ko'olau Mountains, the Pacific Ocean, and the surrounding cityscape (depending on the unit).
Marine Surf Waikiki Interest Form
Marine Surf Waikiki Condos
December 1, 2023
$1,354.02
Avg. $ / Sq.Ft.