Four Paddle, Waikiki HI Homes & Real Estate
Page Directory: Neighborhood | Amenities | Features of the Residences
Four Paddle is a condominium located on Kuhio Drive, just one street over from the famous Kalakaua Avenue designer shops and across the street from the Ritz-Carlton Residences. This condo's location is excellent, as it leaves guests within walking distance of an abundance of great Waikiki amenities and activities, including Fort DeRussy Beach Park, the aforementioned Kalakaua Avenue, and amazing restaurants stationed all about the city. Not to mention, being located on Kuhio Avenue also allows guests the ability to quickly travel out of Waikiki if necessary, such as to the popular Ala Moana Center or in the opposite direction to the Honolulu Zoo.
Four Paddle is also one of the few buildings on O'ahu that allows legal short-term vacation rentals.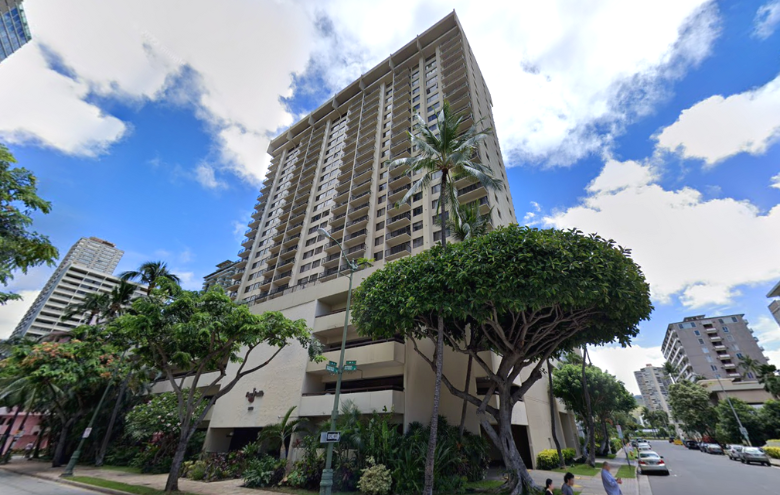 Photo: Google Maps
The Neighborhood
Four Paddle sits just a couple of blocks away from the largest parks in the main Waikiki area- Ainahau Triangle and Fort DeRussy Beach Park. These parks feature sprawling, flat green lawns that are popular for picnicking, exercising outdoors, playing with pets, and spending time with friends and family. Plus, these parks are lined with trees that provide cool shade if the Hawaiian sun becomes too intense for you or your pets. There are also paved walking paths that lead throughout the parks, making this a peaceful spot partially separated from the "concrete jungle" of Waikiki.
Just a bit further South and you will hit the beach portion of Fort DeRussy Beach Park, which features a long and wide (compared to other beaches in the area) beach with gorgeous white sands, crystal clear blue water, and views of Diamond Head in the distance.
Four Paddle, conveniently, is also located one street over from Kalakaua Avenue, which is the largest and most popular shopping street in Waikiki. This street stretches across the entirety of the main portion of the city, with various designer-brand, fast-fashion, and local shops lining the streets (as well as many restaurants and cafés). As a result, Four Paddle residents have quick access to this amazing shopping strip on foot, leading to endless opportunities for nightlife and activities. In fact, taking Kalakaua Avenue all the way down to the Southeast portion of Waikiki will bring guests to one of the most well-known and popular beaches in Hawai'i- Waikiki Beach. This incredibly popular landmark is constantly packed with people who love to spend time sunbathing, surfing, swimming, bodyboarding, and more, with food stands and nearby restaurants ready for any nearby people who need a food or drink pick-me-up.
Being located in the Western-Central portion of Waikiki also means that Four Paddle guests have easier access to the Ala Moana Center (compared to those located further South/East), which is just a 6-minute drive from the condo. This shopping mall, which is the largest open-air shopping center in the world, hosts hundreds of more designer-brand, fast-fashion, and local stores as well as many incredible restaurants within its cafeteria. For those who want more outdoor activities, Ala Moana Beach Park is located directly across Ala Moana Boulevard from the Ala Moana Center, and it hosts a large grassy park area, a beach, plenty of public parking, an L&L Hawaiian Barbecue, tennis courts, and a beach volleyball court.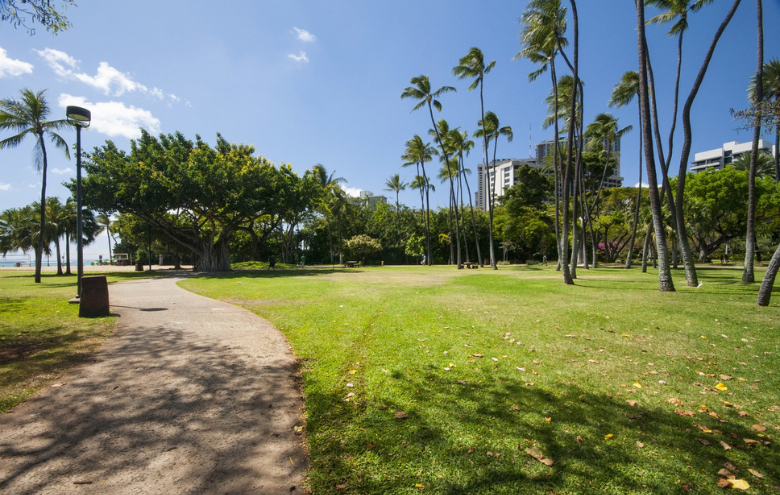 Photo: Outdoor Project
The Amenities
Not only is the Four Paddle condominium situated in an excellent spot in the heart of Waikiki, but it also has some staple on-site amenities that are offered to guests and owners alike. These amenities include a pool, his and her saunas, a BBQ area, and 24-hour security. These make your stay more enjoyable by providing more options for relaxation while at "home", and though there aren't as many amenities features in this condominium as in others around the area, Four Paddle's location means that guests can easily walk to one of the nearby activities posted around Waikiki for an enjoyable pastime experience (including beach, shopping, and dining opportunities).
Features of the Residences
Four Paddle offers studio and 1-bedroom units within its 25-floor building, with 250 units total. These units tend to be a bit smaller than others in the area, with the studio residences measuring just over 500 square feet and the 1-bedroom units measuring about 676 square feet. These units also feature private lanais, which have varying views of the surrounding cityscape, the Pacific Ocean, Fort DeRussy Beach Park, and the Ko'olau Mountains. Though the Ritz-Carlton Residences just across the street may impair views for the units facing Southwest, the fresh air and plentiful breezes provided by these private lanais heighten the incredible experience of the Four Paddle residences.
Four Paddle Interest Form
Four Paddle Condos
October 4, 2023