Cottages at Mauna 'Olu, Makaha HI Homes & Real Estate
Page Directory: Neighborhood | Amenities | Features of the Residences
The Cottages at Mauna 'Olu are an upcoming condominium community inland from Makaha Beach in Western O'ahu's Makaha Valley. This community will feature single-family homes ranging from about 1,300 to 1,935 square feet of interior space, nestled in a valley with views of the ocean and the surrounding Wai'anae Mountains. The entire area will span 26 acres and feature great amenities as well, such as a fitness center and swimming pool.
The Cottages at Mauna 'Olu will also be among the few communities on O'ahu that allow legal short-term vacation rentals.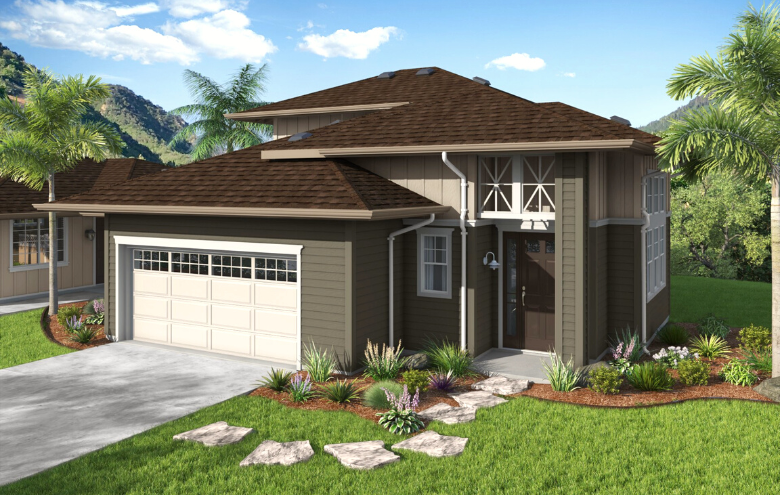 Photo: Standford Carr Development
The Neighborhood
The Cottages at Mauna 'Olu are set to be located in Makaha Valley, which is set back from the Western coastline of O'ahu in the small town of Makaha. This town is considered the last of the leeward towns on O'ahu, as North of Makaha there are no more residential areas, shopping locations, commercial spaces, or even roads that wrap around the Northwestern coastline. In fact, the next populated area of O'ahu North of Makaha is Mokuleia, which can only be accessed by driving South around the Wai'anae Mountains and then up through central O'ahu, as Farrington Highway (the main road taking Makaha to other towns) stops less than 8 miles North of Makaha (leaving the rest as just hiking trails, minimal government property, and mountains.
Regardless, Makaha is a small residential town with schools, a few stores (like Long's Drugs, Lei's Fashion, O'Reilly Auto Parts, and 7-Eleven), a country club, and even a hotel along the coastline. Makaha also features a beautiful beach known as Papaoneone, which is smaller than other beaches on the island but offers breathtaking views of sunsets. To reach other towns, residents can take Farrington Highway and easily reach neighboring towns' stores like City Mill, farmers' markets, and supermarkets in Wai'anae, though driving to more populated areas like Kapolei and Waipahu will take a bit longer (about 25 minutes and 36 minutes respectively).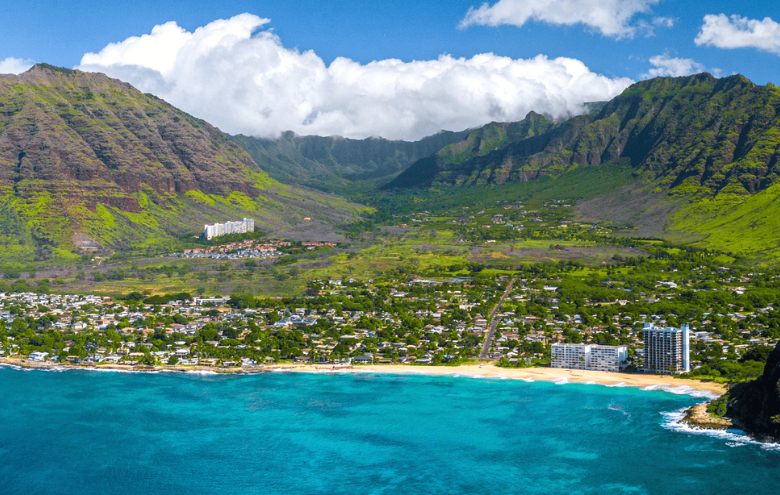 Photo: hawaiihomeboys.com
The Amenities
The amenities that are currently known for this upcoming community project are a recreation center, a fitness room, and a swimming pool. More information about these amenities will be included here as information is further disclosed by the developer.
Features of the Residences
The Cottages at Mauna 'Olu will be a gated community featuring 7 different floor plans for single-family homes, which (as previously mentioned) will range from about 1,300 to 1,935 square feet. The different home plans for the community will be as follows:
Plan 1, "Kaiaulu": 3BR/2BA, 1,306 square feet, 1 story, 2-car garage
Plan 2, "Kona": 3BR/2.5BA, 1,348 square feet, 2 stories, 2-car garage
Plan 3, "Waikihola": 3BR/2BA, 1,582 square feet, 1 story, 2-car garage
Plan 4, "Kumuma'oma'o": 4BR/2.5BA, 1,679 square feet, 2 stories, 2-car garage
Plan 5, "Hinakokea": 4BR/2.5BA, 1,688 square feet, 2 stories, 2-car garage
Plan 6, "Pu'uka'ala": 3BR/3.5BA (though den can be converted to 4th bedroom), 1,935 square feet, 2 stories, 2-car garage
Plan 7, "Pahelehala": 2BR/3.5BA, 1,935 square feet, 2 stories, 2-car garage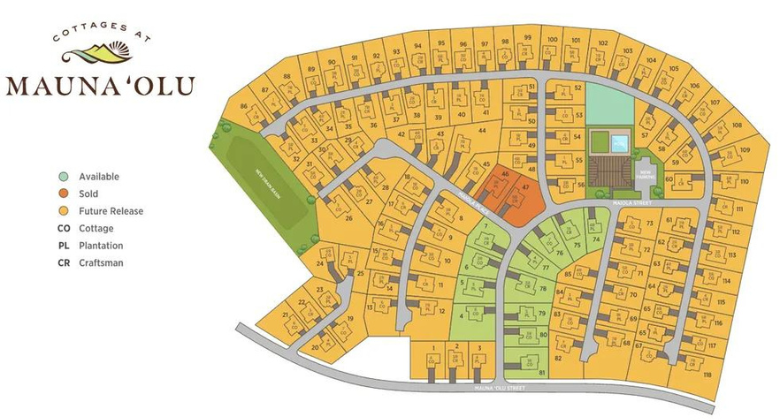 Photo: Stanford Carr Development
Cottages at Mauna 'Olu Interest Form