Cabana at Waikiki, Honolulu HI Homes & Real Estate
Page Directory: Neighborhood | Amenities | Features of the Residences
Built in 1967, the Cabana at Waikiki is a 4-floor condotel located in Eastern Waikiki, near the Eastern border of the main portion of the city. This condotel is located within close proximity of Waikiki Beach, which is just a 3-minute walk away, as well as the Honolulu Zoo just down the street and Kalakaua Avenue just two blocks away. However, Cabana at Waikiki's location on Cartwright Road means that guests at the condotel will be able to escape the busyness and bustle of the main areas of Waikiki while within their residences, as the condotel is located on a more quiet and secluded road. As a result, guests can enjoy the best parts of the city while still enjoying the luxury of having a private and more tranquil unit in Waikiki.
Cabana at Waikiki is also one of the few buildings on O'ahu that allows legal short-term vacation rentals.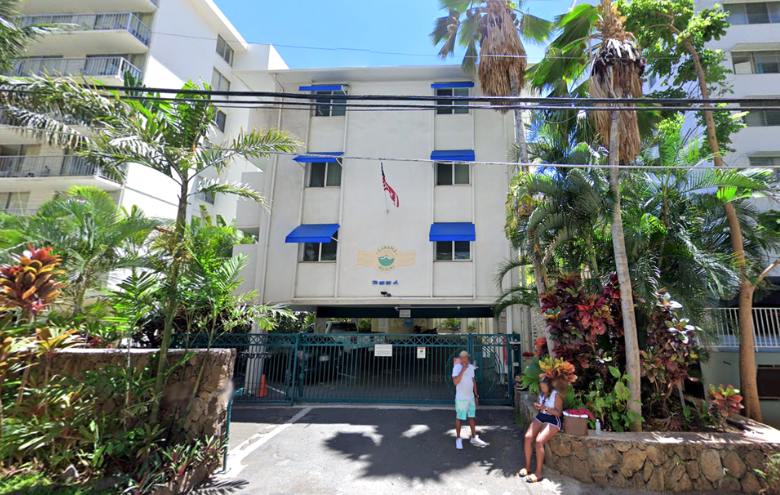 Photo: Google Maps
The Neighborhood
Unlike many other condotels in Waikiki, the Cabana at Waikiki is located near the border of the main portion of Waikiki. This condotel sits along Lemon Road, just down the street from the popular Honolulu Zoo and Waikiki/Kuhio Beach, and is likewise located near a plethora of amazing restaurants. Just within two blocks of the condotel, guests will have access to Yoshitsune, Lulu's Waikiki, Aloha Whip, Café Glacé Hawai'i, Tiki's Grill & Bar, Tucker & Bevvy Breakfast, and Teddy's Bigger Burgers. Not to mention, within one block of the condotel are two ABC Stores, which provide fun tourist gifts and trinkets as well as vacation staples like sunscreen, water and snacks, and other daily necessities.
As previously mentioned, one of the most notable aspects of the Cabana at Waikiki's location is its proximity to Waikiki Beach, which begins just one block away from the condotel (though technically considered Kuhio Beach, the entire strip is connected to Waikiki Beach). Arguably the most popular and well-known beach in Hawai'i, Waikiki Beach is an immensely popular spot for surfing, swimming, sunbathing, spending time with friends and family, eating, and more. There are shaded cabanas for those who need a break from the intense Hawaiian sun, and there are vendors stationed around the street selling various snacks and drinks. Not to mention, the entirety of Kalakaua Avenue along the beach is stationed with restaurants, cafés, and stores, which means visitors can easily take a break and grab something to eat or drink.
Kalakaua Avenue is also known for its wide array of shopping spots, as it is the main shopping strip in Waikiki. Kalakaua Avenue hosts a variety of designer stores, fast-fashion stores, and more, making it consistently crowded.
For those who are not interested in the extremely crowded daily nature of this street and general area, other outdoor activities are found directly across the street from the Cabana at Waikiki. These include the Honolulu Zoo, Kapi'olani Regional Park, and the Diamond Head Crater Hike, which are a 2-minute walk, 7-minute walk, and 13-minute drive away from Cabana at Waikiki respectively.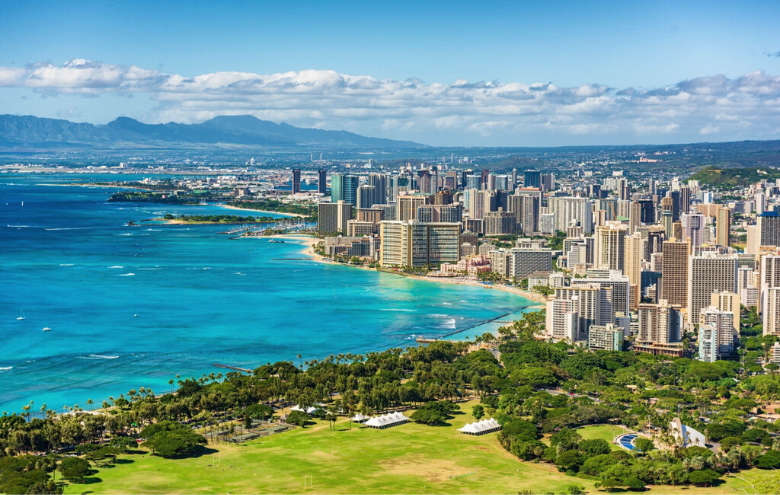 Photo: Pentrental.com
The Amenities
This condotel, unfortunately, does not offer any on-site amenities like other condotels in the area. However, its location nearby Waikiki Beach, Honolulu Zoo, Kalakaua Avenue, and a plethora of amazing restaurants make up for this lack of amenities, as all swimming, exercise, dining, and outdoor activities can be found within just a few blocks of the building.
Features of the Residences
Cabana at Waikiki is one of the smallest condotels in the Waikiki area, with only 4 floors and 15 units total. These units are exclusively 1-bedroom suites, which feature 365 square feet of interior space and private lanais that add an extra 50 to 58 square feet of outdoor space. These private lanais have views exclusively of the surrounding cityscape, though the palm trees and greenery lining the property help to break up the monotony of the concrete jungle and add beauty to the location.
Cabana at Waikiki Interest Form
Cabana at Waikiki Condos
October 4, 2023
$1,018.34
Avg. $ / Sq.Ft.
This unit is a legal, 1 bedroom, 1 bath, fee simple, short-term vacation rental in the heart of Waikiki. All units in the Cabana at Waikiki were completely gutted and remodeled in 2008 and are in a...
Welcome to the Cabana at Waikiki! Currently a short term rental, this lovely condo is less than 2 blocks away from the famous beaches & Honolulu Zoo. Excellent condition & turn-key - including all...