Aloha Surf Waikiki, Honolulu HI Homes & Real Estate
Page Directory: Neighborhood | Amenities | Features of the Residences
Aloha Surf Waikiki is a 1968 condotel located adjacent to the Ala Wai Harbor in downtown Waikiki. This condotel features 253 studios and 1 1-bedroom penthouse, all spread across 15 floors. Apart from its staple few amenities such as a pool and fitness center, Aloha Surf Waikiki is located just down Kanekapolei Street/Ka'iulani Avenue from a variety of popular shopping centers and districts in the area, including the International Market Place and the greater Kalakaua Avenue. Perhaps most notably, however, is its proximity to the famous Waikiki Beach, which is a 7-minute walk away.
Aloha Surf Waikiki is also one of the few buildings on O'ahu that allows legal short-term vacation rentals.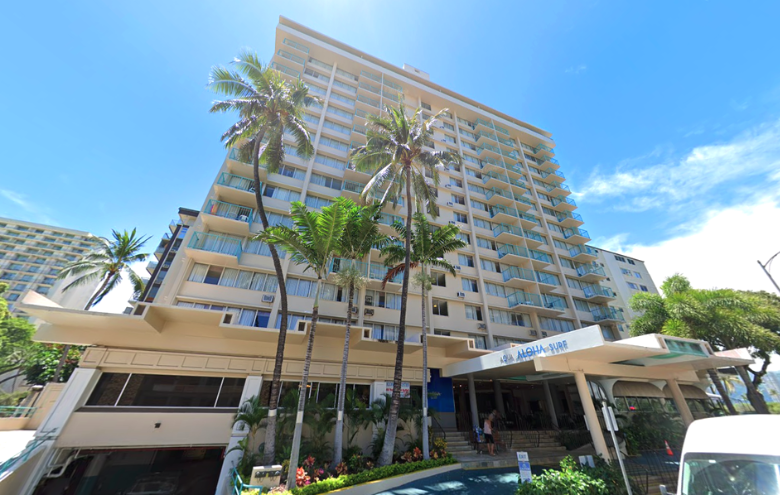 Photo: Google Maps
The Neighborhood
Aloha Surf Waikiki is located just down Kanekapolei Street/Ka'iulani Avenue from one of the main shopping areas in downtown Waikiki, which includes the Waikiki Shopping Plaza, the International Market Place, the Waikiki Business Plaza, and the entirety of Kalakaua Avenue. This is all within a 5-minute walk of Aloha Surf Waikiki, meaning guests of this condotel will have extremely convenient access to some of the most popular shopping spots within a couple of miles. Included within these shopping centers are local stores and shops, designer boutiques, fast-fashion chain stores, and numerous great restaurants. More of these can be found lining Kalakaua Avenue.
For those more interested in visiting nearby beaches, Aloha Surf Waikiki is located just a 7-minute walk from one of the most popular and well-known beaches in Hawai'i- Waikiki Beach. This is a great spot for swimming, water sports like surfing, bodyboarding, and paddle boarding, plus activities like sunbathing and spending time with friends and family. If you ever feel the need for food or a drink, there are restaurants, cafés, and food trucks/stands positioned all around the area for your convenient access. Contrastingly, a 6-minute drive from Aloha Surf Waikiki is Fort DeRussy Beach, which is significantly wider than Waikiki Beach and backed by a decently large park. It also tends to be less crowded than Waikiki Beach, which makes this a nice option for those who want to enjoy the Hawaiian sun and sand but want to avoid the incredibly congested area of Waikiki Beach.
Down Kuhio Avenue in the opposite direction will bring you to other popular spots like the Honolulu Zoo on Kapahulu Avenue, Kapi'olani Regional Park adjacent to the zoo, and the famous Diamond Head Crater Hike just a short drive further. From Aloha Surf Waikiki, these three locations sit a 4-, 5-, and 14-minute drive away respectively.
In the opposite direction, the Ala Moana Center is another incredibly popular shopping center (and the largest open-air shopping center in the world), which is just a 7-minute drive away and includes hundreds of more stores and restaurants. For more outdoor activities, Ala Moana Beach Park is directly across Ala Moana Boulevard from the Ala Moana Center, and includes Ala Moana Beach, a large park for outdoor sports, playing with pets, exercising, picnicking, etc., the Ala Moana Tennis Courts, and a beach volleyball court.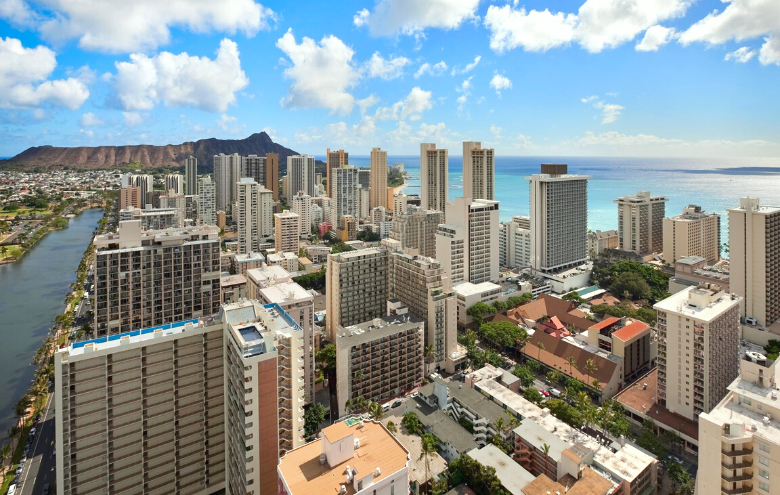 Photo: Aqua-Aston Hotels
The Amenities
Unfortunately, Aloha Surf Waikiki does not offer as many amenities as other condotels in the area, though the building makes up for this by being within extremely close proximity of many of Waikiki's best restaurants, outdoor activities, and more. The amenities that are offered to Aloha Surf Waikiki residents include staples like a pool, concierge, fitness room, BBQ area, and an on-site restaurant.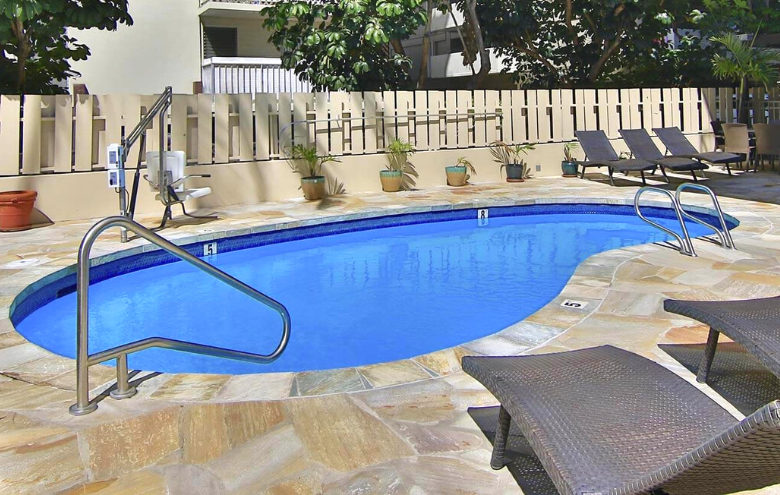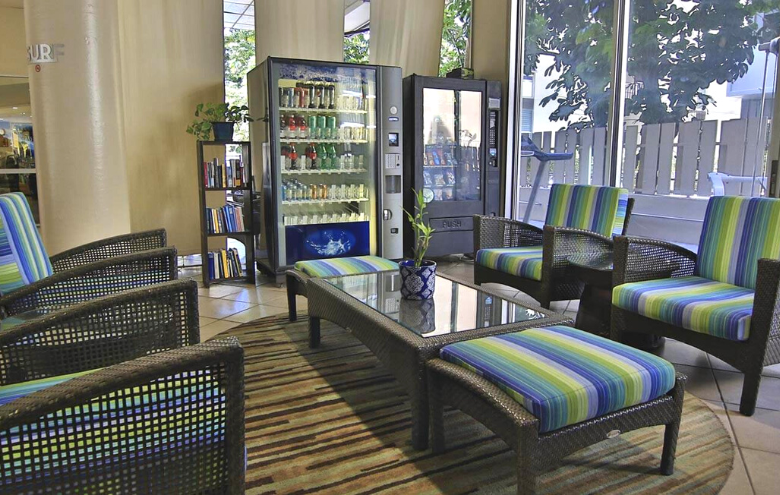 Photos: Aqua-Aston Hotels
Features of the Residences
Aloha Surf Waikiki offers 5 types of residences for guests, which include:
Moderate Room, 220 square feet
Superior Room with Balcony, 340 square feet
Deluxe Room with Balcony, 360 square feet
Deluxe Junior Suite with Balcony, 385 square feet
One Bedroom Suite with Balcony, 625 square feet
All of the units are studios except for the 1-bedroom penthouse, which is indicated by the final option in the list above. All of the units feature a mini-refrigerator, a microwave, and a coffeemaker, while all but the Moderate Room also feature private balconies. As for views, the rooms have views of the surrounding cityscape as well as partial views of the Ala Wai Harbor and Ko'olau Mountains in the distance.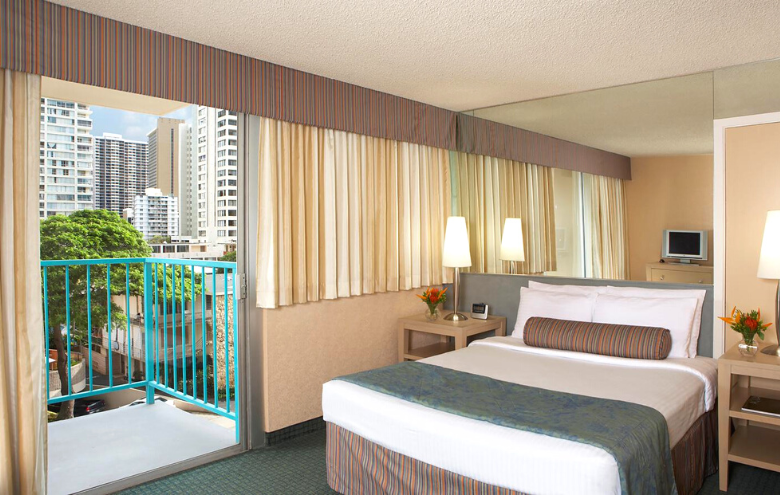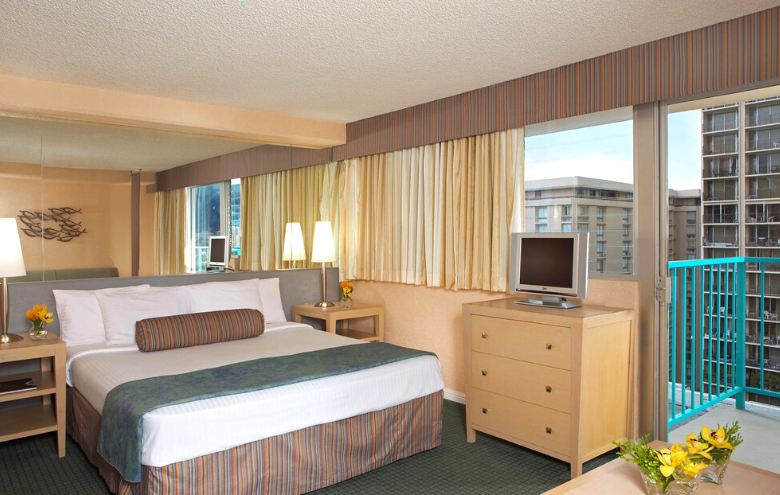 Photos: Aqua-Aston Hotels
Aloha Surf Waikiki Interest Form
Aloha Surf Waikiki Condos
December 1, 2023
$1,040.23
Avg. $ / Sq.Ft.