Nauru Tower, Kaka'ako HI Homes & Real Estate
Jump To: Introduction | Neighborhood | Amenities | Features of the Residences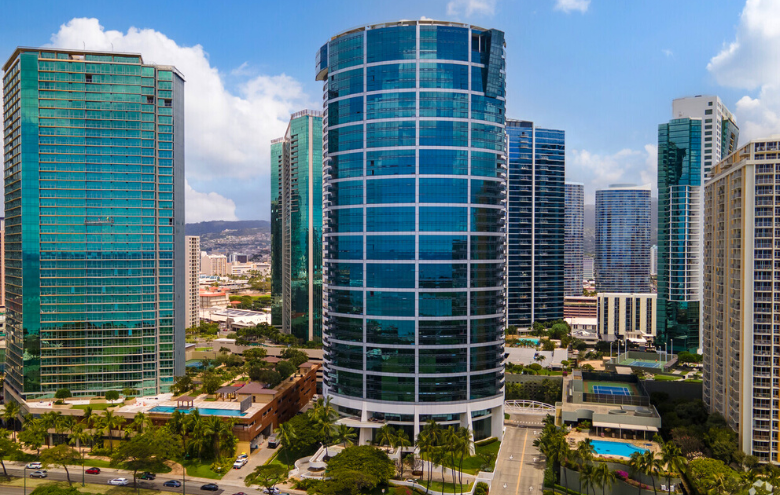 Completed in 1992, Nauru Tower is a luxary high-rise condominium located directly across from the famous Ala Moana Beach Park in downtown Honolulu. This tower houses 411 1-, 2-, and 3-bedroom units across 45 floors, and it sits on about 3.1 acres of land. Nauru Tower was built by the Republic of Nauru as one of its investments, and it has earned the "Building of the Year" award since its completion. Its semicircular shape allows for incredible views of the Pacific Ocean, Ala Moana Beach Park, the neigboring Honolulu cityscape, and Diamond Head.
The Neighborhood
Nauru Tower is located in one of the most ideal spots in all of Honolulu, which sits directly across from Ala Moana Beach Park, where you can have get-togethers with family and friends, walk and play with pets, play sports on land or in the water, or relax in the Hawaiian sun.
Nauru Tower is also a less than 3-minute walk away from the largest open-air shopping center in the world, the Ala Moana Shopping Center. Not to mention, Nauru Tower's location in the downtown Kaka'ako/Ala Moana area means residents have access to a wide variety of incredible restaurants, cafés, parks, beaches, shopping spots, and more right outside their doorstep.
Not only is Nauru Tower located right nearby a large shopping center housing hundreds of stores, but a couple blocks Northwest is the largest Whole Foods Market in the state of Hawai'i, conveniently located in Ward Village. This is a 3-minute drive or an 8-minute walk away from the building, meaning grocery shopping is extremely quick for Nauru Tower residents. Also located in Ward Village is the Consolidated Theatres Ward location, where movie enthusiasts can walk in 7 minutes to catch the latest box office releases.
For larger purchases, a Walmart and a Sam's Club are located on Ke'eaumoku Street, which is a 15-minute walk or a short 5-minute drive away from Nauru Tower. Equally as close is President William McKinley High School, which allows students the ability to walk to and from school in a very short amount of time, if they choose.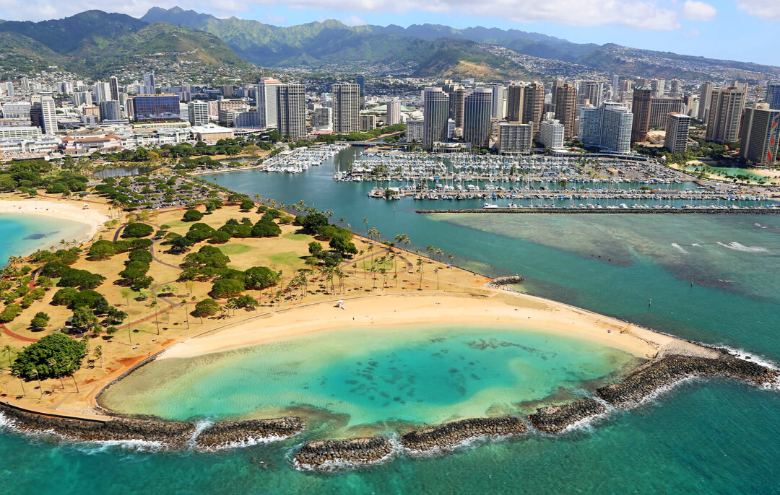 The Amenities
In addition to the plethora of incredible neighborhood offerings around Nauru Tower, this building also offers residents a variety of on-site indoor and outdoor amenities, including:
A large heated swimming pool
2 jacuzzis
A poolside cabana
A tennis court
A private picnic deck with cabanas, BBQ areas, and gorgeous lush landscaping
Surfboard and kayak storage
Bicycle racks
Private parking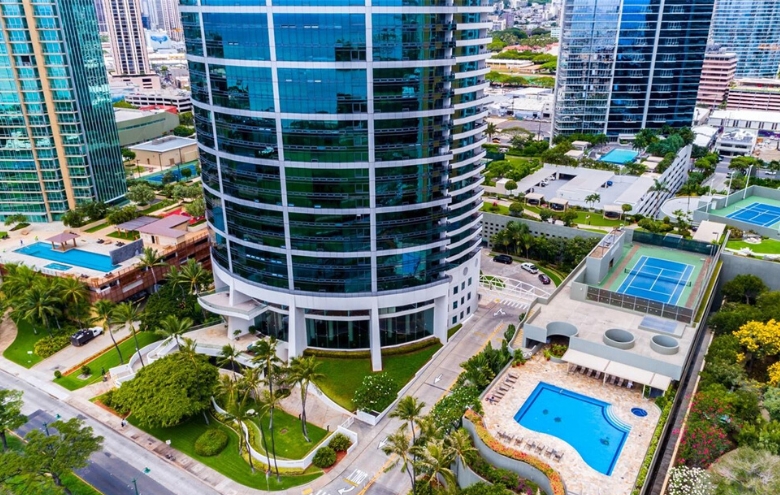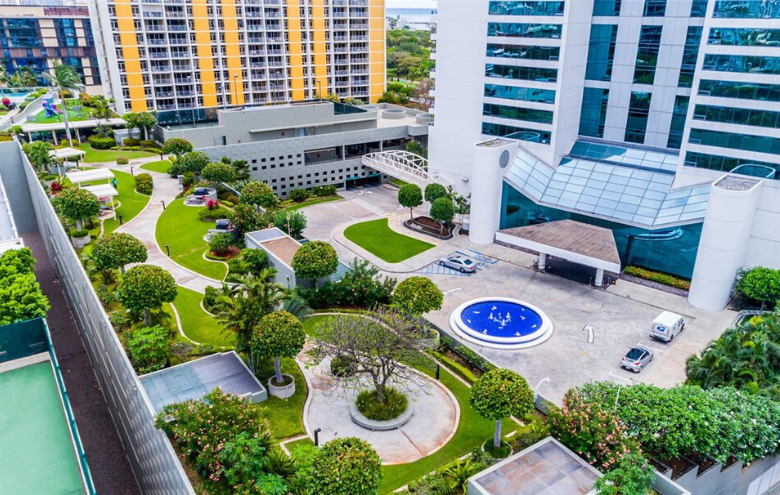 Features of the Residences
Though the curved design of the building may feel a bit outdated and may create some difficulties when decorating your residence, the views created from the large windows make up for this shortcoming. The vast majority of floor layouts and sizes are as follows:
1BR/1BA: 940 square feet (850 square feet of interior space, 90 square foot lanai)
2BR/2BA: 1535 (1385 square feet of interior, 150 square foot lanai), 1312 (1220 square feet of interior, 92 square foot lanai), or 1310 (1220 square feet of interior, 90 square foot lanai) square foot options
Located on the 43rd and 44th floors of the building are the penthouse suites, which are considerably larger than the other layouts.
The 43rd floor unit numbers and corresponding square footage are as follows:
4301: 3660 total square feet
4302, 4303, and 4304: 2752 total square feet
4305: 2588 total square feet
4306: 2585 total square feet
The 44th floor unit numbers and corresponding square footage are as follows:
4401: 3445 total square feet
4402: 2380 total square feet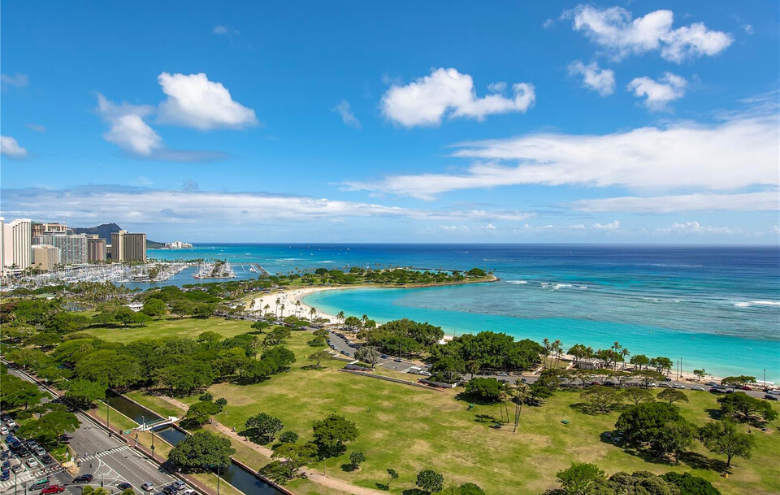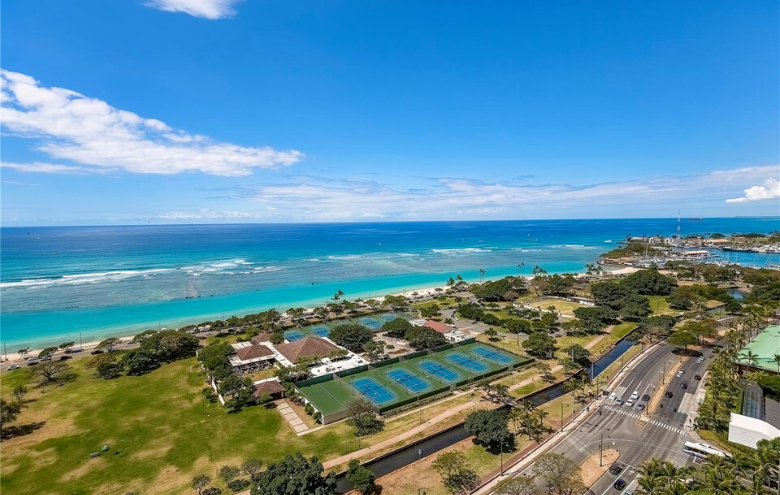 Nauru Tower Interest Form
Condos For Sale in Nauru Tower, Kaka'ako, HI
December 1, 2023
$1,199,000
Med. List Price