New Kakaako Condo coming soon! The Launiu Ward Village- An exciting new front-row project!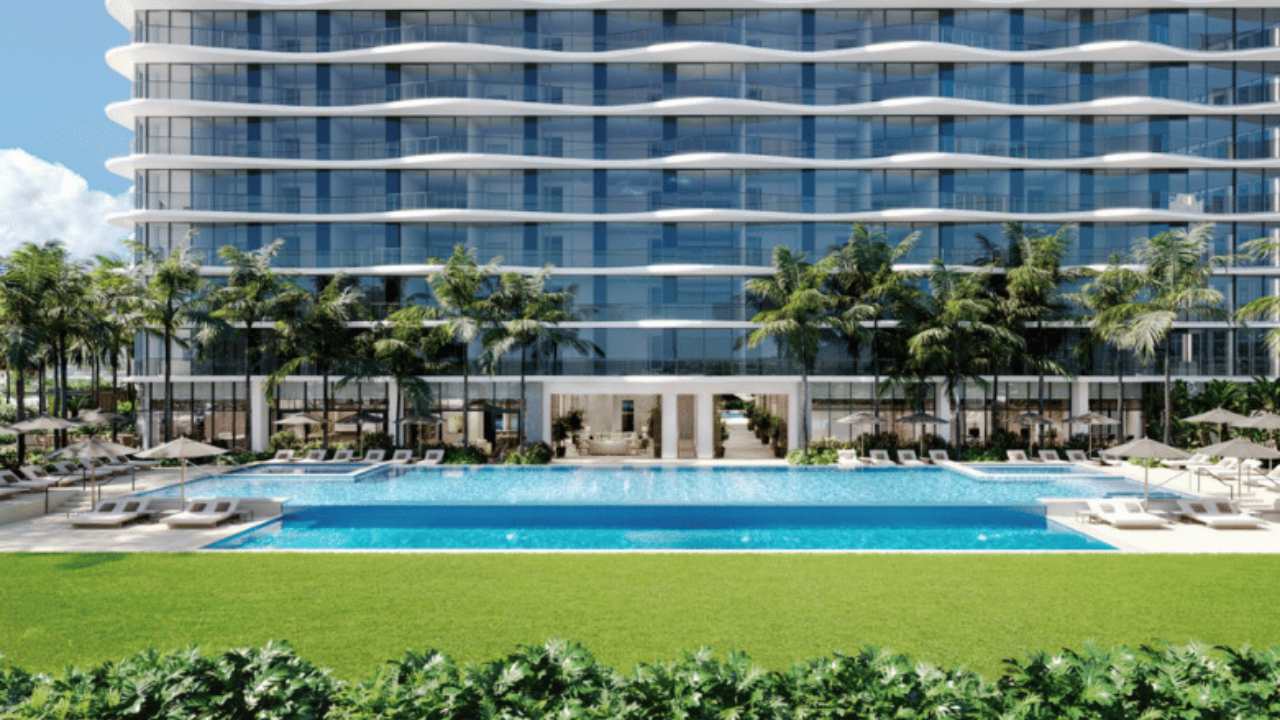 If you missed out on Victoria Place, Kalae and Alia- this will be one of the last opportunities in Ward Village to purchase in the invaluable front row position.
Launiu will be located at the corner of Ala Moana Blvd. and Ward Avenue where the weekend Ward Village Farmers Market is located.
The information is still very early being that it was just discussed at the Ala Moana-Kakaako neighborhood meeting.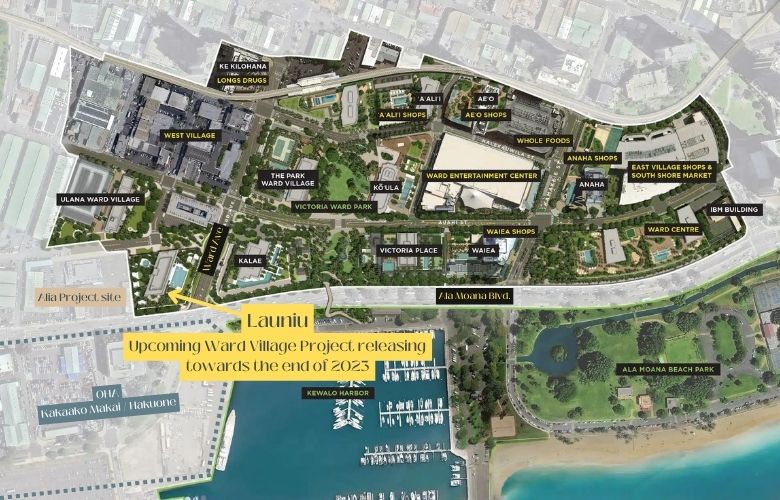 What we do know:
486 total residences
90 podium homes surrounding the parking structure
Studio, 1 bedroom, 2 bedroom, and 3 bedrooms
Approximately 20,000 sqft of commercial space
Approximately 16,000 sqft of new open green space and landscaping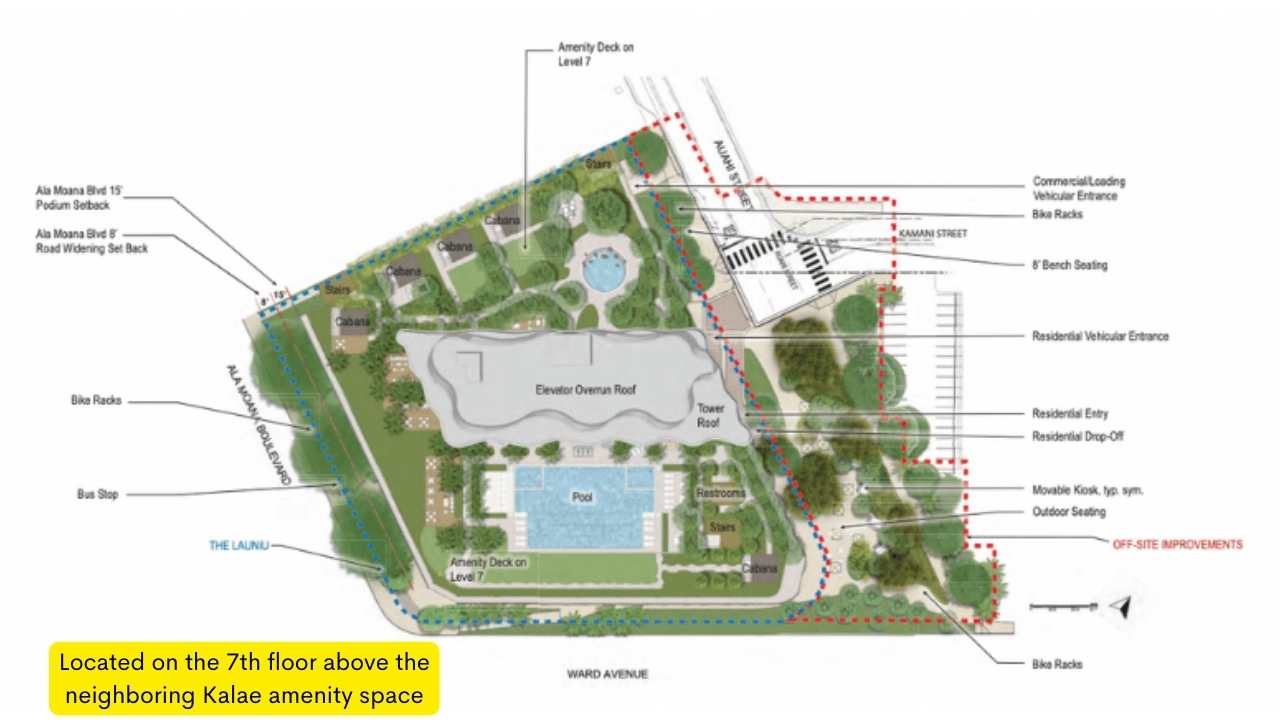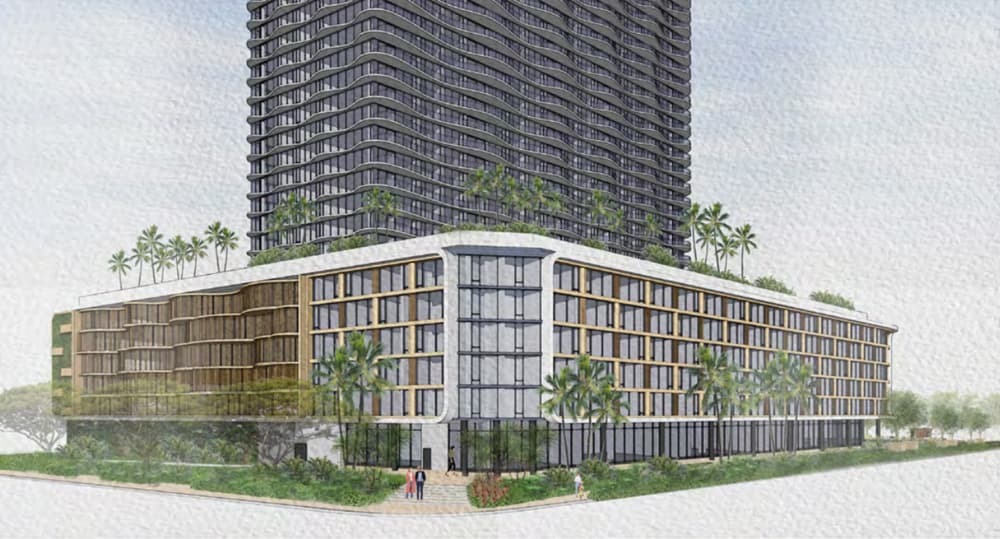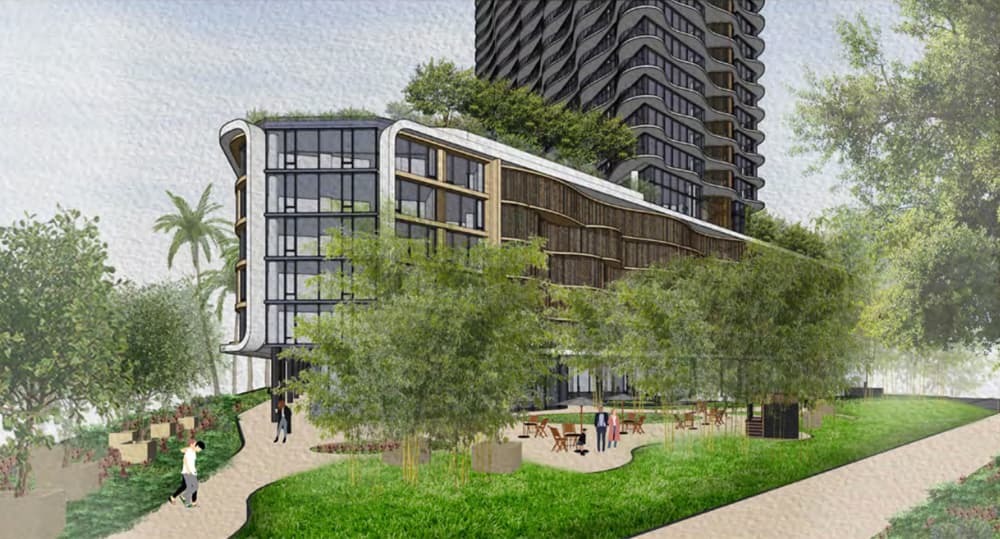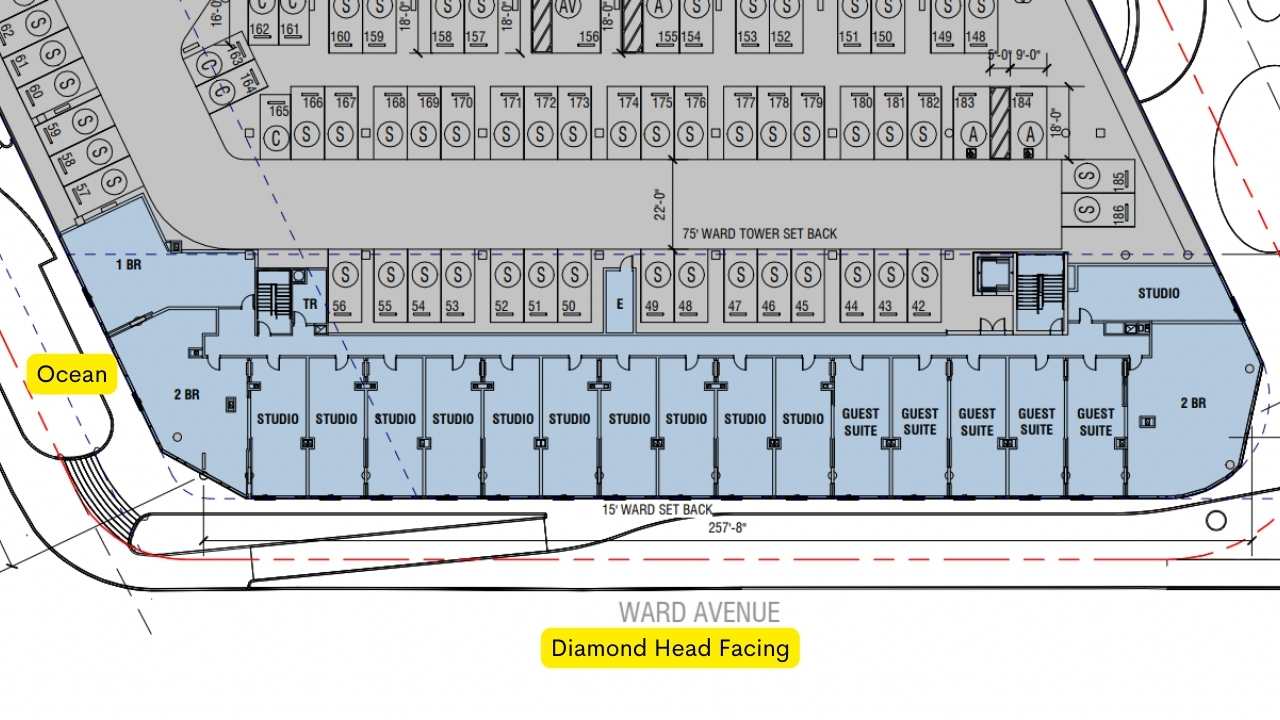 The podium units will span along Ward Avenue on the mountain to ocean side of the building. They will be below the seventh floor amenity deck and offer value ocean and Diamond Head views in the building.
The remaining one bedroom and studio floorplans in the tower will be on the Ewa (west) side of the building facing he neighboring development Alia being developed by a well known local developer Kobayashi Group.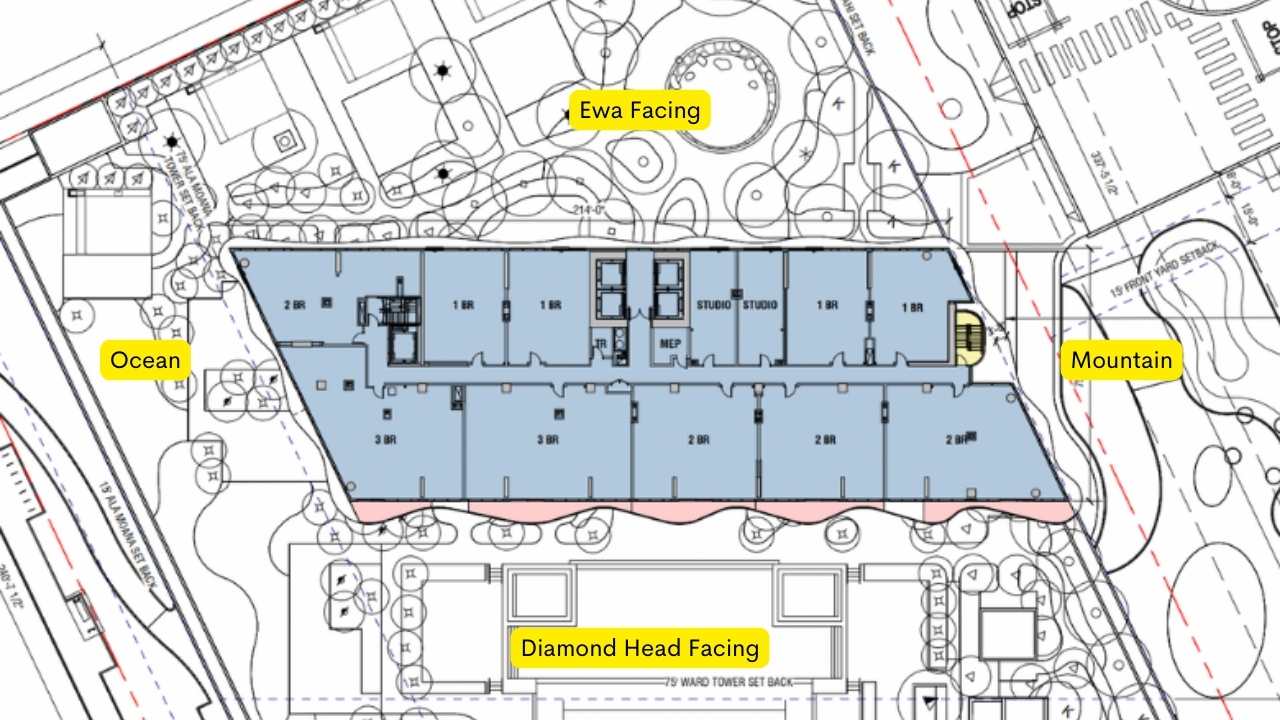 I feel it could present a much more affordable option compared to Victoria Place and Kalae, while being in a central location between Ward Village and Salt Kakaako neighborhoods.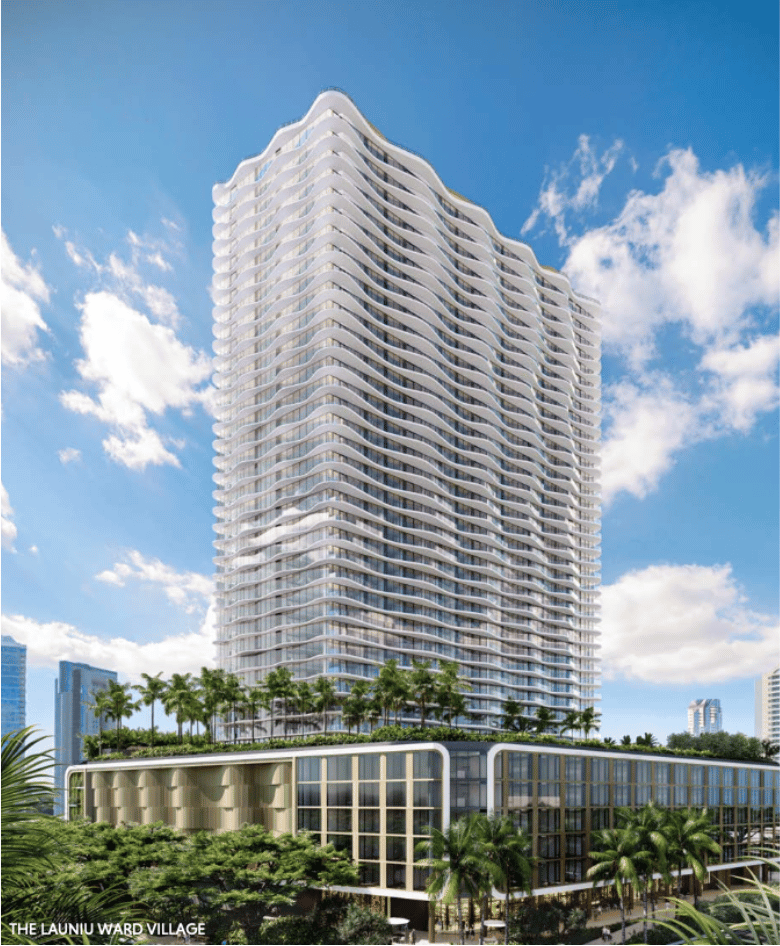 The Neighborhood
With the Office of Hawaiian Affairs (OHA) pushing for their opportunity to develop Kakaako Makai or what they are calling Hakuone- its important to keep in mind that there could be additional development on the oceanside of Ala Moana Blvd. with a potential of a changing view plane.
Launiu will be in the middle of each access points of Ward Village and Salt Kakaako and potentially additional development at Hakuone.
Keep me updated on Launiu and other new projects!
Condos for sale in Kakaako
197 Properties
Address
Beds
Baths
Sq.Ft.
Price(%Chng)
$/Sq.Ft.
On Site
555 South Street #3907
Honolulu, HI 96813
2
2
1,073
$1,075,000
$1,001.86
2 days
1009 Kapiolani Boulevard #2606
Honolulu, HI 96814
2
2
1,031
$970,000
$940.83
2 days
987 Queen Street #1716
Honolulu, HI 96814
--
1
347
$620,000
$1,786.74
3 days
725 Kapiolani Boulevard #2602
Honolulu, HI 96813
2
3
1,086
$718,000
$661.14
3 days
1133 Waimanu Street #1504
Honolulu, HI 96814
2
1
747
$699,000
$935.74
3 days
909 Kapiolani Boulevard #2607
Honolulu, HI 96814
1
1
603
$635,000
$1,053.07
4 days
920 Ward Avenue #11D
Honolulu, HI 96814
2
2
918
$600,000
$653.59
4 days
803 Waimanu Street #213
Honolulu, HI 96813
--
1
419
$345,146
$823.74
4 days
987 Queen Street #1310
Honolulu, HI 96814
--
1
373
$626,000
$1,678.28
5 days
1296 Kapiolani Boulevard #1801
Honolulu, HI 96814
1
1
701
$699,500
$997.86
5 days
1000 Auahi Street #2615
Honolulu, HI 96814
2
2
941
$1,590,000
$1,689.69
8 days
1000 Auahi Street #1007
Honolulu, HI 96814
2
2
968
$1,430,000
$1,477.27
10 days
1177 Queen Street #3707
Honolulu, HI 96814
2
2
1,108
$1,290,000
$1,164.26
11 days
1108 Auahi Street #2006
Honolulu, HI 96814
2
2
1,244
$1,930,000
$1,551.45
11 days
1288 Kapiolani Boulevard #I-1808
Honolulu, HI 96814
3
2
1,206
$1,128,000
$935.32
12 days
1118 Ala Moana Boulevard #1203
Honolulu, HI 96814
1
2
1,139
$2,050,000
$1,799.82
12 days
615 Keawe Street #2706
Honolulu, HI 96813
2
2
786
$793,500
$1,009.54
12 days
615 Keawe Street #1907
Honolulu, HI 96813
2
2
786
$742,500
$944.66
12 days
615 Keawe Street #1803
Honolulu, HI 96813
2
2
802
$738,000
$920.20
12 days
1330 Ala Moana Boulevard #1807
Honolulu, HI 96814
1
1
940
$819,000
$871.28
12 days
1296 Kapiolani Boulevard #2908
Honolulu, HI 96814
3
2
1,206
$1,195,000

-11.5%

$990.88
14 days
1118 Ala Moana Boulevard #2306
Honolulu, HI 96814
3
3
2,153
$4,695,000
$2,180.68
16 days
1108 Auahi Street #1201
Honolulu, HI 96814
3
3
1,939
$3,250,000
$1,676.12
17 days
1000 Auahi Street #2606
Honolulu, HI 96814
1
1
582
$1,050,000
$1,804.12
17 days
1000 Auahi Street #2107
Honolulu, HI 96814
2
2
968
$1,400,000
$1,446.28
18 days
1177 Queen Street #1902
Honolulu, HI 96814
3
2
1,561
$1,850,000
$1,185.14
19 days
801 South Street #4124
Honolulu, HI 96813
2
2
840
$820,000
$976.19
21 days
1189 Waimanu Street #4004
Honolulu, HI 96814
2
2
1,042
$1,380,000
$1,324.38
21 days
1009 Kapiolani Boulevard #3012
Honolulu, HI 96814
2
2
730
$825,000
$1,130.14
22 days
1000 Auahi Street #3307
Honolulu, HI 96814
2
2
968
$1,495,000
$1,544.42
23 days
725 Kapiolani Boulevard #3405
Honolulu, HI 96813
2
3
1,180
$700,000
$593.22
23 days
1350 Ala Moana Boulevard #611
Honolulu, HI 96814
2
2
968
$795,000
$821.28
24 days
600 Ala Moana Boulevard #3310
Honolulu, HI 96813
3
2
1,217
$1,388,888
$1,141.24
24 days
988 Halekauwila Street #4108
Honolulu, HI 96814
2
2
744
$799,999
$1,075.27
24 days
1189 Waimanu Street #1509
Honolulu, HI 96814
2
2
1,069
$1,279,000
$1,196.45
25 days
400 Keawe Street #401
Honolulu, HI 96813
2
2
1,131
$980,000
$866.49
25 days
88 Piikoi Street #1101
Honolulu, HI 96814
1
1
842
$759,000
$901.43
26 days
988 Halekauwila Street #1811
Honolulu, HI 96814
1
1
477
$586,000
$1,228.51
26 days
987 Queen Street #1401
Honolulu, HI 96814
2
2
927
$1,449,000
$1,563.11
29 days
600 Queen Street #2206
Honolulu, HI 96813
2
2
1,045
$815,000
$779.90
29 days
987 Queen Street #2000
Honolulu, HI 96814
1
1
559
$979,000
$1,751.34
29 days
1108 Auahi Street #2103
Honolulu, HI 96814
2
2
1,444
$2,388,000
$1,653.74
30 days
1001 Queen Street #3013
Honolulu, HI 96814
1
1
622
$820,000
$1,318.33
30 days
987 Queen Street #3506
Honolulu, HI 96814
--
1
367
$635,000
$1,730.25
31 days
88 Piikoi Street #2803
Honolulu, HI 96814
2
2
1,365
$1,265,000
$926.74
31 days
1108 Auahi Street #612
Honolulu, HI 96814
--
1
434
$769,000
$1,771.89
31 days
1288 Ala Moana Boulevard #22G
Honolulu, HI 96814
2
2
1,620
$2,788,000
$1,720.99
31 days
1108 Auahi Street #PH3507
Honolulu, HI 96814
2
2
1,349
$2,350,000
$1,742.03
32 days
725 Kapiolani Boulevard #812
Honolulu, HI 96813
2
3
1,291
$675,000
$522.85
33 days
1000 Auahi Street #3808
Honolulu, HI 96814
1
1
665
$1,288,000
$1,936.84
33 days