Launiu Ward Village- An exciting new front-row project coming soon!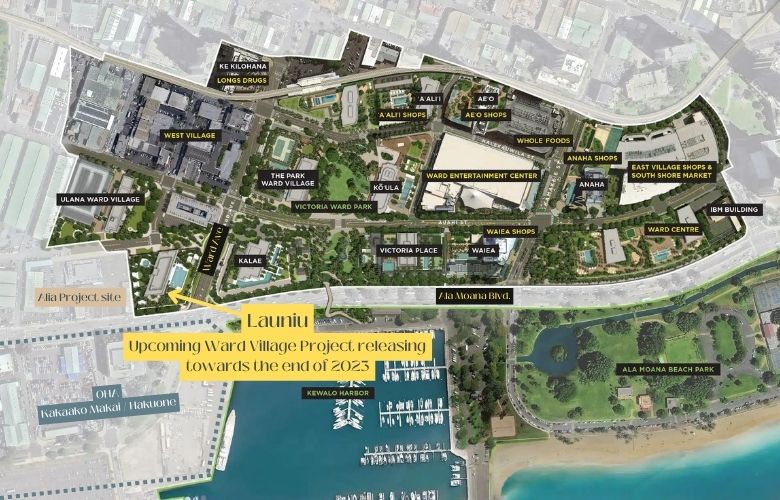 If you missed out on Victoria Place, Kalae and Alia- this will be one of the last opportunities in Ward Village to purchase in the invaluable frontrow position.
Launiu will be located at the corner of Ala Moana Blvd. and Ward Avenue where the weekend Ward Village Farmers Market is located.
The infromation is still very early being that it was just discussed at the Ala Moana-Kakaako neioghborhood meeting.
What we do know:
486 total residences
90 podium homes surrounding the parking structure
Studio, 1 bedroom, 2 bedroom, and 3 bedrooms
Approximately 20,000 sqft of commerical space
Approximately 16,000 sqft of new open green space and landscaping
It would be interesting to see the level of finishing for this project. From what we were told it will be simular to Koula or The Park Ward Village.
I feel it could present a much more affordable option compared to Victoria Place and Kalae, while being in a central location between Ward Village and Salt Kakaako neighborhoods.
The Neighborhood
With the Office of Hawaiian Affairs (OHA) pushing for their opportunity to develop Kakaako Makai or what they are calling Hakuone- its important to keep in mind that there could be addtitional development on the oceanside of Ala Moana Blvd. with a potential of a changing viewplane.
Launiu will be in the middle of each access points of Ward Village and Salt Kakaako and potentionally additional development at Hakuone.
Keep me updated on Launiu and other new projects!
Condos for sale in Kakaako
212 Properties
Address
Beds
Baths
Sq.Ft.
Price(%Chng)
$/Sq.Ft.
On Site
1288 Kapiolani Boulevard #I-601
Honolulu, HI 96814
1
1
701
$630,000
$898.72
2 days
876 Curtis Street #3608
Honolulu, HI 96813
1
1
699
$525,000
$751.07
2 days
1133 Waimanu Street #509
Honolulu, HI 96814
2
1
712
$670,000
$941.01
2 days
1350 Ala Moana Boulevard #1908
Honolulu, HI 96814
2
2
1,062
$850,000
$800.38
2 days
987 Queen Street #2509
Honolulu, HI 96814
--
1
363
$625,000
$1,721.76
3 days
828 Auahi Street #2109
Honolulu, HI 96813
--
1
289
$332,500
$1,150.52
3 days
1000 Auahi Street #500
Honolulu, HI 96814
3
3
1,457
$2,275,000
$1,561.43
8 days
1350 Ala Moana Boulevard #1011
Honolulu, HI 96814
2
2
968
$695,000
$717.98
9 days
1108 Auahi Street #513
Honolulu, HI 96814
1
1
808
$1,001,000
$1,238.86
10 days
801 South Street #3911
Honolulu, HI 96813
1
1
517
$659,000
$1,274.66
10 days
415 South Street #2001
Honolulu, HI 96813
2
2
1,470
$869,000
$591.16
11 days
1189 Waimanu Street #3706
Honolulu, HI 96814
2
2
1,034
$1,185,000
$1,146.03
12 days
1177 Queen Street #3205
Honolulu, HI 96814
2
2
1,157
$1,500,000
$1,296.46
14 days
1296 Kapiolani Boulevard #2506
Honolulu, HI 96814
2
2
1,105
$989,000
$895.02
15 days
1189 Waimanu Street #3404
Honolulu, HI 96814
2
2
1,042
$1,425,000
$1,367.56
16 days
1118 Ala Moana Boulevard #Villa-10
Honolulu, HI 96814
4
5
3,476
$5,500,000
$1,582.28
16 days
1001 Queen Street #4013
Honolulu, HI 96814
1
1
622
$915,000
$1,471.06
16 days
987 Queen Street #3600
Honolulu, HI 96814
1
1
559
$1,050,000
$1,878.35
16 days
1330 Ala Moana Boulevard #3002
Honolulu, HI 96814
1
1
940
$975,000
$1,037.23
17 days
1330 Ala Moana Boulevard #2207
Honolulu, HI 96814
1
1
940
$840,000
$893.62
17 days
88 Piikoi Street #4405
Honolulu, HI 96814
2
2
1,395
$1,688,000
$1,210.04
18 days
1350 Ala Moana Boulevard #2511
Honolulu, HI 96814
2
2
968
$815,000
$841.94
18 days
1288 Ala Moana Boulevard #28C
Honolulu, HI 96814
2
2
1,524
$2,940,000
$1,929.13
19 days
888 Ala Moana Boulevard #3711
Honolulu, HI 96814
1
2
762
$1,591,000
$2,087.93
20 days
88 Piikoi Street #3009
Honolulu, HI 96814
2
2
1,413
$2,200,000
$1,556.97
20 days
1009 Kapiolani Boulevard #3006
Honolulu, HI 96814
1
1
661
$739,000
$1,118.00
21 days
1350 Ala Moana Boulevard #2311
Honolulu, HI 96814
2
2
968
$828,000
$855.37
22 days
1296 Kapiolani Boulevard #4404
Honolulu, HI 96814
2
2
1,113
$1,095,000
$983.83
23 days
801 South Street #3007
Honolulu, HI 96813
2
2
776
$820,000
$1,056.70
23 days
1189 Waimanu Street #1405
Honolulu, HI 96814
3
2
1,227
$1,449,000

-2%

$1,180.93
25 days
600 Ala Moana Boulevard #2305
Honolulu, HI 96813
2
2
909
$1,250,000
$1,375.14
26 days
610 Ala Moana Boulevard #M303
Honolulu, HI 96813
--
1
475
$599,000
$1,261.05
26 days
1330 Ala Moana Boulevard #1001
Honolulu, HI 96814
2
2
1,385
$1,089,000

-5.2%

$786.28
27 days
888 Kapiolani Boulevard #4408
Honolulu, HI 96813
3
3
1,653
$1,898,000

-5%

$1,148.22
28 days
1001 Queen Street #1711
Honolulu, HI 96814
--
1
433
$618,888
$1,429.30
29 days
415 South Street #1202
Honolulu, HI 96813
1
1
804
$620,000
$771.14
29 days
1108 Auahi Street #1000
Honolulu, HI 96814
3
3
2,445
$3,650,000
$1,492.84
30 days
600 Ala Moana Boulevard #3903
Honolulu, HI 96813
1
1
579
$915,000
$1,580.31
31 days
1000 Auahi Street #2707
Honolulu, HI 96814
2
2
968
$1,658,800
$1,713.64
31 days
1001 Queen Street #3500
Honolulu, HI 96814
3
3
1,334
$2,100,000
$1,574.21
32 days
1189 Waimanu Street #1303
Honolulu, HI 96814
2
2
1,002
$1,400,000
$1,397.21
32 days
88 Piikoi Street #1207
Honolulu, HI 96814
2
2
1,018
$1,058,000

-3.8%

$1,039.29
32 days
1350 Ala Moana Boulevard #3103
Honolulu, HI 96814
2
2
948
$885,000
$933.54
32 days
600 Queen Street #1707
Honolulu, HI 96813
2
2
1,045
$775,000
$741.63
33 days
876 Curtis Street #2703
Honolulu, HI 96813
2
2
896
$670,000
$747.77
34 days
888 Ala Moana Boulevard #1001
Honolulu, HI 96814
2
3
1,156
$2,502,000
$2,164.36
35 days
888 Ala Moana Boulevard #3713
Honolulu, HI 96814
2
2
968
$1,824,000
$1,884.30
35 days
415 South Street #1904
Honolulu, HI 96813
2
2
1,470
$830,000
$564.63
36 days
888 Ala Moana Boulevard #1208
Honolulu, HI 96814
2
2
979
$1,429,000
$1,459.65
36 days
888 Ala Moana Boulevard #2509
Honolulu, HI 96814
2
2
1,150
$2,176,000

1.3%

$1,892.17
36 days