The Top Restaurants in Kaka'ako That You Need To Try
Posted by Jordan T. Kam on Saturday, November 5, 2022 at 1:00 PM
By Jordan T. Kam / November 5, 2022
Comment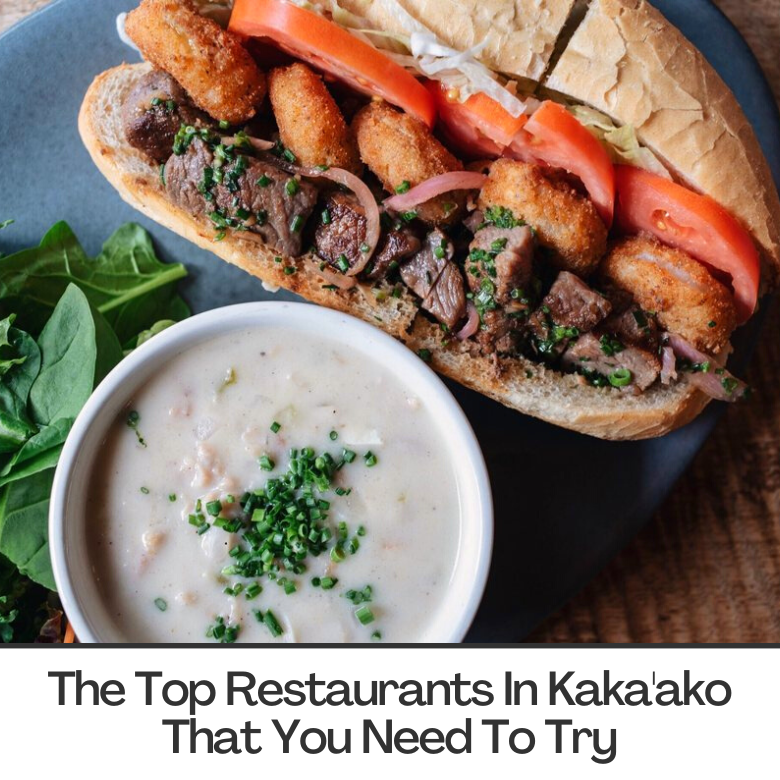 Photo: Piggy Smalls
Kaka'ako, as an upcoming popular residential and lifestyle neighborhood, has a plethora of incredible restaurants, cafés, and eateries spread around the area. Some of the restaurants are chains found around Hawai'i or even in other parts of the world, and some are exclusively local endeavors. Regardless, these restaurants are incredible for a reason, so to help you become better acquainted with the amazing food spots around Kaka'ako, we have compiled a list of our top picks that you should try.
If you think we missed a great restaurant, feel free to leave a comment to let us know which other eateries are your favorite!
53 By The Sea
Starting off our list is a popular fine-dining experience right on the Kewalo Basin Harbor- 53 By The Sea. This restaurant has won several awards, including being placed on Hawai'i's Best list of 2022, winning a Hale 'Aina Award from Honolulu Magazine for 2022, and being a Travelers' Choice by Tripadvisor in 2020. It is set in a mansion-like building with views of the water, Waikiki, and Diamond Head in the distance, which many customers remark feels luxurious and romantic. As a result, this restaurant is popular for birthday dinners, anniversary celebrations, and other special events.
53 By The Sea emphasizes American food and specifically seafood, with popular dishes like oysters, miso salmon, and fresh ahi poke. To check out their full menu, you can visit their website here. 53 By The Sea is open Wednesdays to Sundays for dinner from 5 PM to 9 PM, and likewise for brunch on Sundays from 10 AM to 1 PM. To place an online order for pickup you can visit here, and to make a reservation you can visit here.
Please note that 53 By The Sea has a dress code, which can be found on the website where you make your reservation.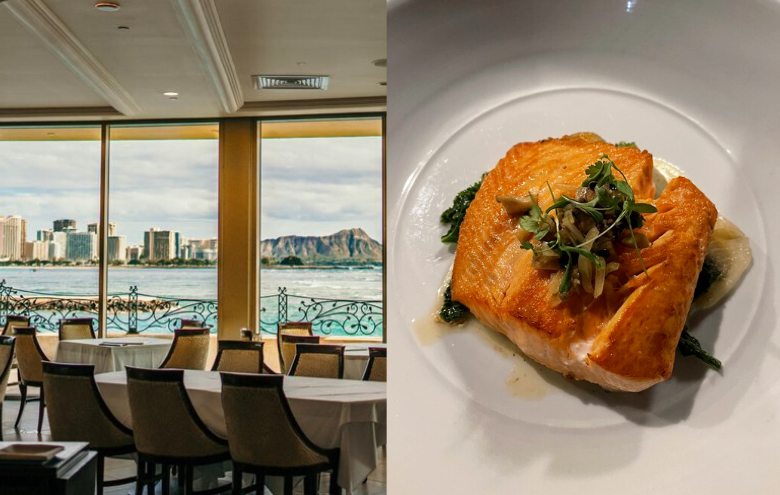 Photos: 53 By The Sea / Sonya E. on Yelp
Hana Koa Brewing Co.
The next entry on our list is Hana Koa Brewing Co., which is a spacious restaurant located at 962 Kawaiaha'o Street. Although this restaurant may be more well-known as a brewery, it offers a great selection of foods like Mando Mac (a macaroni and cheese dish with house-cured bacon, scallions, sourdough bread, and more), Hawaiian Seoul Chicken Wings with a sweet soy garlic glaze, spicy pork belly sliders, and their popular Hana Koa Burger on a toasted brioche with mayo, white cheddar, red onion, and spicy pickles. To view their full menu (including their beer, cocktail, and wine options), you can visit their website here.
Hana Koa Brewing Co. also provides an option to order online for pickup, which can be found here. They are open Tuesdays to Thursdays from noon to 10 PM, Fridays and Saturdays from 11 AM to 11 PM, Sundays from 10 AM to 9 PM, and closed on Mondays.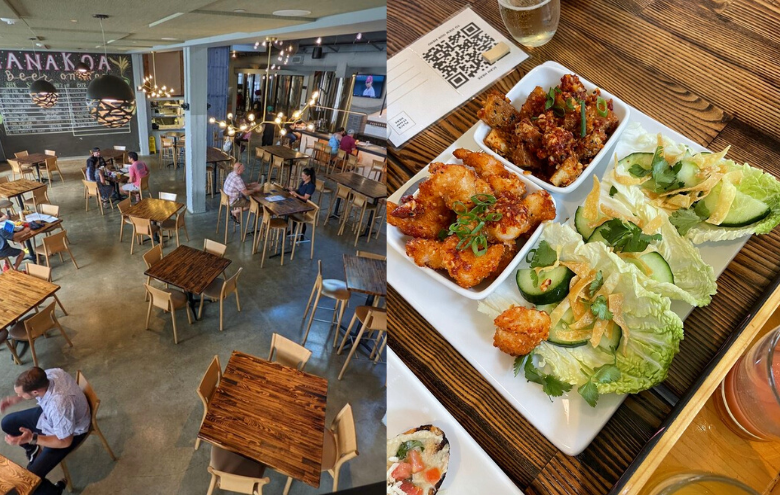 Photos: V K. on Yelp / Kelly D. on Yelp
Piggy Smalls
Piggy Smalls is a popular and trendy Vietnamese restaurant in Ward Village, located directly in front of the Ward Centre on Auahi Street. Some of their most popular dishes include Le fried chicken wings, chicken or vegan pho, the vegetable pho-strami, and the classic smoked brisket banh mi. They typically are very busy so it is highly encouraged to make a reservation if you plan on dining in, which you can make here.
Piggy Smalls is open for dine-in, take-out, and delivery (via DoorDash or BiteSquad), meaning customers have a variety of options to choose from based on their schedules. As for hours of operation, the restaurant is open Tuesdays to Fridays from 5 PM to 9 PM, Saturdays for brunch from 10 AM to 2 PM and dinner from 5 PM to 9 PM, and Sundays for brunch only from 10 AM to 2 PM.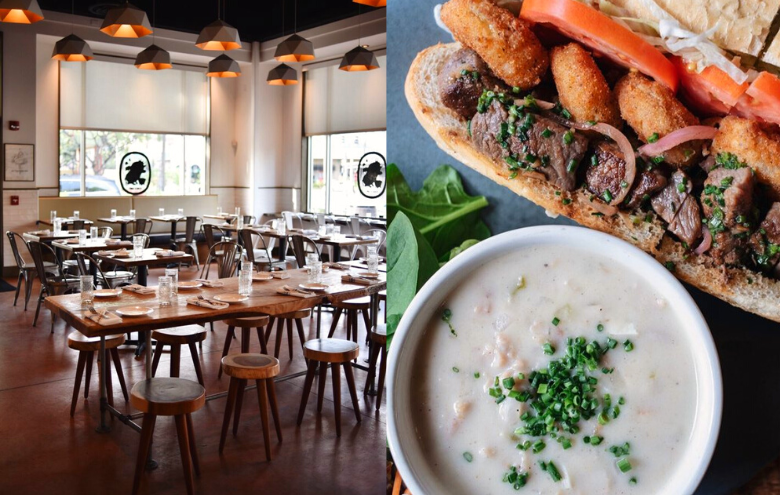 Photos: Piggy Smalls / Piggy Smalls
1938 Indochine
Led by Restauranteur Kevin Aoki, 1938 Indochine focuses on bringing a unique Southeast Asian flare to downtown Honolulu food culture. This trendy restaurant places emphasis on its comforting and immersive environment, which is composed of décor hand-selected by Aoki and shipped to Hawai'i. Likewise inspired by "French Indochina," Aoki brings a French twist to classic recipes from Laos, Cambodia, Indonesia, Vietnam, Thailand, and other countries.
Some of the most popular dishes served at this restaurant include colonial crab cakes, banh mi sliders, Thai beef brochette, grilled ocean scallops, and mushroom curry. To view their full menu and drink list, you can visit their website here.
1938 Indochine is currently open Thursdays to Saturdays from 4 PM to 11 PM, Sundays to Wednesdays from 4 PM to 10 PM, and also for Sunday brunch from 11 AM to 2:30 PM. Reservations for this restaurant can be made here, but for those who are unable to dine in, 1938 Indochine also offers a take-out option when you order online.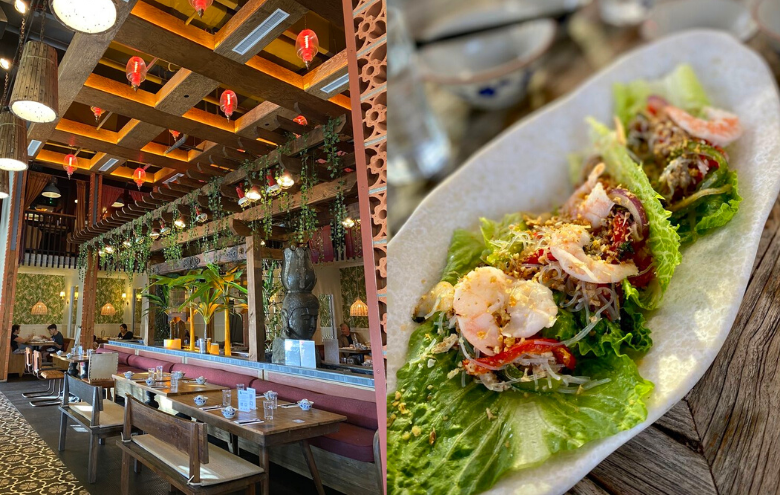 Photos: Sarah K. on Yelp / Joann Y. on Yelp
Million Restaurant (Kapiolani)
The Korean restaurant known as Million Restaurant (Kapiolani) is a local favorite, with popular dishes like meat jun, the BBQ chicken plate, ginseng chicken soup, tofu kim chee soup, and bulgogi BBQ beef. Located right near the intersection of Kapiolani Boulevard and Ward Avenue and near the Blaisdell Arena, Million Restaurant is a convenient spot that many people may find themselves near without even realizing. Not to mention, Million Restaurant has a convenient parking lot for customers to utilize.
This Million Restaurant location also has a sibling location on Sheridan Street, so make sure you are headed toward the correct restaurant!
Million Restaurant is open every day from 11 AM to 9 PM, so customers have plenty of time to visit this restaurant if they are craving authentic Korean food.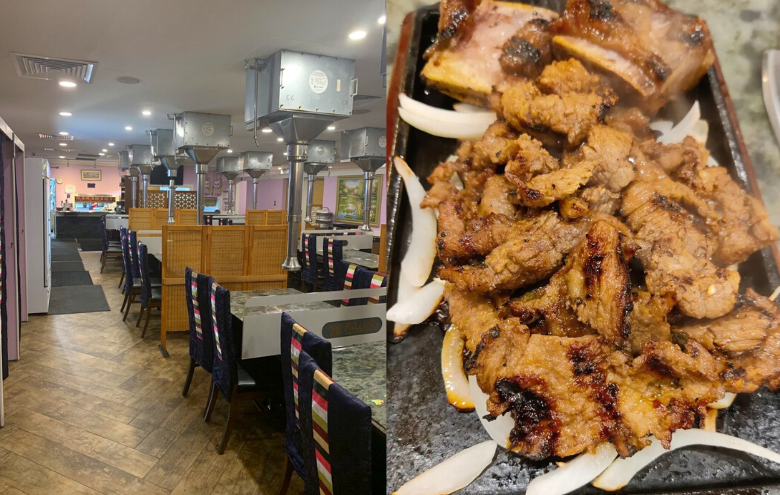 Photos: Craig T. on Yelp / Nadine C. on Yelp
Floralia
Floralia, formerly known as What it Dough, is a one-of-a-kind outdoor eatery in Kaka'ako specializing in plant-based wood-fired pizzas, all cooked in an outdoor oven and served in a small lot off of Kona Street. Some of their most popular pizzas are the Da Pesto pizza with basil pesto, nut goat cheese, and san marzano tomatoes, the White pizza with ricotta, mozzarella, garlic oil, parmesan, and parsley, and their classic pepperoni pizza (with plant-based pepperoni). Other toppings available include vegan sausage, pickled jalapeños, and shaved garlic, with sides of vegan hot honey and ranch also available.
Not to mention, their website teases new vegan foods like appetizers, pastas, sandwiches, salads, and New York Pizzas, which are coming soon to their menu.
If you have the chance to visit this special eatery, make sure to plan ahead! Floralia tends to be very busy and is only open Fridays to Sundays from 4 PM to 8 PM.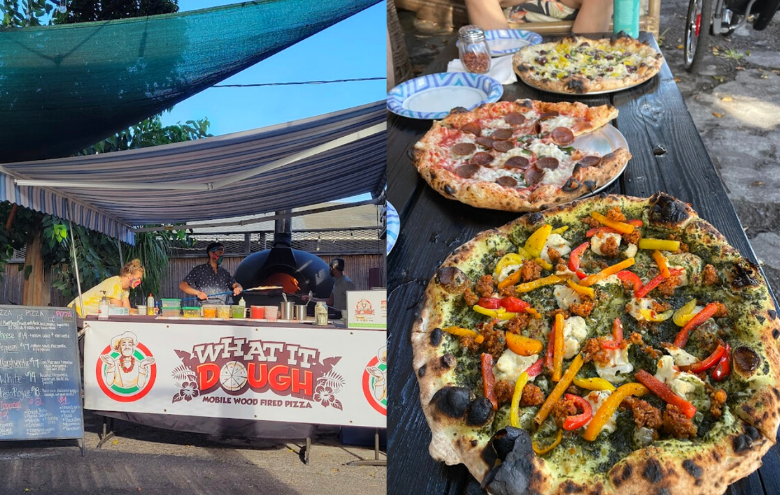 Photos: Christopher Dabek on Google Reviews / Grace Sousa on Google Reviews
Merriman's Honolulu
This popular Hawaiian-American blend restaurant is located below Ward Village's Anaha condominium, with popular dishes like the chocolate purse, lobster pot pie, kalua pig quesadilla, macadamia nut crusted fish, and fish tacos. Merriman's Honolulu is known for exquisite service and a romantic environment, which makes this place (like 53 By The Sea) a popular location for anniversary celebrations, birthday dinners, and other special occasions.
To make a reservation at this popular restaurant you can click here, and to view its menus (including its wine list), you can click here.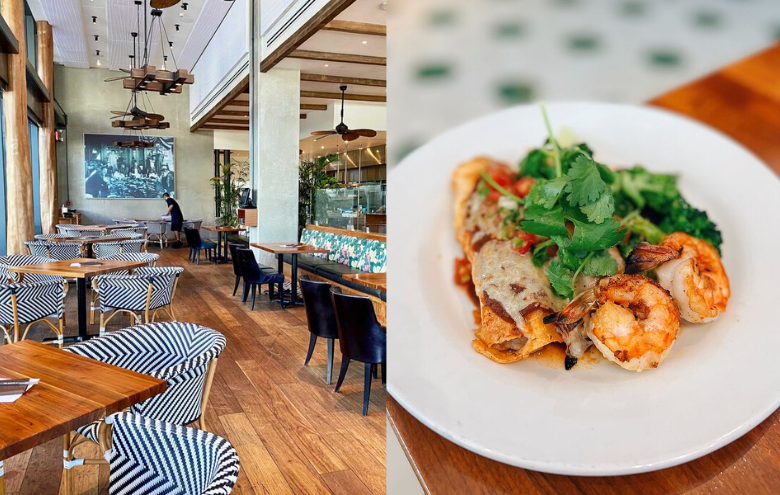 Photos: Merriman's Honolulu / Alana C. on Yelp
HICraft Kitchen
The final entry on our list is the perfect place to stop by on a lunch break or to order an incredible sandwich to-go- HICraft Kitchen. HICraft Kitchen is an artisan sandwich shop located beneath Kaka'ako's Keauhou Place condominium, and it is known for its Shorty's Rib sandwich, Fowl Play sandwich, Beet Me Up Scotty sandwich, truffle fries, and chocolate chip cookies. There is limited seating inside the contemporary and trendy restaurant, but there are additional tables outside that are popular for customers with pets.
HICraft Kitchen is open Tuesdays to Fridays from 11:30 AM to 3:30 PM, Saturdays from 11:30 AM to 7:30 PM, and closed on Sundays and Mondays.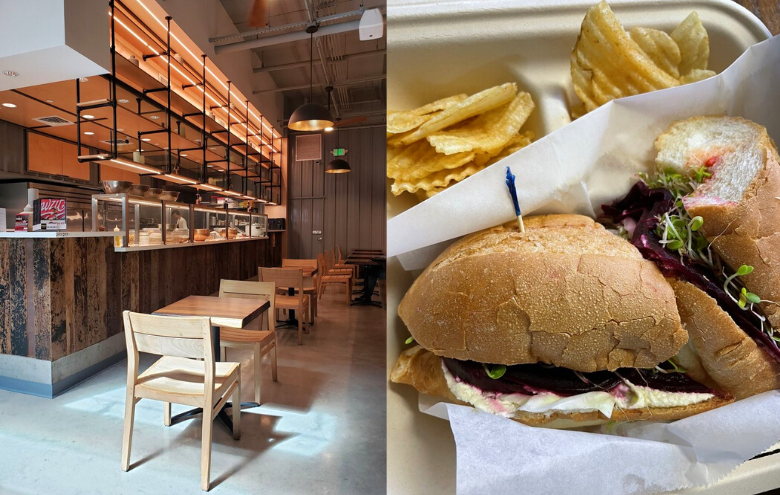 Photos: Rudy O. on Yelp / Kelly D. on Yelp