The Top Family-Friendly Activities in Manoa You Need To Try
Posted by Jordan Kam on Wednesday, November 2, 2022 at 3:15 PM
By Jordan Kam / November 2, 2022
Comment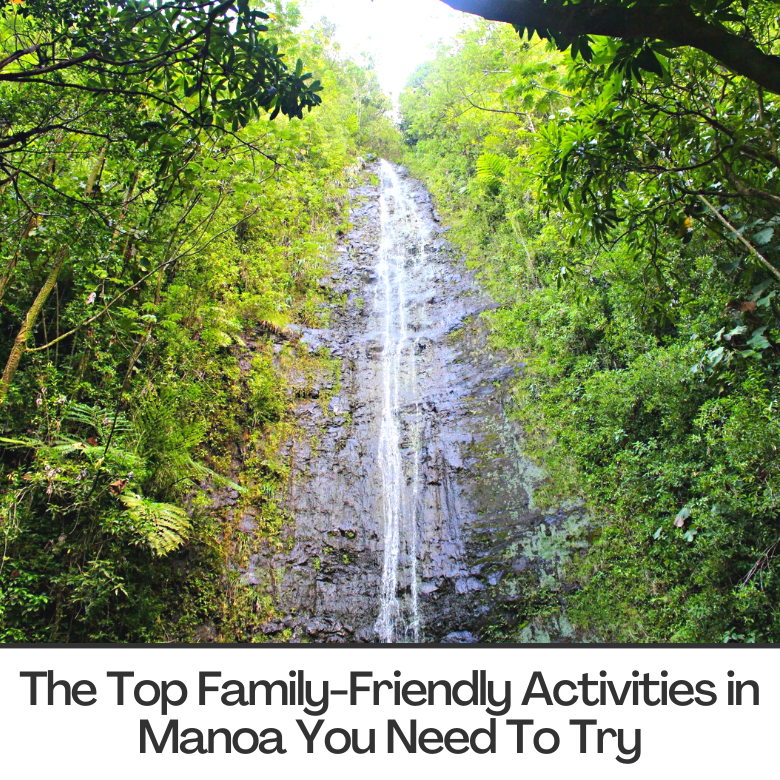 Photo: wanderlustyle.com
Intense hikes, loud bars, and energetic concerts are popular activities in the Honolulu area, though a lot of these options are not necessarily "family-friendly." There are quite a few options like these around the extended Manoa area, but given that Manoa is a large and family-heavy residential neighborhood, it's helpful to be aware of the activities and resources within the community that are available to families with young children. From educational experiences in nature to parks, light hikes, and eateries, Manoa is a great place to spend time with family and offers a variety of experiences all within the bounds of your district.
To learn more about these places and how you can enjoy them with your family, we have compiled a list of our top family-friendly activities and locations in Manoa. We hope you find this helpful, and be sure to let us know in the comments if you think we missed a great spot!
To learn more about the best eateries in Manoa you can read our blogpost here, and to learn about some other activities in the Manoa area that aren't included here, you can check out our blogpost here!
Manoa Falls Trail
Arguably the most popular outdoor activity in Manoa is the Manoa Falls Trail, which is an easier hike than others on the island. As a result, this hike may be a great option for families. Though some have remarked that this hike can be challenging if you're on a time crunch, families who move leisurely and enjoy the scenery will find that this experience is a nice outdoor adventure with a gorgeous resulting waterfall
However, remember to bring sunscreen, plenty of water and snacks, protective/comfortable shoes, and bug spray. The path tends to be hot, muddy, and rocky, and likewise there are mosquitos in this area, so making sure to bring protective measures will make this experience much more enjoyable.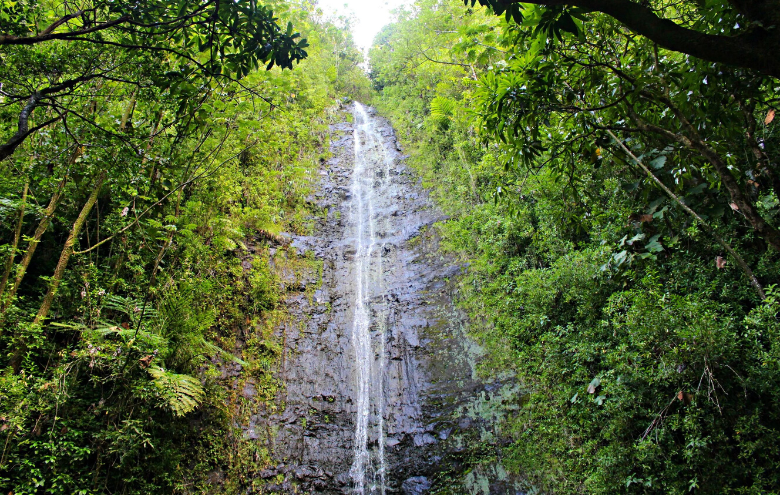 Photo: wanderlustyle.com
Lyon Arboretum
Another incredibly popular outdoor activity in Manoa is the Lyon Arboretum, which is a nature preserve area operated by the Univeristy of Hawai'i. This public collection of gardens spans 194 acres and features 5,660 tropical plant taxa, as well as various indigenous bird and animal species. Thanks to the nearly 165 inches of annual rainfall per year, the plant life in this area is extremely lush and green.
This is a great family-friendly spot to explore the paths that wind through the arboretum to learn more about the various gardens, plant and animal species, as well as learn a bit about the history of the area. Likewise, though the Manoa Falls Trail is nearby, the Lyon Arboretum sports its own waterfall called 'Aihualama Falls.
When preparing to visit this location, remember to bring protective and comfortable shoes, water, bug spray, a raincoat or umbrella (in case it rains), sunscreen, snacks, and maybe a hat. Lyon Arboretum also requires that visitors make reservations prior to entering, which you can book here. The arboretum is open on weekdays from 9 AM to 3 PM.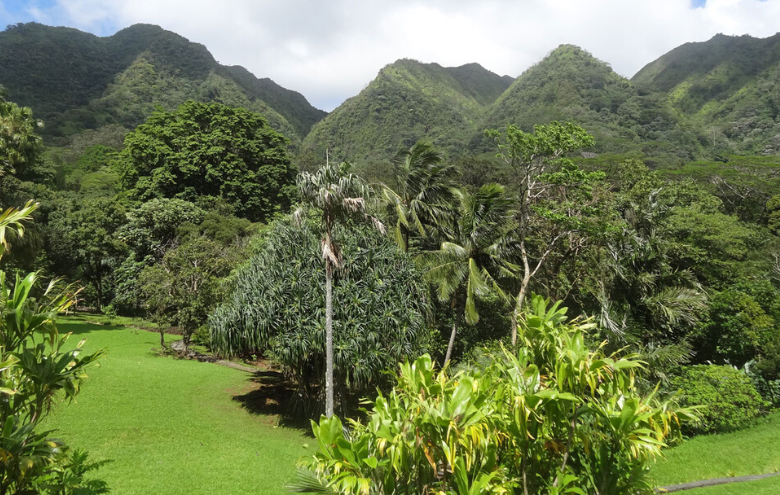 Photo: The University of Hawai'i at Manoa
Kamanele Park
Kamanele Park is a community park located near the center of the Manoa neighborhood off University Avenue (very close to the University of Hawai'i at Manoa campus). This park is relatively large and flat with large trees throughout the property, and features a few picnic benches/tables, some trash bins, and even public restroom facilities. However, one of the most popular aspects of this park is the swingset and climbing structure for children, which are an uncommon feature for parks in the Honolulu area. As a result, this park is popular for children who want to use the swings, as well as for people who want to play with pets in the grass or exercise outdoors.
Though this is a community neighborhood park, its Yelp page claims that the park opens at 5 AM and closes at 10 PM, so it may be best not to hang out in the park past closing time (in case the park is patrolled).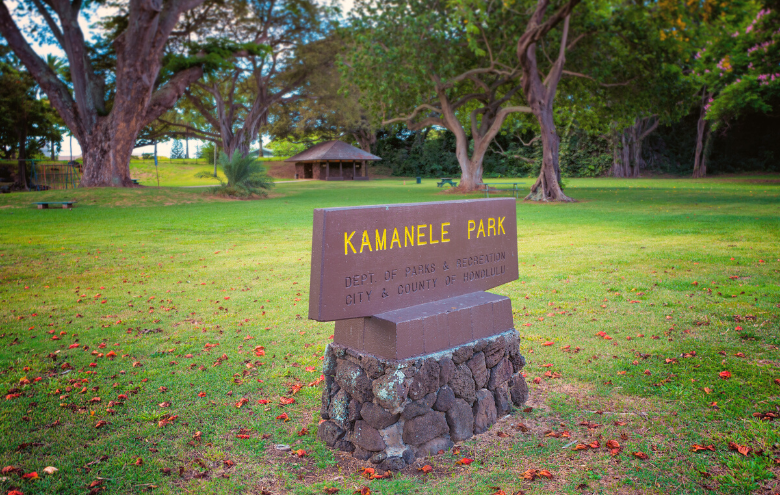 Photo: Leica Q. on Scene of Hawai'i by wavees
Manoa Valley District Park
Unlike the previous community park, the Manoa Valley District Park hosts a variety of sports amenities like tennis courts, basketball courts, volleyball courts, an indoor gym, a swimming pool, and baseball diamonds on top of a large grassy area and public restrooms. As a result, this is an excellent spot for families who like to play sports together, and this park also features a playground that is popular among children.
The Manoa Community Garden (which will be touched upon later on our list) are also located in the Manoa Valley District Park, which is another great place to visit and admire the growing produce by Manoa locals.
To learn about community swimming pool hours, you can call the phone number listed on the City & Country of Honolulu's website here.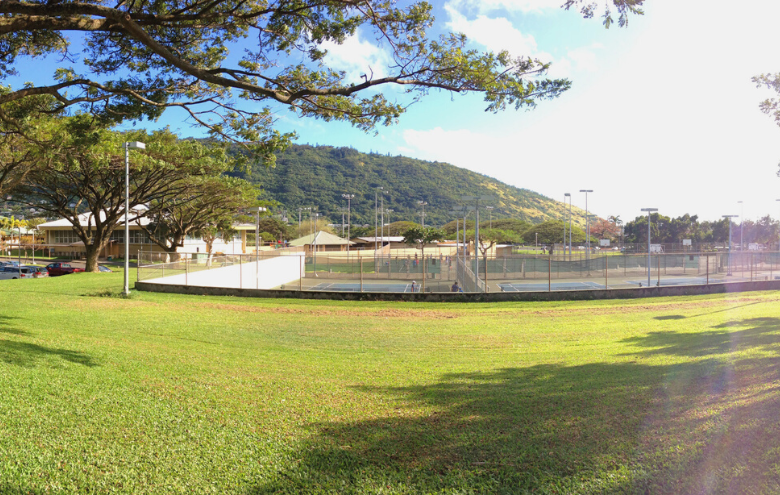 Photo: to-hawaii.com
Experience Nutridge
A unique option for those who want to focus more on learning about Hawaiian culture is Experience Nutridge, an intimate backyard-style lu'au located at the Nutridge Estate in Pu'u Ualaka'a Wayside Park. The Nutridge Estate is famous for its over 100-year history with Australian macadamia nut trees being planted over the 22 acres of land, which then led to the creation of Hawai'i Macadamia Nut Ltd. The Nutridge Estate is also famous for hosting icons like Marilyn Monroe, Frank Sinatra, Elvis Presley, and Clark Gable.
On this unique experience, you and your family will enjoy a lu'au in the evening, walk through the rainforest, help to build an imu (or an underground oven), and indulge in a farm-to-table dinner of Hawaiian and local foods. Experience Nutridge is truly a special and culturally-enriching experience that can help you better understand and appreciate local life and history.
This will take place from 4 PM to 8 PM through a reservation, which can be booked on their website here, where you will also find the ticket prices per person.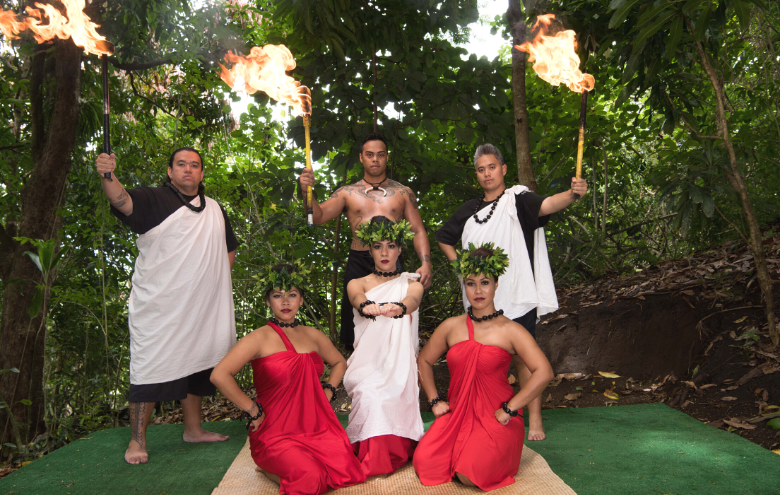 Photo: local.yahoo.com
Manoa Marketplace
A more common and perhaps more familiar experience is the Manoa Marketplace, which is a popular marketplace in central Manoa hosting shops and restaurants. These restaurants are great family-friendly spots for a night out, such as Island Subs & Burgers, J&B Pizza, L&L Hawaiian BBQ, Le Crepe Cafe, Manoa Sushi, and Pho Viet Thein Hong Restuarant.
Again, for other great restaurants in the Manoa neighborhood, feel free to check out our article about our top Manoa food spots here!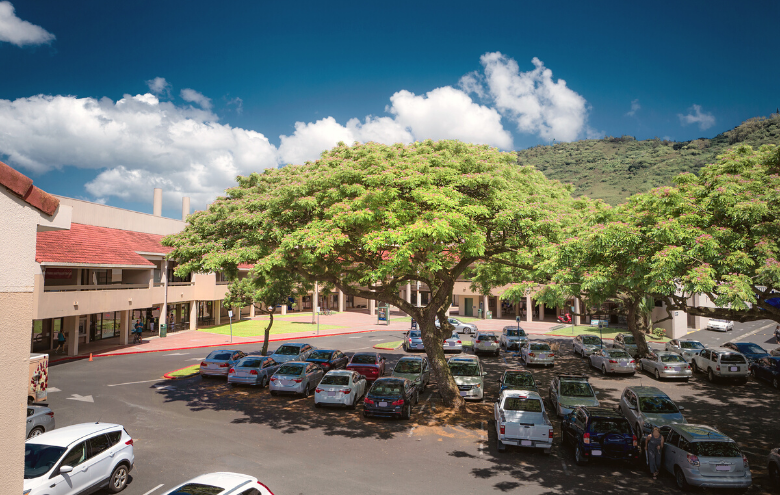 Photo: Leica Q. on Scene of Hawai'i by wavees
Manoa Public Library
The Manoa Public Library is an environmentally-friendly library featuring free Wi-Fi, a computer laptop area, a separate programming room, photovoltaic solar panels, high-efficiency air conditioning, and covered parking for both cars and bicycles (Hawai'i State Public Libaray System, "Manoa Public Library"). This is a great spot to hang out, borrow a book, and enjoy reading or working in a quiet community space.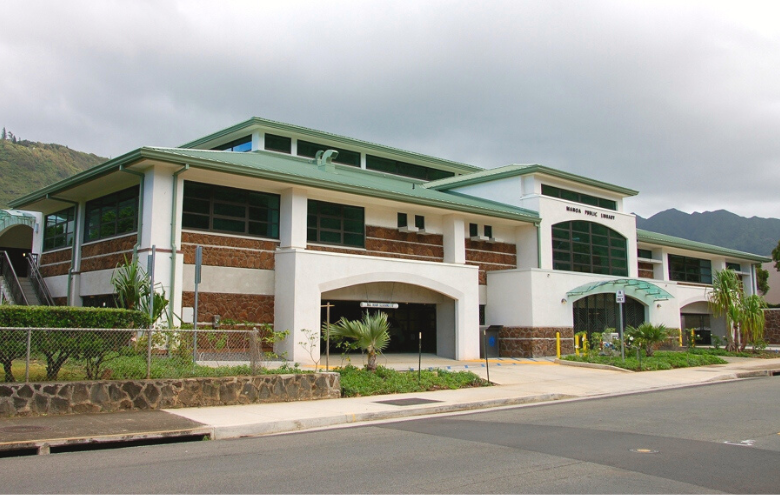 Photo: Friends of the Library of Hawai'i
Manoa Community Garden
Located within the previously mentioned Manoa Valley District Park is the Manoa Community Garden, which was established in 1975 and hosts 91 plots cared for by members of the Manoa community. The gardens are open to walk through by the community, but it is asked that you refrain from touching or interacting with the community gardens as they take a large amount of effort on behalf of the gardeners to grow and care for.
Otherwise, if you have the opportunity to begin your own garden in the Manoa Community Garden (such as if a space opens, which you can monitor on the Manoa Community Garden's blog here), this is a great opportunity to care for produce and plants with your family. Likewise, growing your own produce as a family can help to create a special appreciation for food and sharing meals with family members, so this can create a unique experience for both parents and children.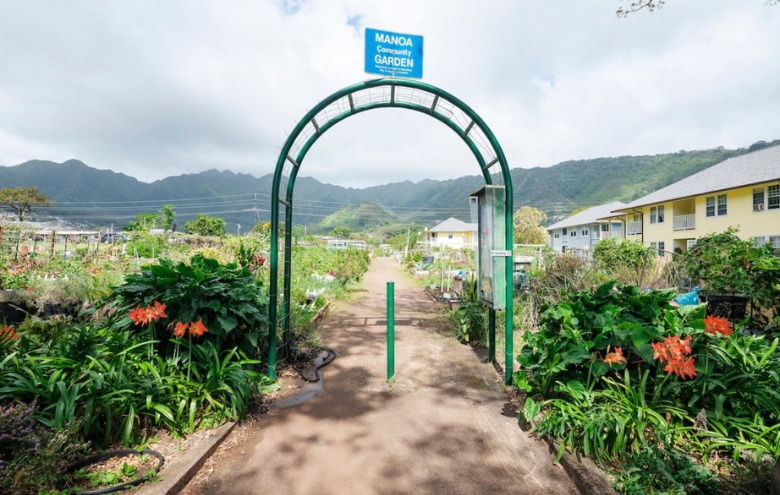 Photo: Aaron K. Yoshino for Hawai'i Magazine