The Best Food Spots in Manoa
Posted by Jordan T. Kam on Thursday, October 13, 2022 at 3:00 PM
By Jordan T. Kam / October 13, 2022
Comment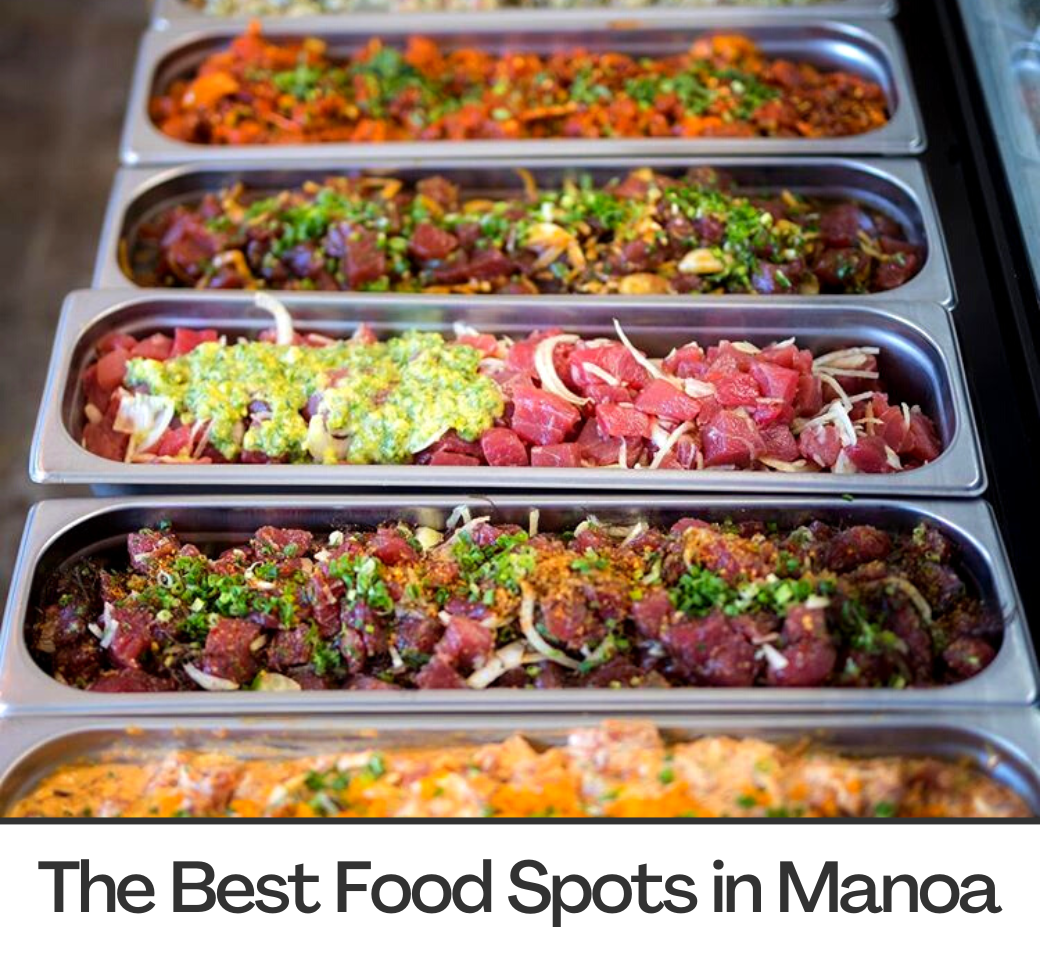 Off The Hook Poke Market on Instagram
Though the Manoa neighborhood is known for being a great and largely residential neighborhood as well as home to the University of Hawai'i's main Manoa campus, this area is also known for having a plethora of great restaurants, cafés, and quick eateries. From breakfast foods to seafood and fast spots to stop after a good hike, there are so many great spots in Manoa and Manoa Valley to grab a bite to eat. Regardless of whether you're a university student, a resident of Manoa, or just visiting the area, consider checking out some of our picks for the best food spots in Manoa below!

If we forgot to mention any of your personal Manoa favorites, feel free to leave a comment to let us know what we missed!
Morning Glass Coffee
This coffee shop/café is open from 8 AM to 2 PM and specializes in breakfast foods, brunch foods, and pastries. Morning Glass Coffee is known for having great scones, sandwiches, omelets, and their famous mac and cheese pancakes with bacon slices on top. If you ever find yourself near East Manoa Road in the morning or early afternoon, be sure to check out this small but popular food spot! Or, if you're in a rush, you can also order online and pick it up.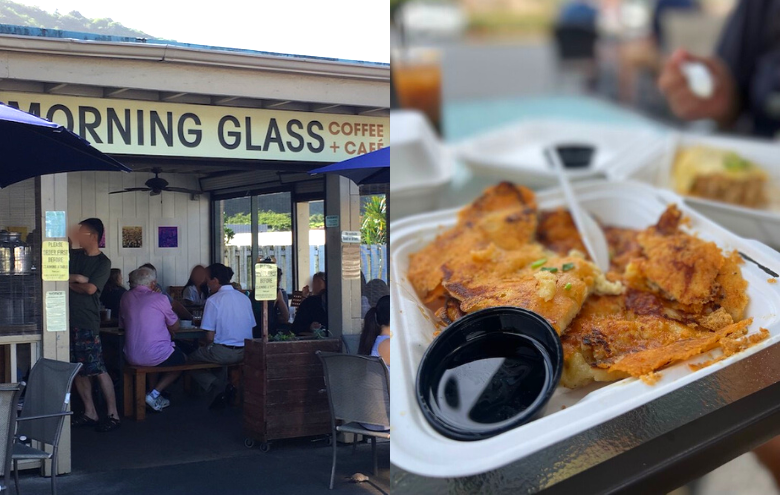 aloalo710.hatenablog.com / Yari W. on Yelp
Andy's Sandwiches & Smoothies
Just a couple of hundred feet down the street is the next spot on our list, which is Andy's Sandwiches & Smoothies- a bakery and deli known for amazing sandwiches, smoothies, and even burritos or acai bowls. Since their shop is quite small, this restaurant offers take-out when you order ahead, and even delivers food via BiteSquad and DoorDash! If you choose to order ahead, just be sure to call before 3:45 PM, as the last pickup slot is at 4 PM.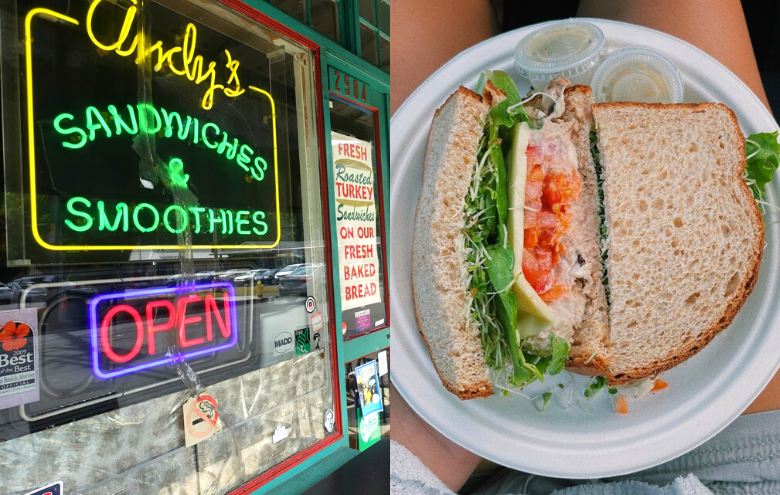 takemachelin.com / Ashley B. on Yelp
Le Crêpe Café
Located within the Manoa Marketplace, Le Crêpe Café is a popular restaurant specializing in a variety of sweet and savory crepes, homemade waffles, sandwiches, and more. Their unique savory crepes include breakfast specials like the Baby Crepe with cheese, eggs, and bacon, as well as meat crepes like The Warrior with cheese, chicken, turkey, turkey bacon, tomatoes, mushrooms, spinach, red onions, and two dressings. However, for those who are used to sweet crepes, they also offer common dishes like Nutella crepes and The Special with bananas, strawberries, brown sugar, and whipped cream.
This location also offers a pickup option when you call ahead, as well as delivery via all of the major food delivery service apps (such as UberEats, DoorDash, and Postmates).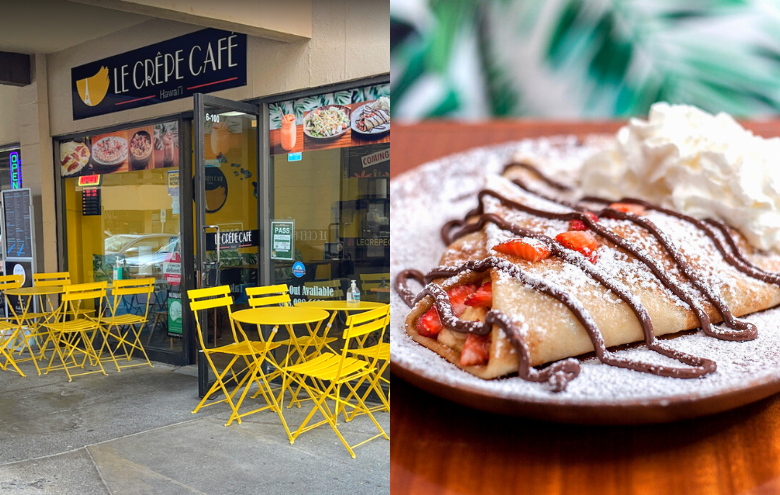 Le Crêpe Café / Le Crêpe Café
Serg's Mexican Kitchen
Serg's Mexican Kitchen, like others on this list, is located on East Manoa Road in the center of the Manoa neighborhood. This Mexican restaurant is known for a wide variety of amazing dishes, such as their popular elote, ceviche salad, carne asada fries, and Mexico City style tacos. To curb your sweet tooth, Serg's Mexican Kitchen also offers three great desserts, including flan, churros, and deep fried oreos.
This restaurant is open every day from 11 AM to 9 PM, and likewise offers a pickup option when you order ahead online.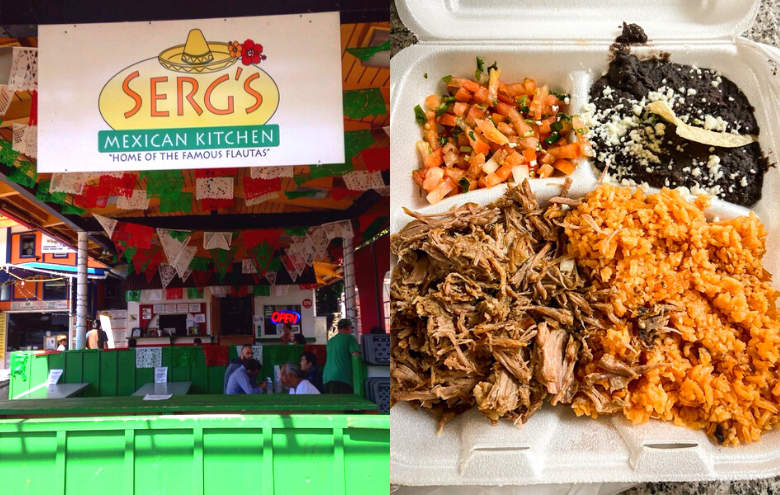 Jeffery A. on Yelp / Kamie H. on Yelp
Waioli Kitchen & Bake Shop
Waioli Kitchen & Bake Shop is a more hidden local favorite, located close to the dense green mountainside and a couple hundred feet from Manoa Valley District Park. Situated inside a historical building, this restaurant specializes in breakfast and brunch foods, and as a result is only open from 8 AM to 1 PM on Tuesdays to Saturdays. However, when you do make it to this spot, you will be greeted with freshly baked breads, pastries, and pies in their bakery. As for breakfast, there are loco moco plates, pancakes, breakfast sandwiches, and acai bowls, whereas lunch serves soups, salads, cheeseburgers, and BLTs with avocado.
This historic site opened 100 years ago and was known as the Waioli Tea Room, which was a training facility for orphans housed at the Salvation Army Girls Home. Even back then, the restaurant received hundreds of guests daily. You can read more about the history of this building here.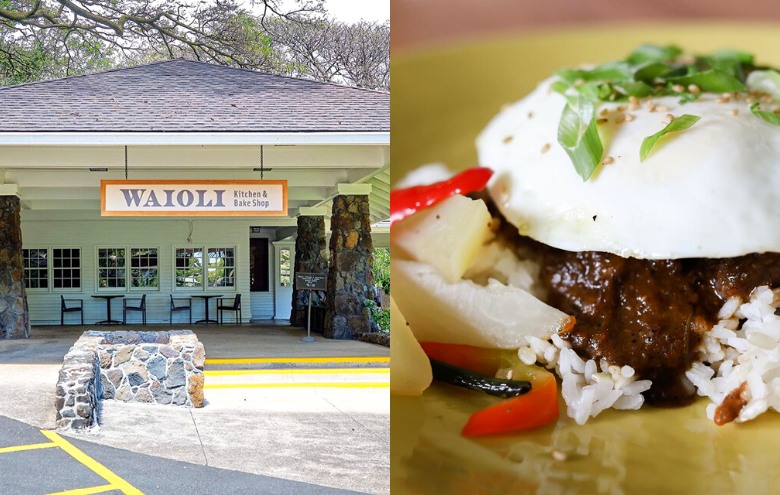 Hawai'i Magazine on Pinterest / Waioli Kitchen
Off The Hook Poke Market
Situated right next to Andy's Sandwiches & Smoothies on East Manoa Road is Off The Hook Poke Market, a very popular local poke shop. This shop also has a little quick-moving line of loyal customers, as this is known by locals as one of the best poke shops on the island. In fact, in 2019 Off The Hook Poke Market won the Ilima Award for Hawai'i's Best Seafood Restaurant.
This shop features fresh Ahi from the Honolulu Fish Auction every day, with options like cold ginger Ahi, spicy Ahi, Kilauea Fire poke, and miso ginger tako. They are open Mondays to Saturdays from 11 AM to 6 PM, and likewise offer takeout orders when you call ahead.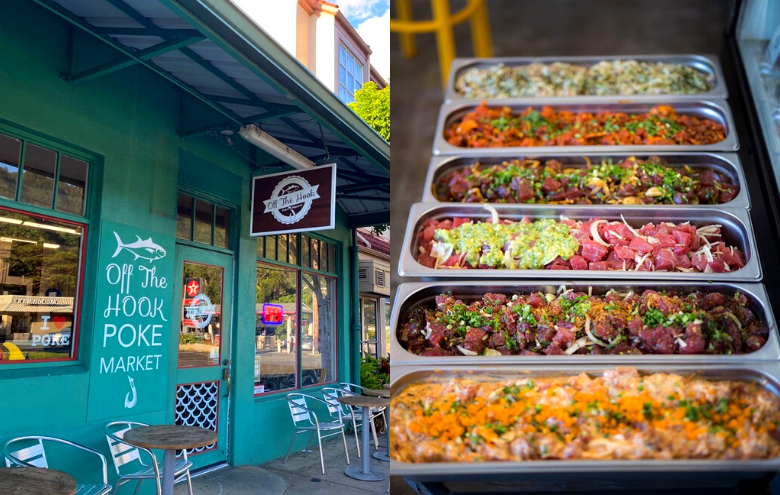 Aprocot Cafe on ameblo.jp / Off The Hook Poke Market on Instagram
Asia Manoa
Asia Manoa is another restaurant located on East Manoa Road, but this local favorite stands out for many as one of the best Chinese restaurants in the greater Honolulu area. Asia Manoa offers a wide variety of meat, fowl, seafood, noodle, Nothern Chinese, casserole, soup, etc. dishes, as well as daily lunch specials and combination specials. You can check out their full menu here.
This restaurant is also open from 10:30 AM to 9 PM, which is later than the other options on this list.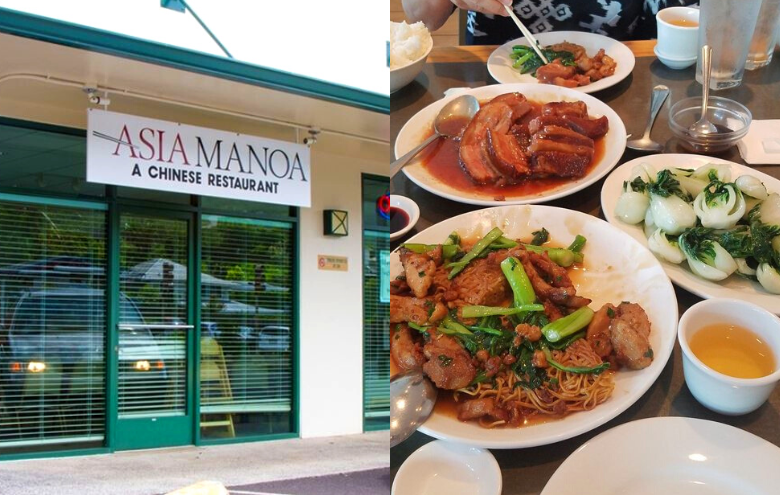 LookIntoHawaii.com / Mike R. on Yelp
Pho Viet Thien Hong
The second Manoa Marketplace restaurant on our list is Pho Viet Thien Hong, an authentic Vietnamese restaurant that has been serving incredible food for 20 years. Perhaps the most spacious restaurant on this list, Pho Viet Thien Hong has ample indoor seating for small parties or dinners with friends and family. They have a wide variety of affordable dishes such as various rolls, salads, pho noodle soup, vermicelli dishes, stir fries, and more. Their full menu can be found here.
Pho Viet Thien Hong also offers takeout when you order ahead online, as well as food delivery via BiteSquad.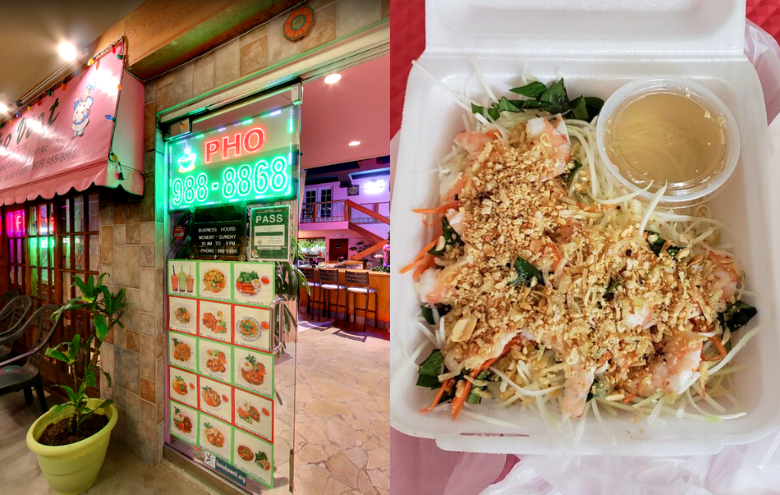 Minn Tun on Google Reviews / Kehau K. on Yelp
Frost City
Last but definitely not least is Frost City, a family-owned Taiwanese snow ice shop and a local staple. Though this is technically just outside Manoa, making the short drive to this nearby snow ice shop will be well worth your time as this treat differs significantly from traditional Hawaiian shaved ice. Taiwanese snow ice is a softer and smoother experience more like traditional ice cream than shaved ice, except much lighter.
Frost City offers an abundance of flavor options, such as black sesame coconut, watermelon, green tea, mango, and your typical chocolate. These desserts are also topped with fresh fruits and treats, like mochi or popping boba. If you're in the mood for another type of dessert, they ako serve fresh tang yuan mochi balls, grass jelly, and boba drinks. You can view the whole menu here.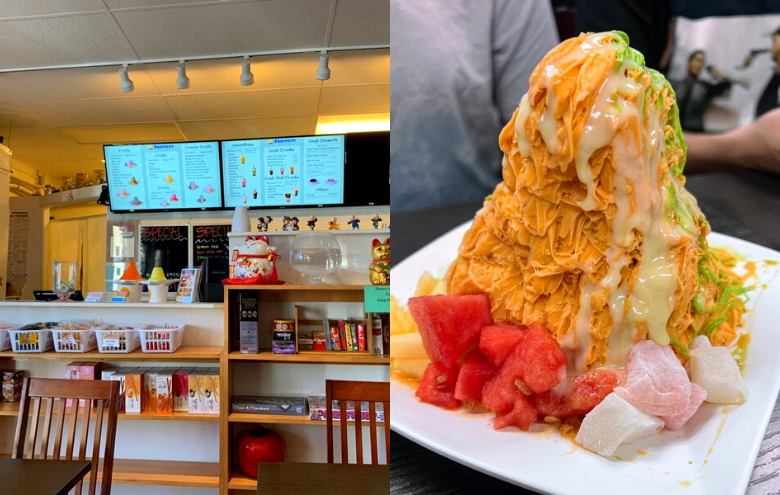 Frost City / Paul C. on Yelp