The Best Activities and Events in Kaka'ako
Posted by Jordan T. Kam on Tuesday, October 11, 2022 at 11:25 AM
By Jordan T. Kam / October 11, 2022
Comment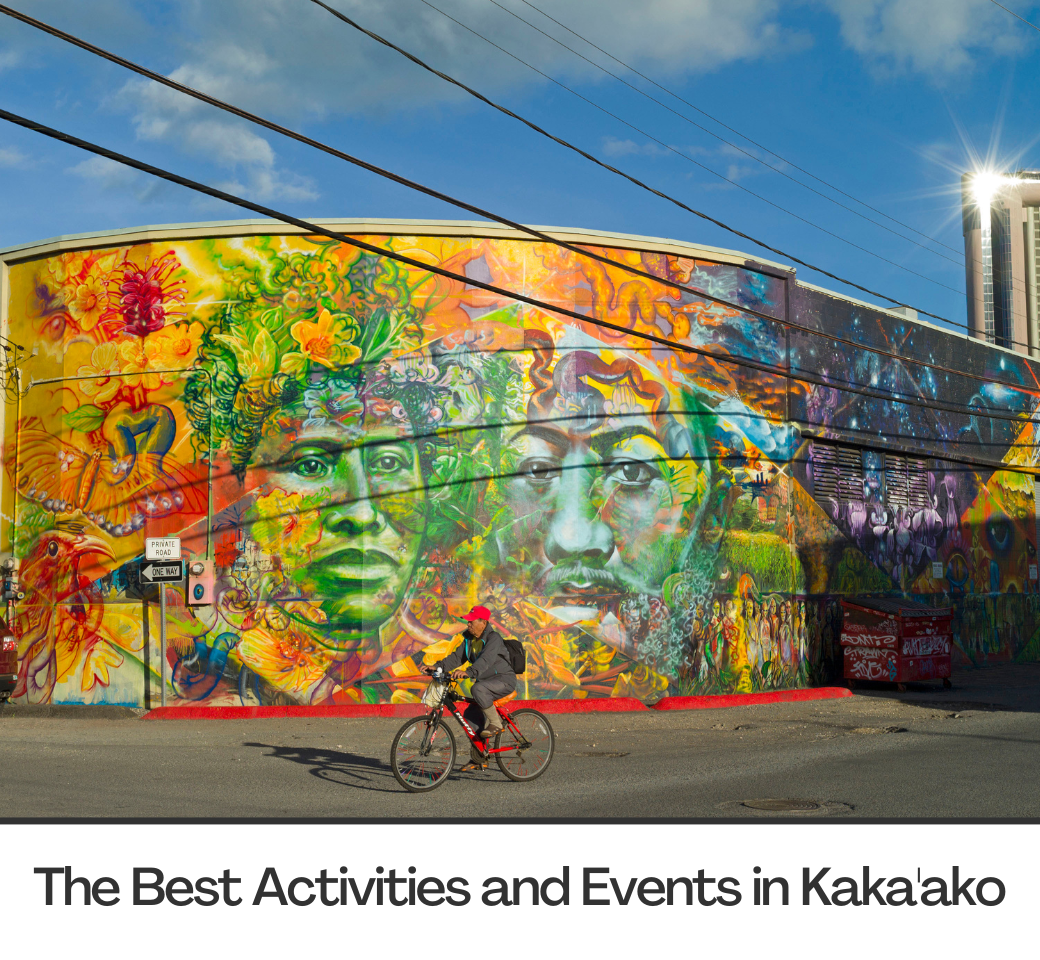 Via The Japan Times
Kaka'ako is a trendy and popular neighborhood in West Honolulu that's home to many different restaurants, retail locations, cafés, parks, and culture. From popular large venues hosting retail shops and eateries to family-friendly educational experiences for keiki, there's something for everyone!
Luckily for you, though, if you're unsure of what places to check out while you're in the area, we have compiled a list of the best activities and events in Kaka'ako below. If we've left out any of your favorite spots or events in this neighborhood, feel free to leave a comment!
Side note: If you're interested in learning more about some of our favorite eatery spots in Kaka'ako, check out the lists of our top poke and coffee shops!
SALT At Our Kaka'ako
Arguably the most well-known retail and hangout location in Kaka'ako, this massive 85,000-square-foot mixed-use complex is home to juice bars, clothing stores, plant stores, eateries, surf shops, and more. There is plenty of outdoor seating for those who want to spend time within the complex, plus its location in a very walkable area of the neighborhood makes it a great family- and pet-friendly activity.
SALT At Our Kaka'ako also hosts a monthly Pa'akai Marketplace that features a variety of merchants, artists, cultural practitioners, and more. This family- and pet-friendly event also often features live music and a "SALT spin wheel" where people can win prizes. You can check out their website here to learn when the next Pa'akai Marketplace will take place!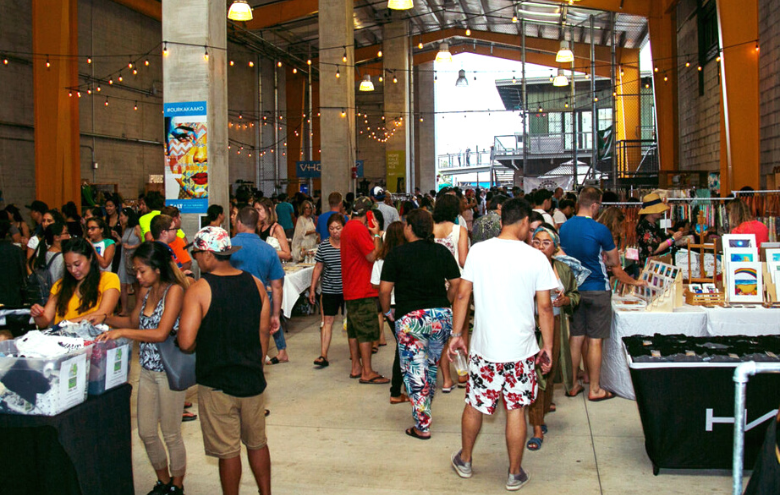 Via Salt At Our Kaka'ako
South Shore Market
This market of various shops, small eateries, and places to grab coffee and drinks is part of the Ward Village neighborhood and is likewise a great spot to spend time with others. With several small boutiques as well as larger stores such as TJ Maxx and Nordstrom Rack, there are plenty of opportunities to window shop and look at both chain store and local goods.
As an added bonus, this market is completely air-conditioned, which means you're able to escape the Hawaiian heat and humidity while browsing for goods.
Check out Ward Village's website here to find a directory of all the stores and businesses housed in this marketplace.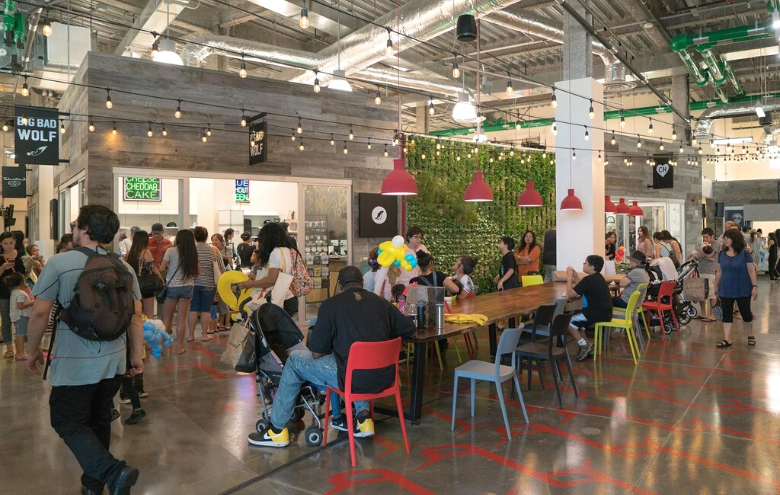 Via Ward Village
CorePower Yoga in the Park
Every Wednesday and Friday, Ward Village hosts a public yoga class in Victoria Ward Park. This free class requires registration, though, so make sure to book your time before all of the upcoming slots are filled. These classes are intended for people of all yoga levels of expertise, so if you're new to yoga, this could be a great option for you!
You can check out the new schedule for this event and book a spot here.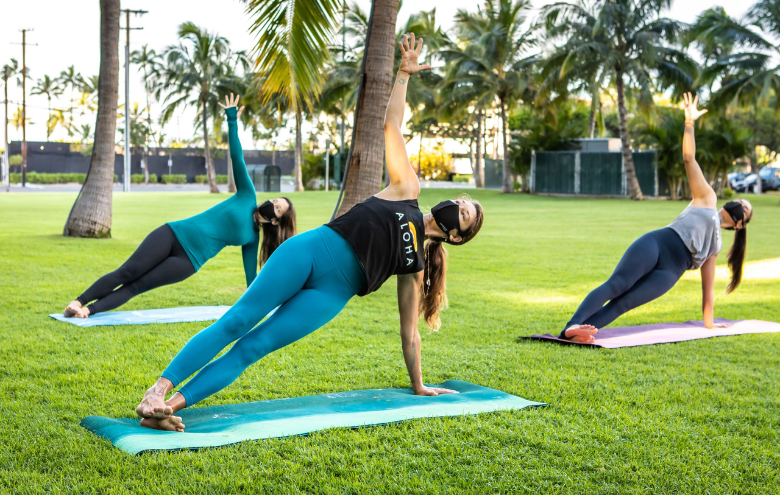 Via Honolulu Magazine
Honolulu Night Market
After a 2-year hiatus due to the Covid-19 pandemic, the Honolulu Night Market made its grand and popular return to the streets of Kaka'ako in June of 2022. This night market is home to vendors and food trucks, art stores, fashion shows, live music, lots of shopping, and much more- all located on Keawe Street and Auahi Street!
Though the Honolulu Night Market is not anticipating returning again until November of 2022, this event is extremely popular and is sure to be incredibly successful in all future installments. To keep up-to-date with the latest news regarding this event or to submit a vendor inquiry, check out the Honolulu Night Market's website here.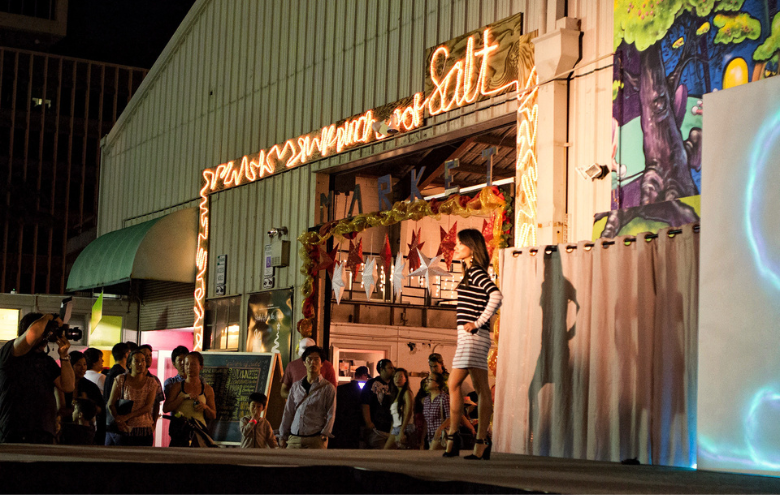 Via the Honolulu Night Market
Kaka'ako Farmers' Market
Located on two different lots (919 Ala Moana Boulevard being the Makai lot and 210 Ward Avenue being the Mauka lot) is the Kaka'ako Farmers' Market, which is held every Saturday from 8 AM to 12 PM. At these marketplaces, you'll find an abundance of local fresh produce, artisan foods, and locally-made goods including handmade jewelry, home decor, textiles, woodworking, and more.
The FarmLovers Markets have been a great small business opportunity for many people during the pandemic, especially for small businesses that were struggling to keep their companies afloat. If you have the time and capacity to help support these 110+ businesses, make sure to check out the Kaka'ako Farmers' Market every Saturday!
To learn more about these farmers' markets, you can check out their website here.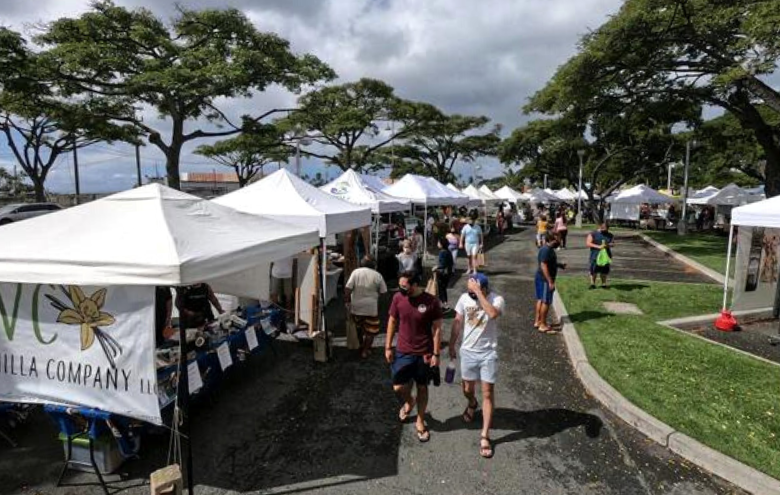 Via FarmLovers Markets
Honolulu Farmers' Market
Another great farmers' market is the Honolulu Farmers' Market, which takes place every Wednesday from 4 PM to 7 PM at the Neal S. Blaisdell Center (on the Ward Avenue side of the Concert Hall Lawn). This farmers' market features a variety of incredible local food vendors, including Alex Products LLC, Boba Bros, Ho Farms, Lanikai Mochi, and much more. You can view the full list of vendors on their website here.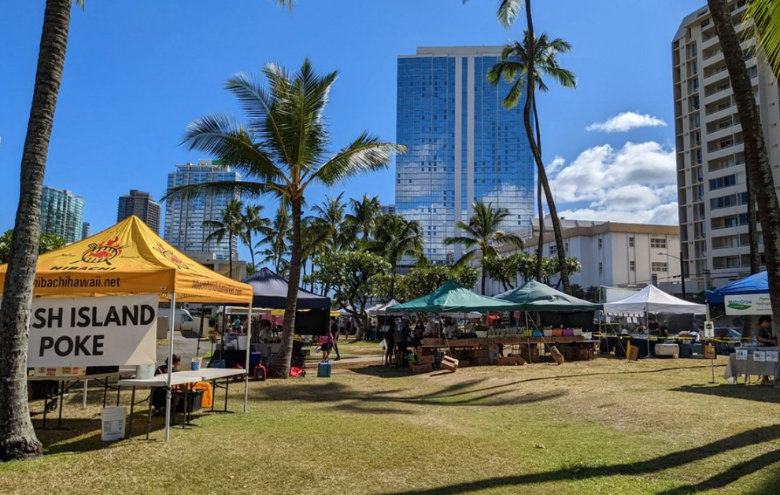 Via Dan O. on Yelp
Check Out The Street Art
One of the most distinguishable traits of Kaka'ako is the street art created by local artists, all of which line various buildings in the center of the neighborhood as well as other large buildings in other parts of Kaka'ako. A large portion of this street art was created as part of the POW! WOW! art festival, which draws many local (as well as international) artists to the Kaka'ako area to create new art as a community.
Though this event has traditionally taken place annually on Valentine's Day weekend, due to the onset of the Covid-19 pandemic, this event has been temporarily paused since the last festival in 2020. We can only hope that in the near future, conditions will become more conducive to allow this event to take place once again!
To learn more about this festival and to stay up-to-date with potential future festivals, you can check out the POW! WOW! Hawai'i website here.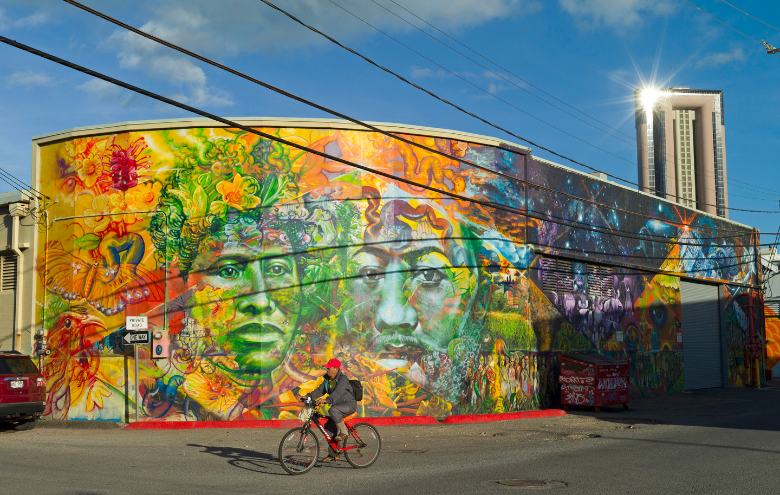 Via The Japan Times
Hawai'i Children's Discovery Center
This interactive keiki-oriented family-friendly center provides an interactive, educational, and fun experience for young children and families. Through playing in 5 different exhibits offered by this center, children are able to learn more about the world around them as well as create a stronger bond with their families through play.
These 5 exhibits include Rainforest Adventures (which teaches children about the importance of protecting the environment and how rainforests play a crucial role in our planet's health), Your Town (which teaches children about what being an adult is like, by means of roleplaying as a fireperson, a banker, a mechanic, etc.), Fantastic You (which teaches children about human anatomy), Hawaiian Rainbows (which teaches children about the marvels and beauty of living in Hawai'i), and Your Rainbow World (which teaches children about countries and cultures around the world).
You can learn more about admission fees, hours, and more at the Hawai'i Children's Discovery Center's website here.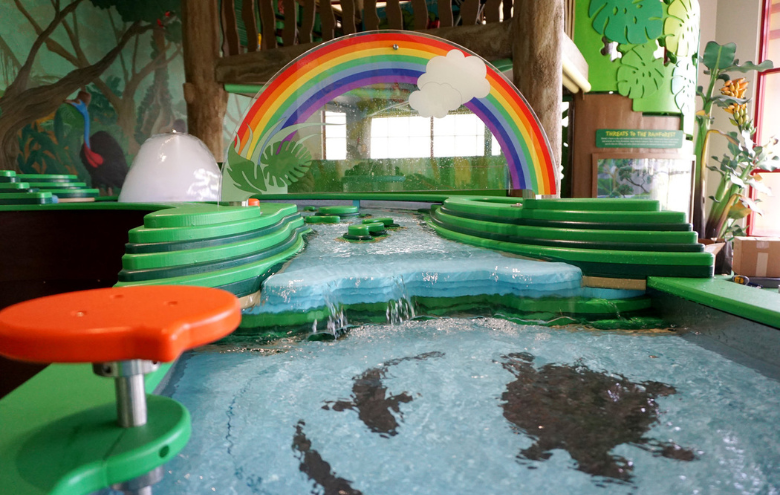 Via Boss Display
First Saturday at Ward Village
This unique event features a new vendor providing free treats every first Saturday of the month at Ward Village. All of these items are locally made, and the event is held at 1 PM. If you're interested in grabbing a free treat from this event, be sure to show up early or at 1 PM sharp, as these treats can run out fast!
To learn about which vendors will be featured in upcoming months as well as where to find the vendor in Ward Village, check out their website here.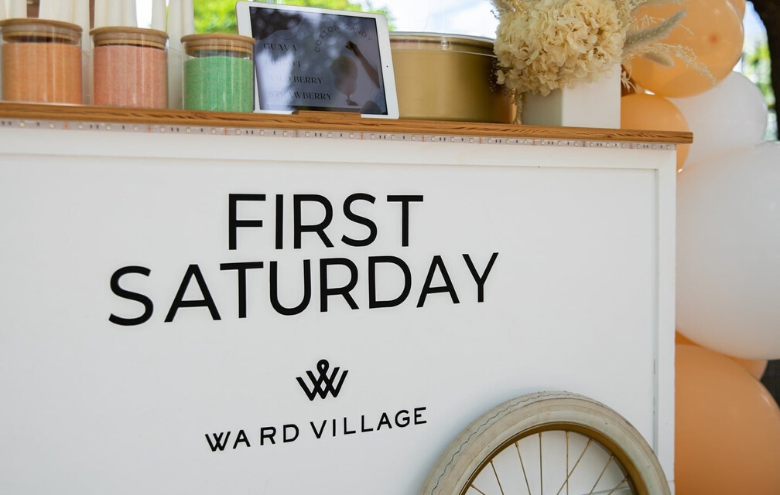 Via Ward Village
Kids City Adventure
Another incredible kid-friendly experience is Kids City Adventure, which is a 30,000-square-foot 2-story indoor playground for children ages 10 months to 13 years old. This location sits within the Ward Center in the previous Bed Bath & Beyond at 1200 Ala Moana Boulevard, and it is open every day from 10 AM to 9 PM.
Kids City Adventure also offers party packages and field trip options, all of which are available on their website here.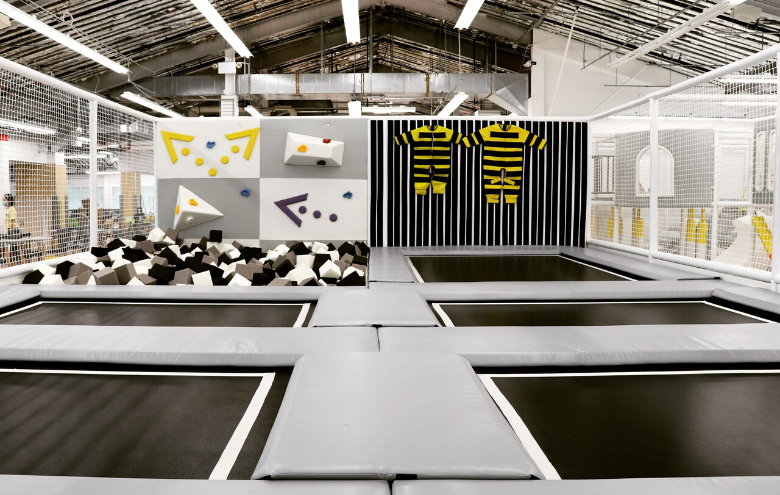 Via Ward Village
Honolulu Beerworks
For those who are above the age of 21, Honolulu Beerworks is a popular place in Kaka'ako to hang out and grab a drink with friends and family. This spot has an extensive drink menu from beers to cocktails and sprites, as well as a food menu with popular menu items such as Bavarian Soft Pretzels, Beermade Bacon Mac & Cheese, and even vegetarian dishes like their Veggie Panini.
Honolulu Beerworks also hosts regular events like a daily happy hour from 3-5 PM, live music, and trivia nights every Tuesday from 7-9 PM.
You can learn more about party reservations, menu items, and schedules on the Honolulu Beerworks website here.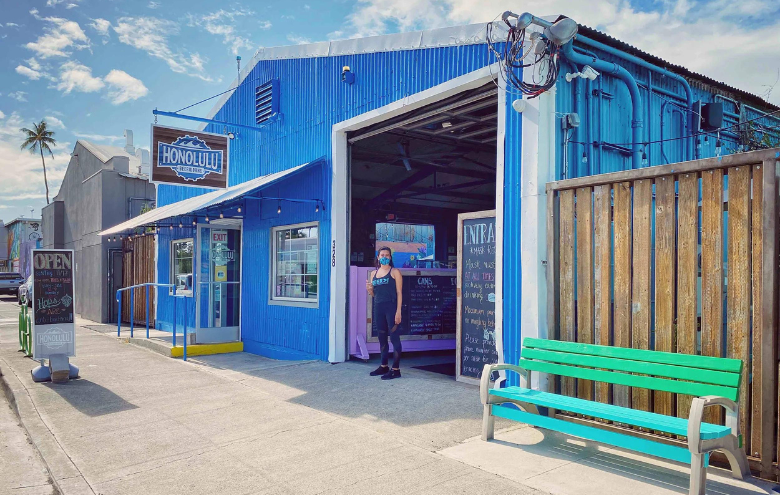 Via Honolulu Beerworks