Coffee Shops in Kaka'ako You Need To Try
Posted by Jordan Kam on Friday, September 2, 2022 at 11:12 AM
By Jordan Kam / September 2, 2022
Comment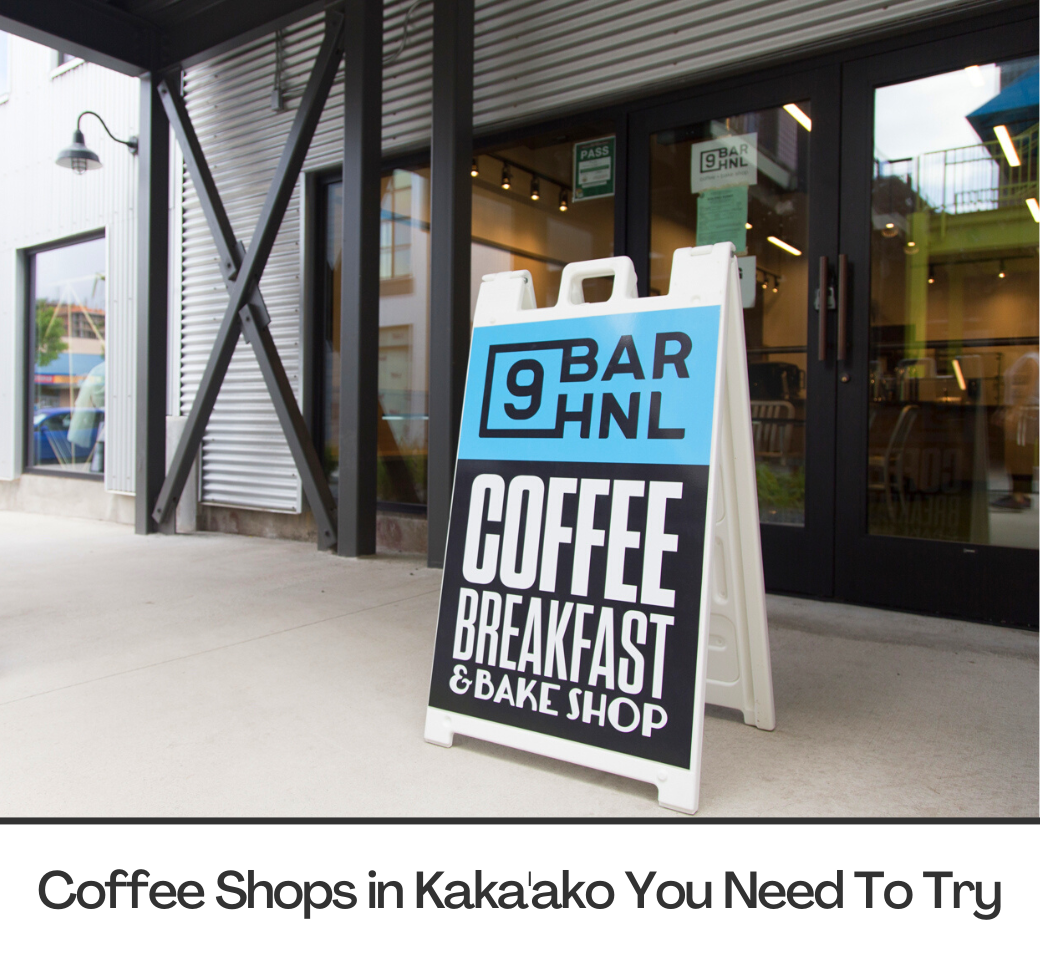 Coffee is a staple in the daily routine of a large portion of the human population, and this is no different in the Kaka'ako area. Whether you're on your way to work and need to grab a coffee and pastry to go or want to sit down and get some work done, there are plenty of cafés right in Kaka'ako for you to take advantage of- many of which are located within the SALT At Our Kaka'ako shopping center!
Check out our list of the coffee shops in Kaka'ako that you need to try!
Our first entry located in Kaka'ako's own SALT At Our Kaka'ako is 9Bar HNL, a café offering a variety of coffee drinks such as lattes, espressos, cappucinos, nitro cold brews, and even unique creations like their Matchagato (matcha concentrate poured over scoops of condensed milk gelato). Paired with their pastries and sandwiches, 9Bar HNL is a popular and trendy go-to coffee shop for Kaka'ako locals and visitors!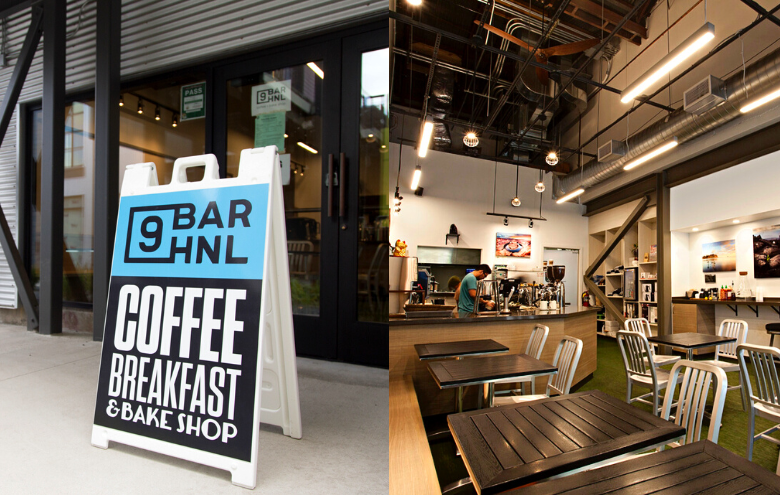 From sweet "Coff-tails" like their Nuts and Berries or Sweet and Creamy drinks to Jasmine tea-infused drinks, Ali'i Coffee Co. is another opoular coffee spot for those in the Kaka'ako neighborhood. Located in the Ward Centre (with sibling locations in Downtown Honolulu as well as Waikiki), this smaller café also sells a variety of food options for hungry customers, such as sandwiches, flatbreads, and even salads.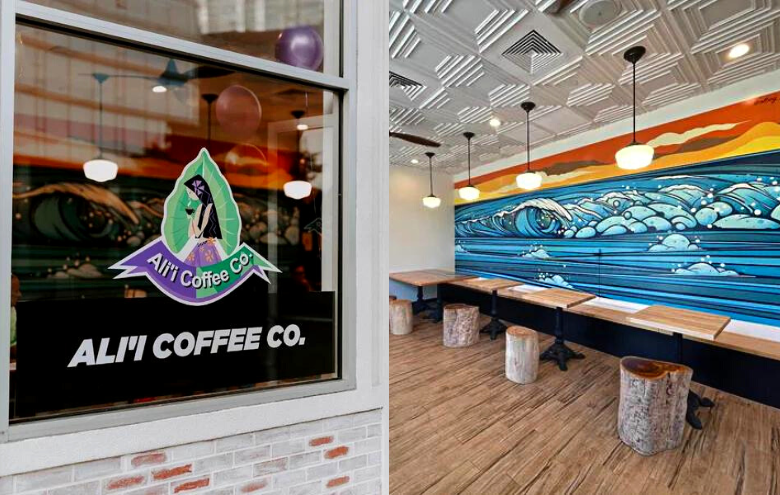 The second spot located within SALT At Our Kaka'ako is Arvo Café, which is known for its "Instagram-able" design and emphasis on wooden and plant elements within the shop. This coffee shop offers a plethora of latte drinks, iced teas, as well as simple black coffees. For food, Arvo is known for their variety of toasts (such as their "Loaded Avocado Toast" and "Smoked Salmon Toast").
Arvo also sells dad caps, tote bags, graphic t-shirts, and even incense.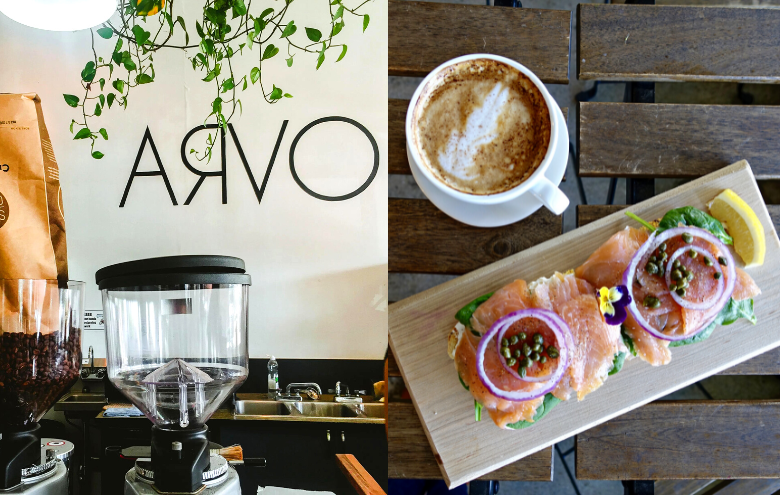 Our third location at SALT At Our Kaka'ako is Morning Brew, a large two-story coffee shop with as many seating options as there are food and drink options. Morning Brew serves many different bagels and pastries in addition to their coffee, espresso bar, single brew pour over, and ice blended drinks. For those who want to quickly grab their order and go, this coffee shop also offers online ordering for pickup on their website.
Like Arvo, Morning Brew also sells hats, mugs, tote bags, and graphic t-shirts.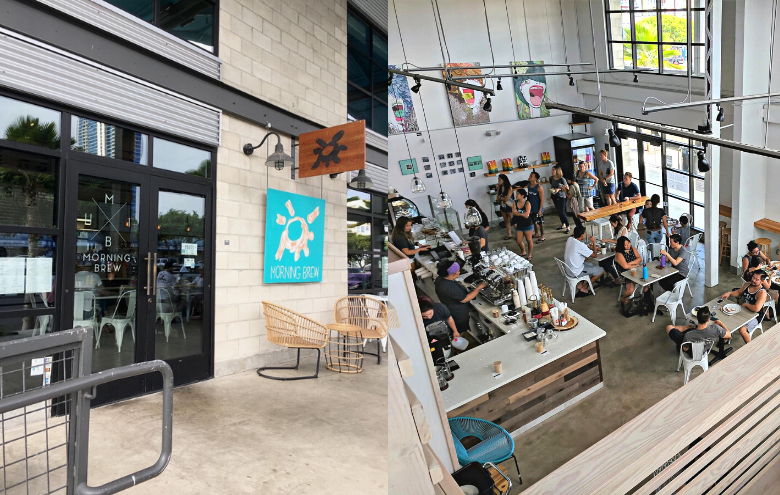 A bit further from the other coffee shops on this list is Sip Honolulu, which is located at 500 Ala Moana Boulevard. This coffee shop is located across from The ROW Kaka'ako in the Waterfront Plaza, and is likewise more of a grab-and-go café with very limited seating options. Among this cafés most popular dishes are its avocado toast, acai bowls, carne asada quesadilas, and vegan soy-rizo breakfast wraps. As for drinks, Sip Honolulu offers many popular espresso, latte, and other coffee drinks.